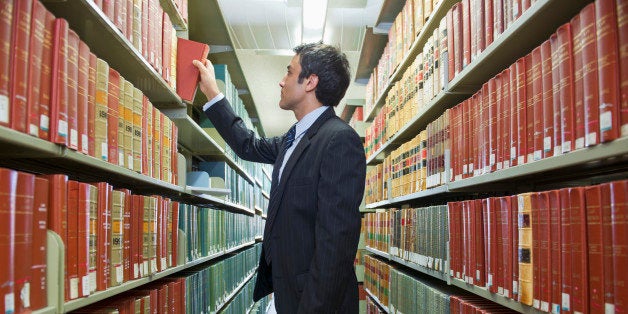 Memorizing case law, researching proper citations and staying up to date with the latest case in the Supreme Court may be a little easier now with the help of mobile apps.
Prospective and current law school students can now access information that was once only available in libraries and courthouses on their tablets and mobile phones.
"I'm seeing a print environment developing into an app environment," says Jenny Zook, reference and instructional services librarian at the University of Wisconsin Law School. "If you look at the top publishers they all offer some kind of app for law students."
Zook and her colleagues say that legal apps aren't extremely popular, but that there are a lot of great apps that students can use. Law school librarians suggest prospective and current law school students check out the following apps.
• Law Dojo: Law Dojo is series of games that test a player's knowledge on subjects like civil procedure, torts, contracts, criminal law and more.  
In the free
version, players can choose among three quizzes to assess their understanding
of Supreme Court cases, law doctrine and civilian rights in police situations. Players earn points by answering questions correctly and the game ends when a player
loses three ninjas. Students who want to delve into specific areas of the law can buy different versions for $2.99 each.
"It's a good way for prospective students to kind of get their feet wet and sort of see what kind of information they'll be dealing with in law school," says Kris Turner, reference and technology services librarian at the University of Wisconsin Law School. 
The app is available on the iOS and Android platforms.
• Law in a Flash:  Flash cards are a tried-and-true way of memorizing terms and studying for exams. The app, an extension of the Law in a Flash series, allows users to download cards by subject, make personal notes and create bookmarks so users can review saved cards later. It's available on iOS and Android devices for $19.99.
• Research databases:  Law students can conduct legal research on the go with the help of HeinOnline, Lexis Advance and WestLawNext, the mobile apps for three popular databases. 
All three apps are free, but a subscription is required. Students should check with their librarians for access. HeinOnline and Lexis Advance are available on the iOS platform only. WestLawNext is available on Android and iOS. 
• Legal dictionaries: Students can use mobile versions of trusted legal dictionaries to learn more about legal terms, says Vicki Steiner, reference and instructional librarian at the University of California Law School.  
"When you start law school in your first-year classes you are introduced to a lot of legal terms that might not be familiar to you so having a resource that can help you gain familiarity with legal terms and legal concepts might be very helpful," she says.
Black's Law Dictionary is available on iOS for $54.99 and Windows Mobile for $59.99. NOLO is available for free in iOS and Android.
• Photo-to-PDF converters: Instead of scanning and copying from large case law books, students can use these camera apps to take pictures of journals and case reviews and download the images in PDF form straight to their phone or tablet with Camera to PDF and JotNot. Both iOS apps are free. JotNot users will need to pay $2.99 to upgrade and unlock PDF access.
• Legal news: Stay up to date with the latest in legal news and follow Supreme Court cases with the ABA Journal and the SCOTUSblog apps.
Both apps are free. ABA Journal is available for iOS and Android. SCOTUSblog is available for iOS.
Librarians say that law school students can also benefit from popular note taking and task manager apps like Evernote, Dropbox and Things. It's likely that students will continue to see a diverse offering of mobile apps for everything from LSAT preparation to bar prep, but librarians caution students to use legal apps from authoritative developers, and not trust every app that they see.
If in doubt, librarians say to go to the law library or check your library's website to find the best apps and verify which have the most reliable information.
"In the law, of course, it's very important that you get the law from the right sources," says Wisconsin's Turner. 
Calling all HuffPost superfans!
Sign up for membership to become a founding member and help shape HuffPost's next chapter