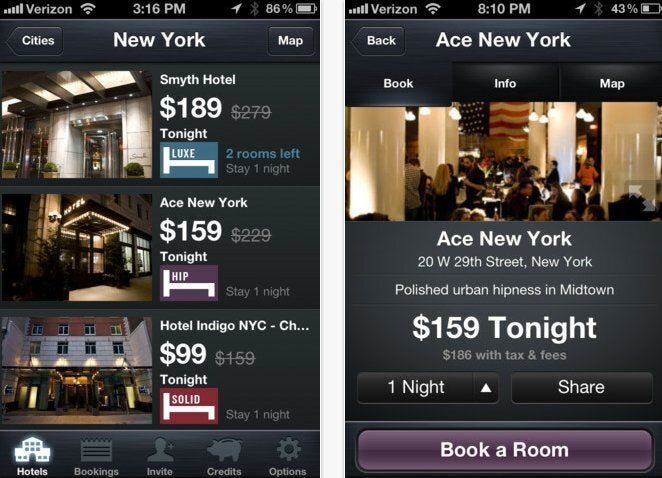 A few months ago, I decided on a whim to drive from my home in New York to Portland, Maine to buy lobsters. An atypical trip perhaps, but the urge to make a last-minute getaway has likely gripped many a cubicle dweller.
The idea was so spontaneous that my copilot and I didn't bother to book a hotel, even though we could've called one from the road. It wasn't until we were comfortably ensconced in a Portland bar that I fired up a smartphone app and booked a discounted room.
Time from search to confirmation email? About a minute.
After years of promises that mobile hotel booking would be the wave of the future in travel, it seems the future has finally arrived. New developments mean that waiting until the very last minute to book -- after your flight has touched down -- could save you big money, as long as you're willing to gamble.
Leading the way is HotelTonight, an Android and iPhone app built specifically for booking same-day hotels, that has just expanded to London a few weeks ahead of the Olympics. In an announcement emailed to users, the company brags "So, about that ultimate world domination: We're on it." There's some truth to the statement. London will be HotelTonight's 43rd city.
"We'll have nightly deals in London, and then be able to expand from there," says HotelTonight CEO Sam Shank. "We do want to be ubiquitous."
The market seems to be demanding last-minute bookings, Shank says, with a roughly 50-50 split between traditional "the flight got delayed" guest and new "impulse bookers that otherwise would not book a hotel." Those new customers are part of the reason his company has secured more than $35 million in funding -- and is now going global.
But while HotelTonight is probably the biggest player for mobile-only last-minute booking, it's hardly the only app in the game.
Victor Owens, vice president of global marketing at Hotels.com, says their app is becoming a significant source of bookings, signaling increased consumer confidence in booking on the fly. On mobile devices, more than two in three bookings are for the same night, Owens says, which is "a reminder of how people are using their mobile phones and how comfortable they are with booking at the last minute."
Crediting better apps and mobile websites in the past three or four years, Owens says mobile booking has become "one of the fastest growing parts of our business," accounting for somewhere in "the low double digits" of all Hotels.com bookings.
That's good news for consumers who are looking for deals, he says.
"In the past, if you booked further out, you had a wider variety of hotels to choose from but the discounts might not be as deep," Owens says. "What you find now with a last-minute stay is that the variety of hotels might not be as great but the discounts will be deeper. You can really find a tremendous deal."
Not that waiting doesn't come with risks: HotelTonight has experienced problems with its last-minute bookings and tech entrepreneur Paul Carr loudly blasted the company on Twitter in May for a booking snafu. (Carr, whose book about living in hotels makes him one sort of travel expert, has written for The Huffington Post.)
In other words, if you're on a dream trip or a business-critical mission, saving a few dollars by booking last-minute may not be a deal after all.