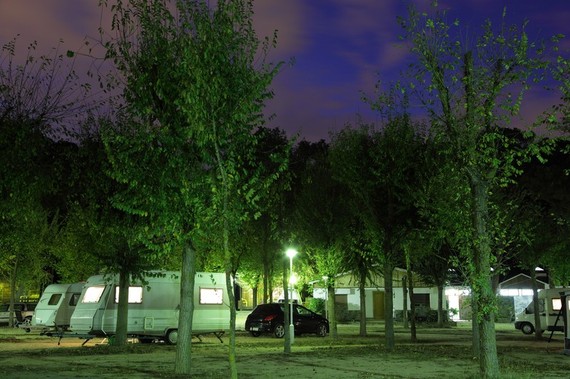 You'll see articles on the Web about Warren Buffet's bigtime investment in mobile home parks. There's a lot of money to be made in the niche, but I'm not writing here about the more permanent resident type park with full size mobile homes parked there for years. I'm talking about RV, Recreational Vehicle parks, operated more like hotels with overnight stays up through month-to-month rentals of space. Some of them may also offer full time spaces for the permanent mobile homes, but their primary focus is on vacationers with RVs or the growing full time RV resident.
If you take a slow drive-through tour of a nicely outfitted RV park, you will see things like swimming pools, fishing ponds, group party facilities, laundromats, and even casinos. Well, really, casinos are offering RV parks as an inducement to part time and full time RV residents to pull up and spend some time next door with little else to do other than gamble. I mention this to help to show the popularity of the RV and the growing full time RV lifestyle.
In case you haven't checked out the current RV styles and offerings, a trip to an RV dealer can bring surprises as to just how lavishly these rolling homes are appointed. They have pretty much every appliance and amenity you can get in a regular home other than maybe dishwashers. Some do have one, but space makes them a lower priority feature. However, there are island kitchens, televisions in every room, satellite TV dishes built-in and self-pointing, and even full size stainless steel refrigerator-freezers.
With Baby Boomers retiring now at a 10,000 per day rate, there is a booming industry in selling them RVs and maintaining them. But the biggest money-maker is in providing them with a place to stay for a night to months, often in a popular tourist area. There are beachside RV parks, mountain views, streamside fishing parks, and more. For an overview of the investment potential, let's look first at what is necessary for one of these parks, then what is considered upgrades. You will need:
• Streets/roads and space for parking the RV plus a bit of room on both sides for some feel of privacy and outdoor living. Many of the new RVs have outdoor kitchens and even mounts to watch cable TV outdoors with speaker systems.
• Utilities, including electric, water and sewer hookups.
• Reliable WiFi Internet has become a necessity.
• Restroom and laundry facilities.
Those are the necessities. Adding in swimming pools, boat docks, fishing ponds, party facilities and other amenities will add to the rents you can charge and increase occupancy rates.
Rates of course vary dramatically by location, and whether electricity is included in the space rent for monthly space varies. Electricity is always included in overnight or weekly stays. However, when even a decent park in an area not considered a top tourist spot can command a monthly space fee of $400 to $500 dollars plus electricity, you can see how it can add up. A generous space may be 60 feet long by around 30 feet wide, so you can pack a lot of them into a dozen acres or so.
In beachfront and mountain vacation areas and during the popular seasons, you can find space rents by the month for as much as $1,500 ... just for the space. Some parks provide cable TV as part of the rate, while others charge extra for it. If you start paying attention and checking out RV parks with a couple of hundred or more spaces, you can see that there can be a major cash flow component of this investment.
Labor for management and maintenance is usually quite cheap, as most parks trade off all or part of wages by providing an RV space with full hookups to their employees. Some people end up staying years in one spot as full time RV park employees making $8 to $12 per hour for working the gift shop, cleaning rest rooms, or doing site maintenance. Many are retired, and the free RV space is valuable to them, with the wages a bonus for a nicer lifestyle in a really great vacation area.
The next time you see an ad for an RV park for sale, you may want to check it out as an alternative to conventional real estate investment.