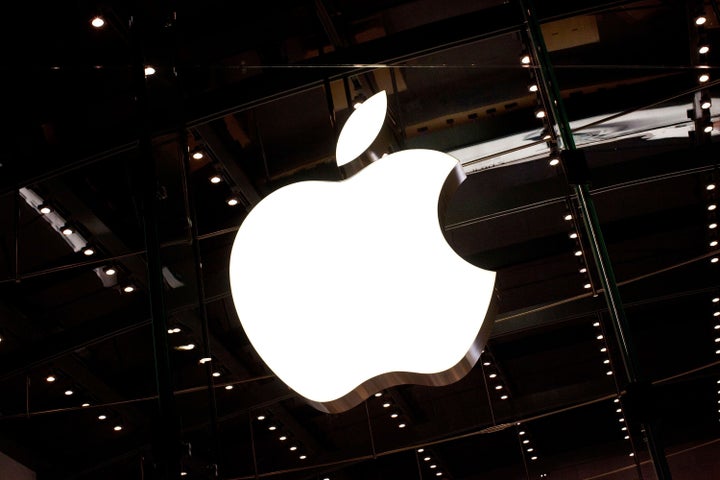 There have been many times when friends have purchased expensive gadgets only to break them the next day, because they did not have any external protection. Others have run out of juice the minute they walk into an important meeting or convention. The following gadget cases, wraps and batteries should go a long way to protecting and powering your mobile technology investment.
During my visit to the 2012 International Consumer Electronics Show in Las Vegas, I came across many vendors that made cases, coverings and batteries to protect and charge everything from the iPhone to the MacBook. Out of the 20 companies observed, I chose a few new accessories to evaluate.
The narrowed down list of companies to test included Case-Mate, Wrapsol and Mophie. The companies above provided a few samples to test and evaluate with my devices.
Each of the three companies makes different levels of protection that also compliment the others. Case-Mate produces cases for many devices from thin and stylish to rugged. Wrapsol makes a protective film technology for mobile devices. Mophie engineers battery cases and external battery packs.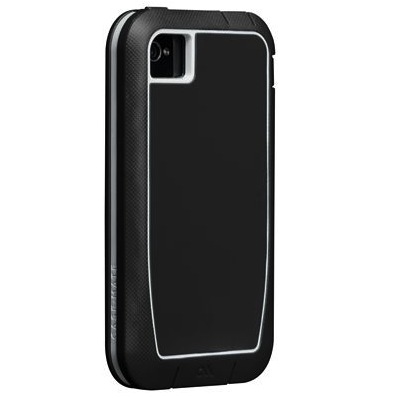 The CES convention was a great place to discover new electronic gadget accessories. While at the show, I tested the iPhone 4S Phantom case via a trade-in program that Case-Mate was running. Before the Phantom, I had the original plastic on it that Apple applies before shipping. It now has greater protection after the Case-Mate Phantom case was applied.
Since CES, the Phantom has saved my smartphone from door knocks and drops. It has an inner core of hard plastic with a rubberized outer wrap and conveniently comes with a removable plug for the connector and earphone ports plus one for the vibrate switch. The Phantom comes with a cutout for the camera and flash, while providing raised protective buttons for volume and power.
Case-Mate's Phantom has done a great job of protecting most of the iPhone 4S, but I have always liked applying additional screen covers to my gadgets. Apple's glass should be resistant enough to protect against scratches, but the visible fingerprints on the screen detract from the overall aesthetic.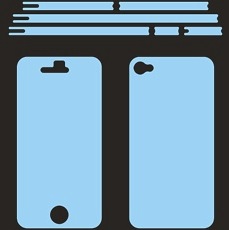 That is where Wrapsol takes over with a transparent and astonishingly thin protective film, which installs quickly, with a 100 percent dry application process. It helps to prevent everyday dings, dents and scratches, while preserving touchscreen sensitivity. Installation of other screen covers may take up to five minutes to apply. The photo above shows the Wrapsol complete covering for an iPhone 4S. The screen covering was the portion installed.
With Wrapsol, the process has been cut down to a few seconds. Reduced fingerprints and dependable mobile device protection have been a great benefit.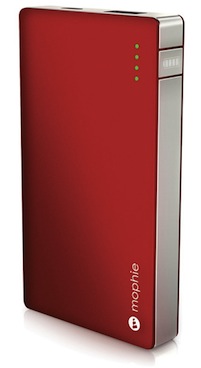 Finally, after the Case-Mate Phantom case and Wrapsol screen cover were installed, the remaining gadget charging accessory to test, was the Mophie juice pack power station (RED) special edition.
Mophie's website states the power station provides a 4,000mAh battery capable of a charging output of 500mAh, 1 A and 2.1 amp. I have purchased other external batteries and they could not handle charging all of my devices.
The Mophie power station successfully charged a Blackberry Torch, iPhone 4S, iPad 2 and an Android smartphone. Mophie spent time designing the battery, with a rubberized outer coating and they realized it would be needed to charge devices quickly. My other more expensive external battery could not handle charging a Blackberry Torch and it took more time to charge the iPhone 4S, plus the build quality is not on par with the power station.
There are many companies selling cases and charging solutions for gadgets. However, over the past several weeks, Case-Mate, Wrapsol and Mophie have opened my eyes to design, quality and good engineering. Case-Mate produces rugged cases that do not make the iPhone look like it is in a box, while adding style at the same time. Wrapsol adds extra protection for gadgets and screens while reducing fingerprints.
Finally, Mophie batteries can provide enough power to run high use gadgets for a large percentage of the day during conventions similar to CES and the ever important after parties. All photos of the products above are courtesy of the respective companies. Cases, screen protectors and batteries are all gadget accessories to consider for protecting mobile technology investments and to fully utilize them
For more iPhone 4S, iPad 2 and MacBook case, covering and battery solutions, please visit my other accessory review post.
Related
Popular in the Community