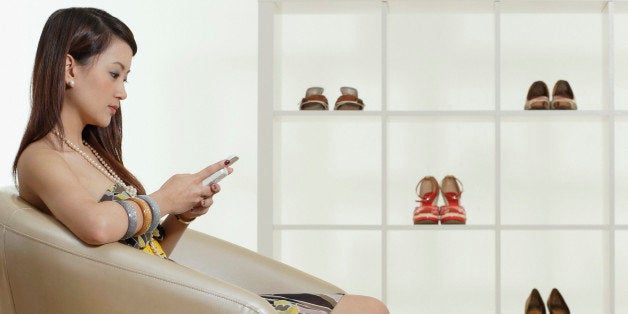 The way consumers are shopping is changing as half of consumers are using smartphones and tablets to interact with retailers. Brands are shifting the way they advertise in an effort to reach their target audience in an increasingly mobile society. Based on data from a report produced by Shop.org in partnership with The Partnering Group and comScore, 55 percent of all retail-related online time in 2013 was from tablets and smartphones, while the remaining 45 percent originated from desktop computers. As you can see by the numbers, there is now a more distinct swing towards mobile devices as desktop and laptop usage continues to shrink. With this in mind, retailers can no longer view mobile devices as a minor consideration in the consumer path to purchase.
Consumers are spending big money from their mobile devices. During the second quarter of 2013, the amount spent in mobile commerce totaled $4.7B or 8.6% of the entire U.S. e-commerce market for that time period. On top of that, between the second quarter of 2012 and the same period of 2013, m-commerce revenue grew at a rate of 24%, compared to 16% in the e-commerce market as a whole. Continued retail investment in mobile applications is necessary to facilitate a seamless shopping experience or competitors who do so will eat away at market share.
Amongst the report's conclusive data on mobile commerce, it was found that consumers use their tablets and smartphones for a variety of online shopping activities. When it comes to in-store mobile activities, in this year's second quarter, almost six out of ten or roughly 57 percent of smartphone users visited the same company's app or website while in the store, compared to just 43% who used the app or website of a competitor. While inside a store, however, the consumer is more likely to use their mobile device for price comparisons.
There is an interesting evolution taking place in the mobile marketplace. Nearly two thirds of smartphone users in 2013's second quarter used their device to research product features, while more than half used it to locate a store and to find coupon deals. Moreover, mobile consumers spent $86.50, on average for each online purchase. The majority of purchases were for event tickets and apparel and accessories. This is staggering considering that mobile commerce is in its infancy.
Consumer behavior is changing too. They are now more likely to research a product and use social media before making a purchase whether in store or online. The retail industry is learning to adapt to these changes and are beginning to increase their social media presence with innovative campaigns designed to give consumers an exciting way to become part of the brand experience. Retailers who are re-inventing their marketing strategies to reach an increasingly mobile target market will have a much larger head-start against those that are resistant to change.
- See more at: http://advertising.aol.com/blog/mobile-devices-important-shopping-behavior-0#sthash.qxjSV0vf.dpuf
Related
Popular in the Community