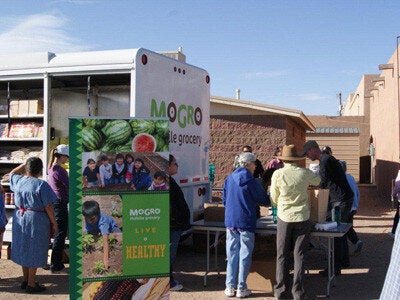 Michael Pollan points us toward one initiative, a mobile grocery developed by former Sysco president Rick Schneiders. MoGro sells a variety of frozen, refrigerated and fresh produce twice a week to the Santo Domingo Pueblo community in New Mexico. In addition to groceries, there are also nutrition workshops and a monthly fitness class.
Beyond the omnipresent food trucks in major American cities, other mobile food systems are sprouting up across the country such as mobile truck farms that serves as part-CSA, part-education tool about urban agriculture.
Hopefully this is the start of a trend: if you can't access good and fresh food, then perhaps the food can come to you.
Related