Mobile is the single most important change in the world since the invention of the internet. Seventy-one percent of adults in the U.S. now own a web-enabled smartphone or other wireless device. Mobile allows for individuals to be connected in real time, on the fly and literally from the palm of their hand. They have the world and its resources at their fingers, making for some of the most empowered buyers and consumers we've experienced to date. Mobile users are empowered to learn, engage and research for themselves without having to wait.
General Monitoring

Emergency Response Systems

Telemedicine

Mobile Medical Equipment

RFID Tracking

Health and Fitness Software

Mobile Messaging

Electronic Medical Records
Like most things technology-related, not everyone agrees with how experts have segmented these mobile health categories.
"Because mobile health, its technology and use is so vast, I believe more categories should be included in how the market is actually segmented. My company, CareStarter and other resource-based mobile technology doesn't perfectly fit into any of these categories," says CEO, Lamarque Polvado. "At minimum there should be the addition of a ninth category which is Patient Resources, says Polvado."
Patient engagement and resources are what many including myself believe are driving the growth of mobile health: the individual's need to have quick access to their caloric intake; the logging of physical activity; or the ability to learn about their diagnosis, whether it be for their child, parent or as a new mother with questions about breastfeeding. Mobile is the key not just to engagement but to the new information age.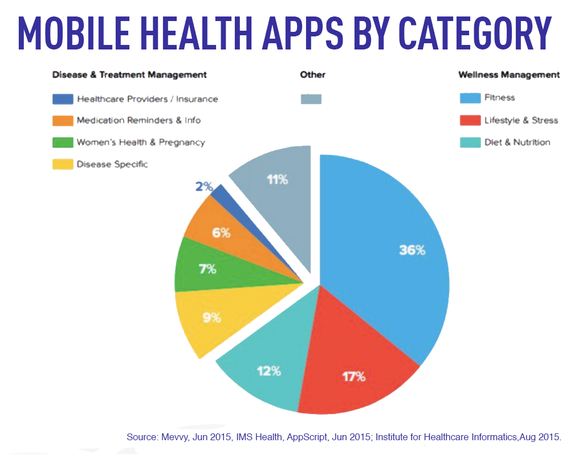 While the graphic listed above does not align with the accepted eight categories and Polvado's proposed ninth, it provides a nice representation of the different types of mobile health technologies, their popularity and where experts see mhealth (short for mobile health) growing.
Mobile itself requires a large learning and adoption curve as different communities, demographics and even countries use and rely on mobile technology very differently. For example, text messaging is costly and not used in Europe. They rely on push notifications and messaging apps like What's App and Messenger to communicate. I believe it is not adoption, but implementation that is providing the most challenge when it comes to mobile across industries.
How individuals use their mobile device is personal. It's a unique experience that is all their own and mhealth applications and technologies have to not just develop the technology but also help their mobile users and the markets they serve to learn the benefits of taking a mobile approach. The barriers to adoption are not just the challenge of learning to use the technology itself, but also individuals and companies who are fearful of the ability to access and use information by everyone who has a mobile phone.
"An app-powered model affords consumers the ability to get what they want, when they want it, and where they want it. The convergence of the independence of a nurse practitioner with on-demand mobile technology means that high quality and affordable healthcare is available when and where consumers want it. The trick is to select the segment of the market where the need is the greatest and create a highly focused model that gains acceptance and traction quickly," says Jon O'Sullivan, Founder & CEO at PediaQ.
Because mobile is a personal activity that empowers the user, patient, provider or practitioner, cutting the tether that keeps them stuck to a library, rotary dial phone or other expert resource, mobile also proves to be scary to the industries and individuals who are deeply rooted in controlling information and in just doing things the same old way. The same thrill and benefit instant connectedness provides also leads to fear because we can't control the information we've held so dear. Instead of feeling loss and a sense of hostility, we have a responsibility to aggregate, segment and provide personalized resources to our communities given the sheer amount of data and resources they now have access to. This is key to the future success of mobile health and increasing adoption especially by healthcare providers.
Six Surprising Statistics When It Comes to Mobile
Education is the foundation of the adoption of any new change in management process and mobile healthcare is no different. It starts with first understanding what matters most to your target market and how they use and embrace a new business change, program or in this case, technology.
Fifteen percent (15%) of Americans ages 18-29 are heavily dependent on a smartphone for online access.
Thirteen percent (13%) of Americans with an annual household income of less than $30,000 per year are smartphone-dependent.

Just 1% of Americans from households earning more than $75,000 per year rely on their smartphones to a similar degree for online access.
Latinos have the highest percentage of mobile adoption

followed by African Americans and then whites.
The Dark Side of Mobile

The naysayers are out there regardless of what adoption, investment funding and download figures tell us. With any technology or resource, the sheer volume of information, resources or features can be debilitating to its user. While mobile means having the world at your fingertips, it also leaves some overwhelmed and unsure of even where to begin, whether it's fully taking advantage of the technology, keeping up with the latest changes or understanding where to go for the best and most accurate and relevant information.
In order for mhealth implementation to be the most successful across the board it must be simplistic in nature, easy to understand and provide a resource that keeps the user satisfied, engaged and coming back for more. Proper training and tutorials for mhealth users is key. For CareStarter app users, resource aggregation and segmentation is critical for the success of any online resources but especially with mobile health where you are limited to just a 5 inch screen.
Integration is also a concern as companies look to use mobile applications as part of electronic health records or EHR. Doctors, health systems and patients want mobile to communicate with the health records. Like Android and Apple, not all healthcare technology works well together, making it challenge for healthcare professionals to unify and integrate every aspect of a patient's care and record electronically.
"We are seeing thousands of digital health companies run into the brick wall that is EHR integration - it's a huge multibillion dollar problem for these guys - and we are completely destroying the status quo by making integration a non-issue," said Zac Jiwa, CEO of Austin, TX, based MI7, Inc.
Other Mobile Healthcare Challenges
Other challenges to mobile include data security, encryption, and compliance especially when it comes to HIPAA. Polvado, Jiwa and O'Sullivan each assured me that security for all mhealth providers, apps and technology is their number one priority.
"Using mobile for healthcare can revolutionize patient communication. However, there are unique security concerns around protected health information (PHI) such as medical history. Given this, the security and governance around who can access data, and in what context, is critical. UCSF has taken a comprehensive approach that combines both technology elements, utilizing MuleSoft's Anypoint Platform to secure and govern the APIs that feed data to our mobile applications, as well as process elements, such as who has access to data during the development process," says Ed Martin, Technology Director, UCSF Center for Digital Health Innovation.
Education is the Key to Mobile Adoption
Mobile adoption begins with learning and education. We are ambassadors of mhealth technology and proponents of a new way of thinking. We must ascribe to putting not just our product first but also focusing on education, awareness and learning for all we touch, whether partners, competitors, consumers or healthcare providers, in order to drive effective mobile adoption and change.
As Martin point out, mobile is revolutionizing patient communication, however, I believe mobile is so much more. Mobile technologies aid in the collection of healthcare information as well as the sharing of patient diagnosis and the collection of data all in which empower the patient putting them in the driver's seat of their own continued care, diagnosis, treatment as well as prevention. Mobile puts the patient in the driver's seat.
Popular in the Community