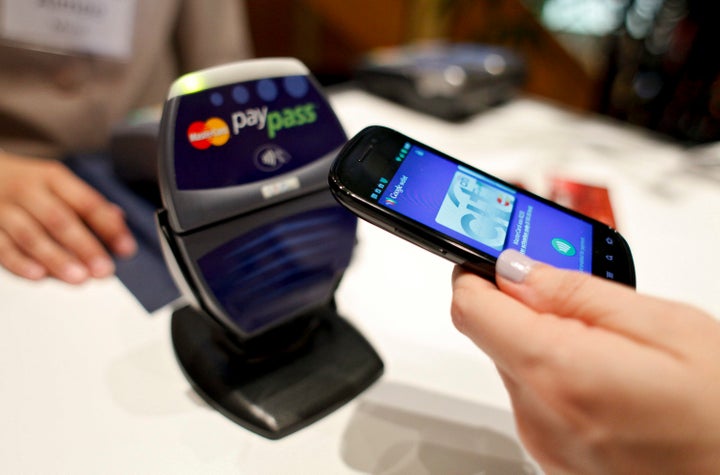 Buying a pass for public transportation with your phone doesn't just save you time -- it can also save your city big bucks.
MasterCard is already a partner for over 30 cities around the world on improving mass transit systems, providing payment processing and other services. In London, for instance, you can now use a mobile phone to pay for a trip on the Tube. The credit card company is currently in discussions to replace the ticketing infrastructure for the Long Island Railroad with the help of Masabi, a mobile ticketing company, in early 2016.
MasterCard estimates that 15 percent of the face value of a ticket for the average journey on public transit is spent on payment alone. By replacing ticketing machines, personnel and paper tickets with wristbands, smartphones and payment cards, cities can speed up service and save money to boot.
"We believe we can reduce that by over two thirds," Hany Fam, president of MasterCard's enterprise partnerships, told The Huffington Post. "The massive cost savings will be part of what cities redeploy in addressing carbon emissions challenges."
If cities save money through energy efficiency or delivering better service at a reduced cost, they can invest in renewable energy or reducing traffic congestion. Over the long term, people choosing to take the train or bus rather than drive can have a big impact.
When mass transit systems go mobile and digital, other benefits become possible, including what MasterCard calls "active demand management" -- spreading out commuters more evenly through the day and reducing the number of commuters at peak travel times. 
"If you think about growing populations in cities, most city transit systems were sized to predicted 'peak of peaks'," Fam said. "Those have been crossed in most cities now. Research shows that if you're able to nudge 5 to 10 percent of people traveling at peak to travel to the left or right of that time, it's worth $150 to 200 million dollars a a year in savings in a big city."
What works in one city can often be applied to others.
"We know from our experience that one of the biggest ways cities are getting things done is to see what [others are] doing and learning," said Gunjan Parik, head of the Transportation Initiative at C40."We are hoping to establish a whole new network, building an evidence base about how results can be achieved." 
And cities -- and businesses -- will have a growing role in reducing emissions, as Rio de Janeiro Mayor and C40 Chair Eduardo Paes said in a statement. 
But political backing is crucial for these kinds of initiatives, Parik emphasized, with mayors taking on leading roles fighting climate change. When city governments can get controversial provisions like congestion pricing into place, as London, Singapore, Stockholm and Milan have now done, the huge improvements in air quality go hand-in-hand with more money flowing to public transit.
Update: After publication, Fam contacted HuffPost to say that he had misspoken, and that MasterCard is only in discussion to upgrade LIRR ticketing. The article has been updated accordingly.
Calling all HuffPost superfans!
Sign up for membership to become a founding member and help shape HuffPost's next chapter