All news radio has survived and prospered for decades in large media markets. In an age of mobile smart phones and social media, radio is again changing to meet new habits.
Rivet Radio News, a Chicago start-up, launched this month with an iPhone app, and its developers are coming after the all-news audience.
Rivet is targeting people on-the-go and wanting to personalize story selection in categories such as breaking news, business, sports, arts & entertainment, technology and lifestyle. The app allows users to pause, rewind and skip stories. Newscasters, as seen in this Rivet-provided photograph, emphasize conversational style, even as they keep pace with breaking news.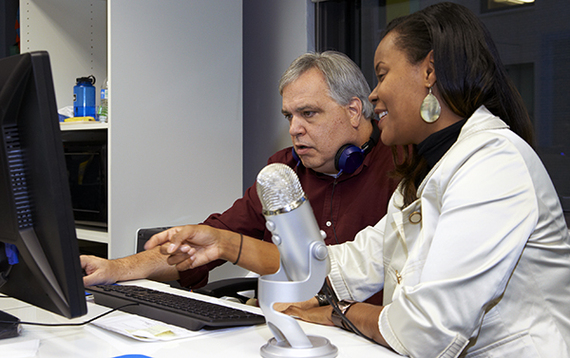 Rivet also uses listener location to provide on-demand stories, including hyper-local traffic updates. "It shows the power of being free from the tyranny of the clock," General Manager Cindy Paulauskas said. "We can make our traffic reports as long or as short as they need to be, and we can create updated reports whenever the situation changes." Rivet uses the flexible approach with all of its recorded stories grouped in categories selected by the user instead of a clock-driven live radio format.
Across the Loop, Chicago's WBBM Newsradio 780 is mobile on the award-winning CBS Radio.com app. It allows users to select favorite stations and has a built-in sleep timer and alarm. Users can read online stories while listening to live radio, and there is some basic Twitter and Faceback sharing.
News Director Ron Gleason told the Chicago Reader that live radio audiences come and go, and he is not convinced they will take the effort to select and navigate recorded content.
Gleason showed me around WBBM during a Chicago visit this fall, and I recently followed up to learn his thoughts about social media:
"Social media is impacting all journalism as we know it. The good: More and more people are getting valuable information faster and faster. The bad: You can't always trust what you see -- because the information is only as good as the source. As a credible source on which Chicagoans rely, we are actively involved in the use of social media to let people know about the stories we're reporting. We reach people with our AM and FM signals, through our stream, at CBSChicago.com, through the CBS local YourDay app, via Twitter, Facebook, etc. The more ways we can reach out, the more people we'll reach. The good news for WBBM: there's still no medium more immediate than Newsradio, and the ability for broadcast outlets to reach the masses during breaking news stories and emergencies is second to none."
The Newsradio 780 format is fairly consistent with what it was more than 30 years ago when I was a board operator and technician there. It is a strong media brand with news, sports, weather, and traffic built around quarter hours and immediate updates.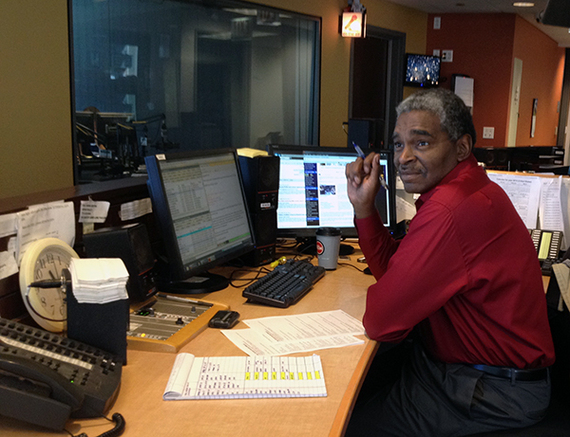 While WBBM has "trained" listeners over the years to keep an eye on the clock, Rivet Radio News must first build brand loyalty through engaging content. "Our key metric now is Repeat Users," Paulauskas said. "We hope that continues to trend upward, and are doing everything we can to create an engaging experience that makes listeners want to tune in again and again."
Veteran Chicago newsman Charlie Meyerson teamed with entrepreneur John MacLeod and an experienced group to develop HearHere's Rivet over the last year. They see growth in streaming cellphone media. Meyerson wants to free radio news from its traditional rules.
I had the chance to also visit with the Rivet team in Chicago a few months ago, before its launch. It was thrilling to see start-up energy and innovation applied to the challenge -- reinventing radio news.
Radio news must continue to evolve to become a form of mobile news that includes the frequent convergence of photographs and video. The larger social media shift demands a visual presence and interaction with fans.
My sense is that Rivet Radio News and CBS Radio.com each have pieces of the next wave for radio news. As with all other traditional media, radio news must change to respond to the openness and speed of Twitter and the desire for engagement within other social media platforms. Users will go where they can to filter clutter and quickly get up-to-date and relevant information.
User data will be important to Rivet. "It is too soon to determine trends from listener behavior, as people are just getting used to the app," Paulauskas said. "We are looking forward to all the ways we will be able to slice and dice that data in a month or so." Stay tuned.
REAL LIFE. REAL NEWS. REAL VOICES.
Help us tell more of the stories that matter from voices that too often remain unheard.