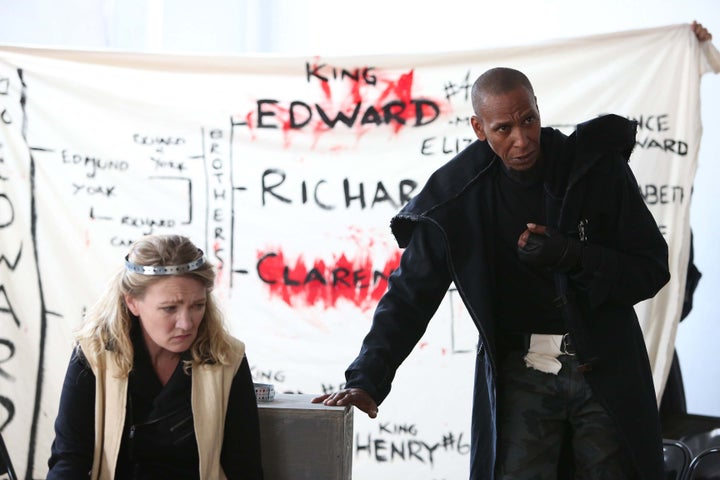 Defunct for nearly 40 years, Papp's program now goes under the title "The Mobile Unit," as part of the Public's Shakespeare Initiative. A production of the comedy Measure for Measure launched the program in 2010, sending the Unit's traveling thespians through the prisons, homeless shelters, and centers for the elderly in New York City's five boroughs, free of charge.
WATCH a clip from the Mobile Unit's inaugural performance, "Measure for Measure":
This second time around, audiences were treated to significantly darker fare -- Shakespeare's brooding Richard III, about the short reign of one of England's most brutal kings. "On a thematic level, it's simply a play about revenge and about corruption," director Amanda Dehnert told The Huffington Post. "I don't link that directly to the fact that we went to correctional institutions, I think more that it's a hopeful message actually."
The traveling tour wraps up today. For Shakespeare hounds who want to catch Ron Cephas Jones' ruthless Richard for themselves, the show opens for a three-week run at the Public starting August 6, at $15 a ticket.
HuffPost Culture caught up with Shakespeare Initiative Director Barry Edelstein and Richard III director Amanda Dehnert to talk the logistics of lo-fi performance, the power of Shakespeare, and where the Mobile Unit goes from here. Read the edited transcript below.
The program is now in its second year after being out of service for nearly 40 years. Why did you decide to bring it back?
Barry Edelstein: Essentially we have become a victim of our own success. The Public gives away free tickets to Shakespeare by the tens of thousands every year. We also do Shakespeare downtown for 15 bucks. What has happened is the demand for this work has become so high that in fact even though there is no economic barrier, there is a time barrier. You have to take a day off work which many people cannot do. There's also a geographic barrier. The impulse behind free tickets in Central Park is no longer achieving the mission of making access as democratic and widespread as possible.
The Mobile Unit addresses that -- if you can't bring the people to the park, bring the work to the people. That's what we're trying to do. Saying, 'Okay, who in our culture have the least access to the arts and what can a major cultural institution do?'
Can you talk about the educational workshops that often accompany 'The Mobile Unit' performances?
Barry Edelstein: Those are devised by my associate Ian Hersey, who is an arts and education specialist. He devises an hour long program that demystifies the language, familiarizes people with the story, introduces the characters and very gently introduces some of the central themes of the play. Over an hour that is pretty silly and enjoyable, he is able to touch on all four of those points. He'll pick ten or twelve lines from the play and people will say them. And then you watch people watch the play and you can see people recognize the lines that they said four days ago in the workshop.
I had a guy come up to me in a prison and go, 'I heard my line.' That is precisely that sense of ownership that Ian designs to make happen. To basically say to these people, 'You are in these stories. They are not only for people with PhD's, they are not only for people with money, they are not only for people who are fluent in English, they are for you.'
Barry Edelstein: 'Why Shakespeare' is the question of Joe Papp's life, and the answer is that there is in Shakespeare a kind of wellspring of human experience that is immediately accessible across every possible stratum of society. It's why [Papp] devoted his life to Shakespeare, and why a cultural institution with the word 'Shakespeare' in its name continues to thrive. If [the] assertion is that culture is owned by the widest variety of people in the world, then where better than Shakespeare to stamp a passport? It is in some ways the admission ticket to the culture.
The other part about it is that they are plays that work on a lot of different levels, and so they were when Shakespeare wrote them. They were speaking to the aristocrats and the groundlings. Because the audiences that are going to see Mobile Unit span that entire spectrum, everybody from the top to the bottom of our society sees it.
Amanda Dehnert: When you edit the play down -- which we do -- you get to really focus on the story of Richard. Watching this man go from wanting to create some chaos, having it blow up bigger than he was expecting it to and then having to keep going, it's really interesting to watch. On a thematic level, it's a play about corruption, and the cycle of revenge and how it can really eat you up alive. We all have a little voice inside us that will tell us whether we are doing good in the world or doing bad in the world.
I think that it's a hopeful message: that even the worst among us can realize they have done unspeakable horrors. It shows us our capacity to recognize our flaws, and it does it in a way that isn't expected. When it happens in the story, you don't really expect Richard to look at himself and realize he's a murderer. But he does. And it's really pretty amazing.
How has the show been received along the tour?
Amanda Dehnert: It's had a great, great, great run. Audiences are really thrilled to get to see it, thrilled with it, [and] they're wonderfully, wonderfully vocal about it. It's really exciting for all of us to do what we do, not in front of people that have paid 150 dollars to sit quietly in a seat. When you go do theatre in front of the public, you can tell if you're doing a good job.
What has the response been like from the actors?
Amanda Dehnert: I think they're ultimately really challenged and excited by it. It's daunting sometimes, whether you're doing a play in a community center, in a prison, in a theater. When you don't have a lot of stuff around you, lights that are telling the audience to look at you, an entire costume to transform you outwardly into some different thing. When you don't have a world that you're inhabiting except for the world that you're in, it's a little frightening.
Most professional actors haven't been in that environment since scene study class. But it's also really great to go back to those fundamentals. We remember what the foundation of performance is, which is that you've got a great story, you are an actor, you have an acting partner and there's an audience there. And you're just doing it.
What's next for 'The Mobile Unit'?
Barry Edelstein: To make it a core program of the Public and no longer a pilot, [to] expand our reach into non-resident community organizations, like park recreation centers. [And] we are seriously investigating getting a truck, like a 21st century version of the truck that Joe Papp drove around.
Do you have any poignant stories from the tour to share?
Amanda Dehnert: We were doing a show at Charlotte's Place in NY and there was a guy who was hovering kind of around the fringes, not really sitting down. I caught him out of the corner of my eye. I was sitting down and I noticed he was watching. Every once in awhile he'd kind of walk away and then walk back to it. I stopped keeping track of him, and suddenly realized that he was actually sitting in the chair next to me. Which is kind of a lovely thing to discover. I don't know when he sat down, I don't know what made him decide to sit down but he stayed there until the end.
WATCH a trailer for the Mobile Unit's 'Richard III' below:
Popular in the Community