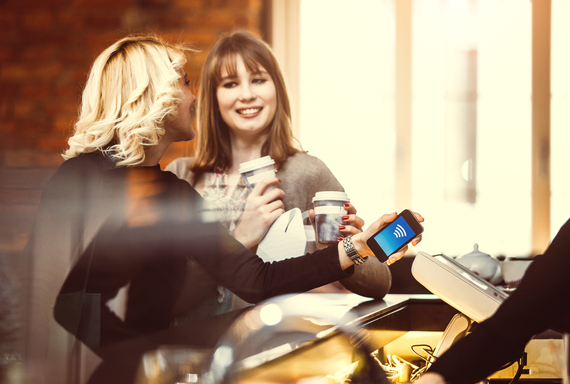 We just arrived home, having beat out traffic jams and a thunderstorm...not to mention having caught up with everyone we needed to and, yes, planned tomorrow too.
We used Waze to bypass a jam-packed highway and got routed through streets we never would have known to follow. Before we left, we diligently checked Dark Sky to get the minute-by-minute forecast from there to here. We made calls through the car's Bluetooth system and, as Debbie was driving, I answered email, texts, messages through LinkedIn, Facebook Messenger, WhatsApp, WeChat, and managed to FaceTime too...not to mention send out an invite or two...
You see, I make a clear distinction between Mobile and Mobility.
Right now I am writing this on my Dell laptop, sitting on my terrace listening to my Peter, Paul and Mary station through Sonos...feeling very mobile.
In fact, what isn't mobile these days? Mobile is all about devices, and unless you have an old UNIVAC 1 (check it out), you too can sit wherever you want with your PC, tablet, handheld whatever, phone (if you like to call it that), big video screen or whatever else you might play with.
Mobility is completely different. It means I am moving around, active, on the go, here and there and back again...and I am using my device -- usually a "smartphone" -- to make my offline life easier, more fun and more efficient.
Obviously it is Mobile, just as obviously as it is all Digital.
The problem is that when we start opining on "Mobile First," I am convinced that we are doing a huge disservice to our clients, users, customers and ourselves.
To begin with, much like PC usage leapfrogged big clunky computers, and tablet devices started to bypass PCs (maybe) in countries where there is no legacy of home PC or other computer usage, handhelds (Mobile to the Digibabble crowd) are proliferating as they should; not leapfrogging or replacing -- just plain and simple proliferating, because they fill the need and are available, much like PCs were to many of us back in the day.
And now that I have one of these devices...my All-In-One...I can use it to sit and do what I need to get done or I can go mobile...not the device...ME...MOBILITY IS PEOPLE FIRST.
This is not just semantics.
Mobility is, in my opinion, the single biggest opportunity for business and, in my conversations within business, it is the least understood and most neglected as we pursue an empty "Mobile First" strategy.
Mobility is not about formatting video for a small screen -- WAKE UP -- mobility is about understanding where I am, where I am going and what I want to accomplish, and helping to make that journey exponentially better.
Mobile is all about my device. Mobility is all about my life and not about my device.
And then I read this...Listen:
When there is in nature no fixed condition, how much less must there be in the life of a people, beings endowed with mobility and movement!
Jose Rizal
We live in a world where technology has no fixed condition, thus exponentially empowering people who are naturally endowed with mobility and movement even more.
I know it's my mantra and my readers have heard it before, but we can do so much more if we would think PEOPLE FIRST, and MOBILITY is just that.
So go back and look at your programs, your ideas, your business focus and ask yourself how might you change direction...how might you make real life exponentially better and, by the way, increase your business as well...
Related
Popular in the Community