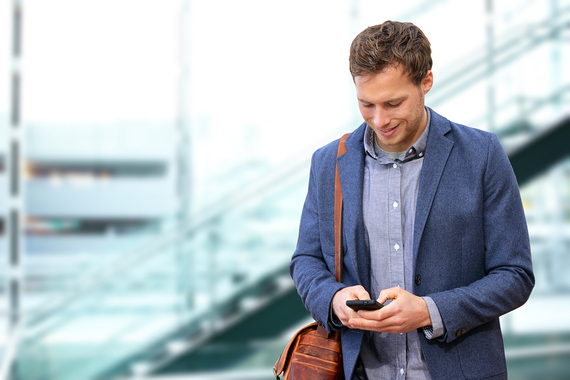 In 2014, smartphone shipments hit 1.3 billion units worldwide. While growth is expected to slow slightly this year due to China's economic downturn, our use of technology is only expanding, both at work and at home, particularly in the blurred lines of the demarcation between the two. "By one estimate, telecommuting has risen 79 percent between 2005 and 2012 and now makes up 2.6 percent of the American work force, or 3.2 million workers, according to statistics from the American Community Survey," said The New York Times in Aline Tulgend's "It's Unclearly Defined, but Telecommuting is Fast on the Rise."

This mobile workforce of telecommuting individuals applies to anyone who works outside the office: sales reps and managers, construction workers, plumbers, and so on and so forth. "IBM predicts that over the next four years workloads hosted on the public cloud will grow by 44%. The mobile workforce of the future will work in a virtual computing environment which is not location dependent," according to Landmark Technologies. IDC has determined that "the U.S. mobile worker population will grow at a steady rate over the next five years, increasing from 96.2 million in 2015 to 105.4 million mobile workers in 2020. By the end of the forecast period, IDC expects mobile workers will account for nearly three quarters (72.3%) of the total U.S. workforce."
Field Activity Management is the art of managing and reacting to all of the moving parts a business has operating outside of a central office. To keep up with the times, companies must enable their employees to be as productive on the road as in the office, as well as enable management the visibility needed to ensure operations run efficiently.
Manual tasks such as tallying travel and expense receipts, scheduling meetings and logging miles traveled takes time away from more important revenue-generating responsibilities. A new category of software, Mobile Workforce Management (MWM), has emerged to provide visibility into mobile worker activities, all the while providing end-users the tools to streamline manual activities and boost productivity. In conjunction with MWM technologies, Wired's "What the Internet of Things Will Bring to the Workplace" predicts that eventually, "manual entry will fall by the wayside, giving humans more time to focus on ways to be proactive with the data rather than spending time entering it."

"According to the recently published VMware State of Business Mobility Report, which examined the transition from the client-server to the mobile-cloud era, businesses that have embraced mobility realize significant cost and operations benefits, including increased productivity and effectiveness...the largest impact is seen in top-line opportunities that help companies realize the value presented by mobility...leaders in mobility see an average return on investment (ROI) of 150 percent thanks to the increased agility that allows them to quickly capitalize on new revenue opportunities," says Alexis Reed in Motus' "The Mobile Workforce: How Mobile Devices Impact Productivity."
Investing in mobile workforce technologies will allow your team to better help your business to exceed its goals. With the predicted growth in the mobile workforce and advancements in Field Activity and Mobile Workforce Management technologies, there's never been a better time to revisit your enterprise mobility strategy.
Support HuffPost
The Stakes Have Never Been Higher
Related
Popular in the Community