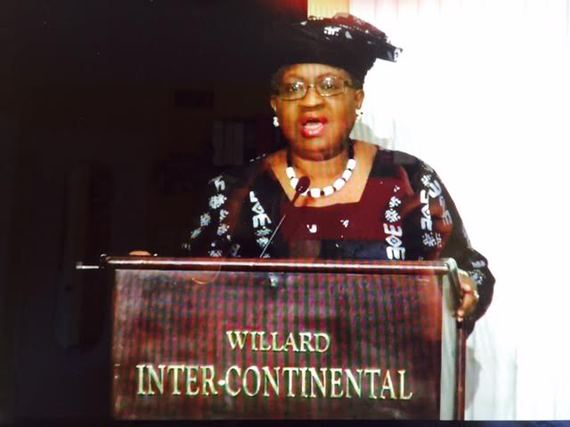 Dr. Ngozi Okonjo-Iweala, Former Finance Minister for Nigeria and Chair of the GAVI Vaccine Alliance Board speaking at the first Forum on Mobilizing Resources for Health
On April 14 and 15 I had the pleasure to co-host, together with the World Bank, the first annual forum on Resource Mobilization for Universal Health Coverage. Even though this sounds like a mouthful I can assure you that the topic is extremely important for all of us working in global health. Put simply, Resource Mobilization is about ensuring that low- and middle-income countries are able to finance their own health targets and in so doing meet the Sustainable Development Goals (SDGs) set forth by the United Nations in September 2015. Universal Health Coverage simply means ensuring that everyone has access to the quality and affordable health care they need. How countries do it, is entirely up to them and to their own citizens.
Because this forum took place just a few days ahead of the World Bank Spring Meetings, we were fortunate to have many high level delegates from ministries of finance and ministries of health from around the world in addition to representatives of bilateral donor agencies, philanthropic foundations, the private sector and prominent civil society organizations. This unique blend of perspectives, provided a rich discussion on how to leverage funding for health and reduce out-of-pocket health costs, which are a major driver of poverty for many families.
Significant progress in global health during the last few decades, has opened the possibility of closing the gap in life expectancy between rich and poor countries in the span of one generation, a grand convergence vision that is now enshrined in the SDGs. This trend, however requires additional investments equivalent to about $70 billion a year, according to the Lancet Commission on Investing in Health. The good news is that this level of investment in the health sector has the potential to yield economic returns of 9 to 20 times its cost.
Unfortunately, despite the high projected return on investment, development assistance for health remains stagnant. Hence the need to think beyond traditional assistance and to acknowledge that countries are indeed developing and economies are growing. There is evidence in an increasing number of emerging economies that as GDP increases so does health spending but, without proper insurance mechanisms in place and weak public financing systems, the likelihood that people will face financial catastrophe remains high.
Chris Elias, President of Global Development for the Gates Foundation and one of the many illustrious Forum participants put it well when he said, "Resource Mobilization is like changing leads in the middle of a dance and we must learn to study the stars." Chris is talking about the dance of development and the stars being those countries who are fast learners and are finding innovative ways to finance their own health agenda.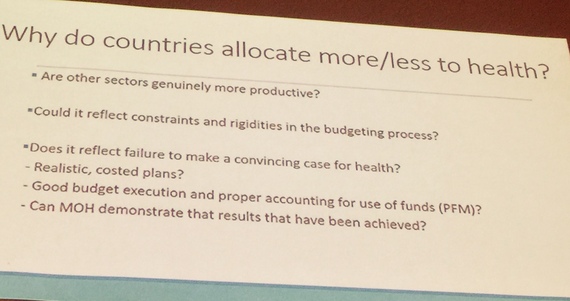 One way countries can raise revenue is through taxes. But in many developing countries, where a large percentage of the population is poor, governments focus on raising import taxes or VAT. Take Ghana for instance, where 2.5 percent of their Value Added Tax (VAT) supports the health budget, as noted by Nathaniel Otoo, CEO of the National Health Insurance Agency. He added that the "Expansion of the tax base has benefitted the national insurance scheme, which is now covering 41 percent of the population." Another interesting example comes from the Philippines where taxes on tobacco have contributed to significantly raising the health budget as reported by Jeremias Paul, their former Under Secretary for Finance. Other so called "sin taxes" that have been used to finance health budgets are taxes on carbon emissions as well as sugary drinks and products.
Forum participants also grappled with the fact that tax evasion and tax incentives (exemptions, credits and preferential treatments) are among the leading sources undermining a country's capacity to raise revenue. Hence the need to support countries in their efforts to strengthen their public finance systems and in so doing, address the issue of transparency. On this very topic, USAID sponsored a side session on approaches to strengthen governance and accountability. Central to this discussion was how decision maker's behaviors and practices can be influenced to safeguard the interests of consumers, especially the poor and marginalized.
Finance ministers often insist on evidence of efficiency and returns on investments. Participants agreed that bringing together finance and health officials is critical for making the case that investing in health makes economic sense. Isaac Folorunso Adewole, Minister of Health for Nigeria, was adamant when he said, "We must speak the dialect of finance ministers when advocating for health, use credible data and strive for efficiency." His words were echoed by Ngozi Okonjo-Iweala, former finance minister for Nigeria and now chair of the GAVI Vaccine Alliance Board, who added that the health and education communities must combine forces in their quest for more resources.

One side session was entirely dedicated to exploring the potential of the private sector to advance the health agenda. Whether it is a matter of sharing financial risks, advancing innovation, setting quality standards or helping the public sector use its resources more efficiently, the role of the private sector remains unclear and possibly untapped. This is where civil society has a role to play: by holding both public and private sectors accountable.
"Investing in citizen movements and in democracy is critical for ensuring appropriate health budgets," said Agnes Soucat of the World Health Organization. While Ray Offenheiser, President of Oxfam America, added that having specific health targets is necessary in order to mobilize civil society around quality and equal access but also in regulating the private sector.
So yes, a lot of topics were covered over two packed days. The goal is to make this a yearly event and to educate ourselves on what it means to mobilize resources for health and how this is translated into the reality of countries. Now that the notion of affordable and quality health care for all is enshrined in the sustainable development goals of 2030, we need to think about how to pay for this and how best to strike a balance between efficiency and compassion.