It's hot, it's here, and it's rolling out.
If you're not familiar with Mobilegeddon just yet, then here is the quick rundown.
In April of last year, Google released an update that was a push for a mobile-friendly user experience. This update gave favor to sites in mobile search that had incorporated responsive design by ranking them above others that had not.
The reason for this push was due to an increase in searches made on mobile versus a desktop laptop.
Desiring to keep in step with users wants and needs, Google decided that websites should be making the move to responsive -- which has more than one benefit for your business.
Fast-forward nearly one year to the date, and Google has rolled out the 2.0 version of Mobilegeddon.
What does that mean for websites and those that rely heavily on local mobile search?
Today we're announcing that beginning in May, we'll start rolling out an update to mobile search results that increases the effect of the ranking signal to help our users find even more pages that are relevant and mobile-friendly.
My friend, Stephen Alemar Content Marketing Manager with Duda explained this announcement best.
... if you haven't jumped on the whole mobile bandwagon yet, you're going to want to. Like, really, really going to want to... because if you didn't take a significant hit last time around, there's a strong possibility this time will be different. - Source
Google is doubling down on their original push for a friendly mobile web, so you really can't afford to ignore the need to shift to responsive design.
Your Options for Making Your Site Mobilegeddon Proof
Before you run out and do anything, you should first check to see what Google thinks of your site.
Run your URL through the Mobile-Friendly Test to see the results. If it kicks out a reading that your site is not mobile-friendly, then that means it's time to explore your options for the next step.
This is the least favorable choice since plugins that convert your site into a mobile version tend to not give the best user experience. Plus, some of these eliminate the use of pop-ups or notification bars and thus, they could hurt conversion rate.
But in case you're on a budget and want to explore this option, then there are WordPress plugins that can help you do just this.
Jetpack Plugin - This is one of the easier ways to add a mobile version to your site and get the green light from Google.
If you're using WP to power your website but your theme is not responsive, then changing the theme you use to one that is mobile-friendly is likely your most practical option.
Changing a theme versus using one of the plugins listed above means that your site will keep in step with your branding and allow you to still use pop-ups and other conversion-driven plugins you have on your site.
Thankfully, there are a ton of choices out there.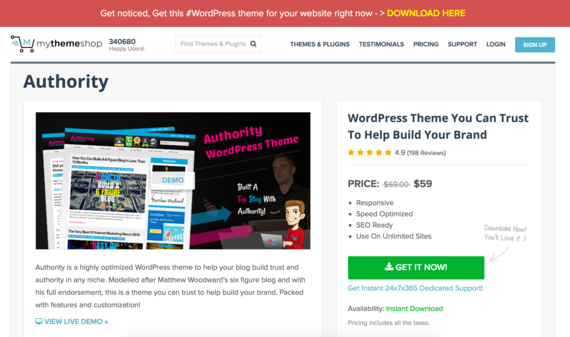 There are popular theme shops such at MyThemeShop or ElegantThemes where all the themes are responsive and coded for SEO.
If you're on a tight budget, then the Responsive Theme by CyberChimps is a great free option and it's one of the most popular frameworks around with a ton of customization options.
Obviously, this list is not exhaustive, but a quick Google search will produce some great theme options for you.
With Google's mobile initiative taking strides with this recent update, now is the time to take action so you don't get dinged in ranking. And by keeping up with Google's move to a better overall user experience across all viewing platforms, you'll have less to worry about as other updates are sure to roll out.

What do you think of Mobilegeddon 2.0 and Google's overall push for better user experience? I'd love to hear your comments.
Popular in the Community