#MobTel is "The Gang of Five+" -- AT&T, Verizon, Centurylink, Comcast & Time Warner Cable -- plus friends, and they control most of America's communications.
First, as a group, MobTel is currently the most despised industry in the U.S.A.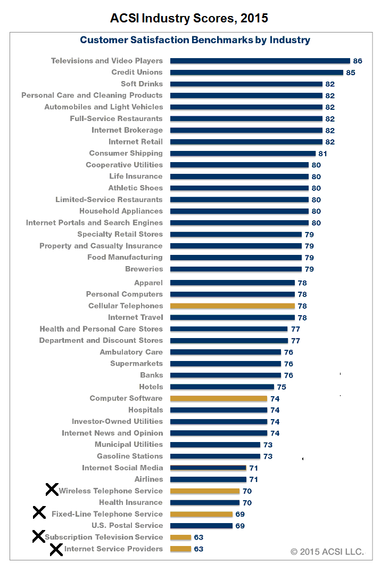 According to The New York Times, the newest findings by ACSI, released June 2015, detailed that the cable TV and the incumbent-based Internet Service Providers (ISP) were again some of America's most hated companies.
"Customer Satisfaction with TV, Internet and Phone Service at 7-Year Low, Study Finds"

"The American Customer Satisfaction Index released on Tuesday the results of its latest study on customer satisfaction with cable TV, Internet and phone service providers, saying that the results declined to a seven-year low. Of the 43 industries on which the survey solicits opinions, TV and Internet companies tied for last place in customer satisfaction."

"'Internet and TV have always been among the lowest scoring,' said David VanAmburg, director of the Index. 'But this year they're at the very bottom.'"
But it doesn't really hit home just how much customers hate these companies until you see the listing of every other industry being rated higher than the ISPs, or the cable TV companies or even the wireless companies. The chart above is from ACSI's most recent report (which requires signing up for the free download). We added the "X."
So, just on the surface, when the most hated companies in America all work together to sue the FCC, we should at least know something just ain't right, and that's putting it mildly.
This is not to say that the FCC got it right or deserves congratulations. It doesn't. I'll get to that in a second.
#MobTel: Only 5+ Companies Are Controlling Most US Communications.
AT&T, Verizon and Centurylink are the incumbent wired phone companies in most of America, (though Verizon has been selling off properties, most recently in Florida, Texas and California). These three companies also control most of the wires that are used by the other wireless companies, (known as "special access" or "backhaul") as most cell phone calls and data end up traveling over a wire. AT&T and Verizon are the two largest wireless companies. Centurylink has a deal with Verizon to sell their wireless service. Comcast and Time Warner Cable, (almost merged), still control the majority of the cable networks, and AT&T, Verizon and Centurylink have joined them in offering cable, but they all control most broadband, Internet and cable services and counting cell phones, phone service. In fact, the cable companies sold a chunk of their wireless spectrum to Verizon so that they'd all just be one, big, happy family. Verizon even has a deal to bundle the Verizon Wireless service with the cable bundle in areas Verizon has refused to upgrade.
Let's give the monopolies/duopolies more control... great idea.

Regardless of what you think or know about Net Neutrality and the FCC's Open Internet decision, isn't it nice that there is a cartel willing to working together to harm us?
What they want is unfettered control over all communications, whether it's over a wire or wireless, (which is also controlled by the wire), or satellite.
Does anyone think that services will 'improve' if these companies get more control and less oversight?
And, instead of all of them getting their hands dirty, with the exception of AT&T and Centurylink, they decided to let their associations do the heavy lifting.
The legal challenge includes: The United States Telephone Association, "USTA" (representing the incumbent phone companies), the "CTIA" (representing the wireless companies), the "NCTA," (representing the cable companies) and two smaller associations; 'WISPA," Wireless ISP Association, and "ACA," American Cable Association.
Note: These two smaller associations represent more rural cable companies or rural wireless-Internet companies. While they definitely have issues with the Net Neutrality Order, they are being used by MobTel: "See, the small companies are also being harmed."
This legal challenge is saying: The FCC is applying old, phone regulations on the new, shiny Internet and these old regulations, commonly labeled as "Title II," harm investment.
"Under the guise of ensuring that the Internet remains "open," the Order upends the decades-old status quo by subjecting the service that offers consumers the capability to access and use the Internet --broadband Internet access service -- to heavy-handed, public-utility-style regulation designed for 19th-century railroads and 1930s telephone monopolies."
"Those decisions achieved astonishing success. Petitioners and their members invested hundreds of billions of dollars in reliance on that policy and brought broadband service to rural and other underserved areas."

"In the last two decades, the FCC -- seeking both to implement Congress's direction and to encourage capital-intensive investment in broadband deployment -- consistently applied those statutes to classify broadband as an information service exempt from Title II."

"Finally, the dissenting Commissioners criticized the majority's cursory dismissal of facts showing that subjecting broadband to Title II would chill investment and undermine enormous reliance interests of broadband providers that had invested billions of dollars in infrastructure." See Commissioner Pai Dissent; Commissioner O'Rielly Dissent."
This fight is going to go on for years. Click to read what the term "Title II" means.

This claim is very perverse when one realizes that at least Verizon has been and is still using the "Title II," telecommunications classification to charge local phone customers billions for the deployments of broadband.
Using "Title II," Verizon has made customers 'defacto investors.'

In New York, Verizon has been able to charge regular, basic phone customers over $750.00 extra, per line since 2006 for "massive deployment of fiber optics." And there was also an additional $300.00 extra added to services like inside wiring or nonlisted numbers.
Ironically, these rate increases were supposed to be used to the roll out a fiber optic wire that could be used for FiOS, which is a set of services that rides over this fiber optic network. However, we found that Verizon's entire fiber optic build outs, including the fiber optic wires to the cell towers or the fiber optic wires used for special access, have all been funded, in part, by diverting large portions of the local phone construction budgets for use by these other lines of business.
And this was all based on a 2005 Order by the NY State Public Service Commission that says that Verizon's Fiber-to-the-Premises, FTTP networks, are part of the original utility, mostly copper-based wired networks. From 2006 through 2014, we estimate that Verizon NY collected over $5 billion from customers from these rate increases.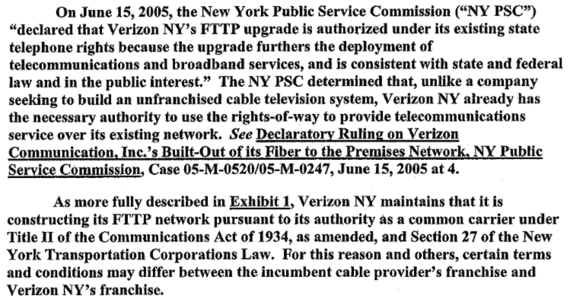 We also analyzed multiple states' fiber optic commitments since the 1990's. In New Jersey, for example, Verizon NJ charged customers about $15 billion through 2014 for a fiber optic upgrade of the State utility. In 1993, state laws were changed and regulations modified that required Verizon NJ to have 100 percent of its territory completed with a fiber optic service capable of 45Mbps in both directions by 2010.
Verizon Pennsylvania is supposed to have completed 100 percent by 2015 and the company collected an estimated $18 billion to do the upgrade by 2014. Unfortunately, instead of fiber optics, Verizon was able to pull a bait-and-switch and get the State to agree to allow the company to use wireless as a substitute with speeds of 1.5Mbps instead of 45Mbps. And every current Verizon state along the East Coast of America had commitments as well as payments made by customers in the form of rate increases and tax perks to pay for these upgrades.
Congratulate the FCC? I don't think so.

The FCC has never examined the monies collected in the states in the name of broadband (which happened in every state). The FCC has also never tracked the commitments made by the phone companies in virtually every state to deploy broadband, nor tracked the changes in state laws that were used to charge local phone customers for network upgrades, nor even where the money went, as only a fraction was used for the construction of broadband, much less the maintenance of the existing copper networks.
And what was the FCC thinking when it made the companies larger through mergers? For example, the FCC's recent decision that allowed AT&T to gobble up DirecTV should never have happened, especially when you consider that there is evidence (and AT&T's own statements) that it failed to live up to a previous commitment from the AT&T-BellSouth merger to have broadband deployed to 100 percent of their 22 state territory by 2008. Moreover, the FCC allowed AOL to be sold to Verizon, even though Verizon also had previous commitments to deploy broadband, which were unmet, in multiple states. More importantly, Verizon is the utility provider in every state, but is walking away from its primary business -- local infrastructure -- in every state.
All of the Net Neutrality backs-and-forths are simply a 'show,' put on by a group of 800 pound gorillas, who are banging their chests. Ironically and strategically, this is the plan of MobTel -- to tie up the agenda for years while the FCC looks like it is actually doing something when, in fact, it is just feeding and helping perpetuate their plan.
Until the FCC actually investigates how much money customers were charged for the fiber optic network upgrades, how much of the money for these upgrades was diverted to build other lines of business, and how all of this was done by using Title II as the investment tool, then all of these machinations are just for 'show,' with no real change happening.

And let me be clear -- we paid for an upgrade to the state utility telecommunications network; we were not supposed to be charged for building new lines of business that the companies claim are 'private property for personal use.'
In Verizon's case, Title II is the method of investment. Conning the FCC with the claims that Title II harms investment without the FCC investigating this critical issue, is just MobTel's doubling down on bad acts.
If the state regulators aren't providing basic enforcement and oversight, and the FCC's plan just plays into the hands of MobTel -- then how is America supposed to fix this mess, where our communications companies' are now some of the most hated companies in America and now are all working together, more than they are competing?
Calling all HuffPost superfans!
Sign up for membership to become a founding member and help shape HuffPost's next chapter