 Moby-Dick, by composer Jake Heggie and librettist Gene Scheer, opens at San Francisco Opera on Wednesday, October 10th and runs for eight performances through Friday, November 2nd. The production is directed by Leonard Foglia, a member of the original team since the opera's 2010 debut in Dallas, and conducted by Patrick Summers who led SF Opera's world premiere of Heggie's Dead Man Walking in 2000. Set designs are by Tony nominee Robert Brill with digital projections created by cutting-edge technologist Elaine McCarthy whose opera credits include Dead Man Walking at New York City Opera and Broadway mega hits Wicked and Spamalot. Adding a bit of drama to the sea-faring spectacle is the Company's recent announcement that tenor Jay Hunter Morris will sing "Captain Ahab" in all performances. Morris has already received critical acclaim as Ahab in San Diego and Australia, and was heralded for his debut in the title role of Siegfried during SF Opera's 2011 Ring Cycle.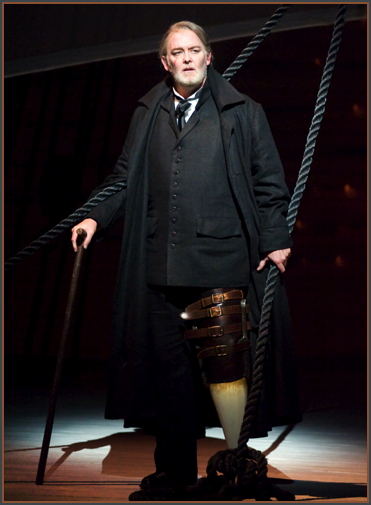 JAY HUNTER MORRIS - as Captain Ahab
Photo, Photografeo State Opera of South Australia
"I knew from the beginning Moby-Dick was a very good idea," said Jake Heggie during our recent interview. "Right from the start, people were a little stunned that we were taking it on. That's not a bad way to start a project because it keeps people engaged. It wasn't, "Why are you going to do that?" -- but, "How are you going to do that?!"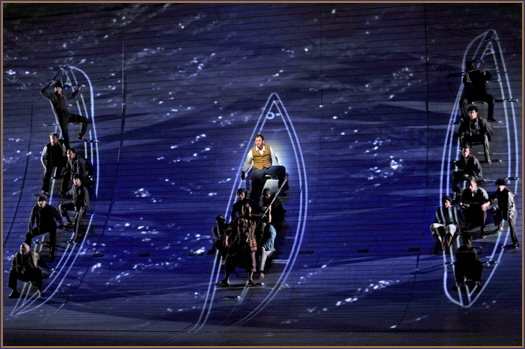 MOBY-DICK. Photo, Karen Almond
At the outset, it was playwright Terrence McNally's idea to work with Jake Heggie. The idea was never to put "the book" onto the stage, as had been attempted with each of the two film adaptations, but to distill Herman Melville's 1851 novel down to a workable size and shape and explore its mighty depths through music. But about a year later, McNally needed to withdraw from the project. Heggie secured librettist Gene Scheer who had collaborated with him on two other operas, Three Decembers in 2008 and his one-act, To Hell and Back in 2006. McNally left them with three main ideas. The entire story should take place on the water with all land scenes being scrapped. The role of "Pip," the African-American cabin boy, would become a pants role for a soprano and the role of "Ahab" designed for a Heldentenor -- the variety Wagner had in mind for "Siegfried" and "Lohengrin." As they continued, came a bit of transforming magic.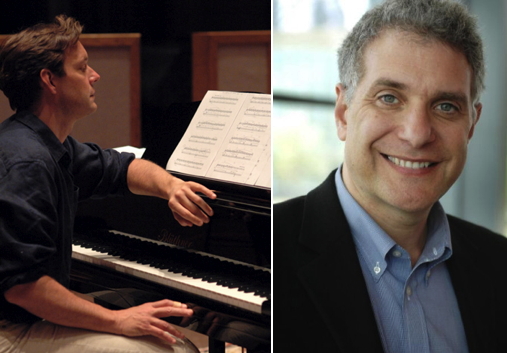 JAKE HEGGIE -- GENE SCHEER
Photos, San Francisco Opera
"Suddenly an idea happened," said Jake. "Instead of the first line of the opera being, 'Call me Ishmael' - what if it's the last line, when he's being rescued? On the stage, things have to happen actively in real time. If you have a narrator telling you what happened -- it can get very boring. But if you create the story in real time, then you can watch what happens to him, what transforms his life. We see the ship being taken over by this maniacal obsession and watch Starbuck's struggle with Ahab. We see the relationship develop between Queequeg and the whaleman -- who we call Greenhorn and who will ultimately call himself Ishmael. Now we have a real stage piece. That was a real turning point. Then I realized this was really possible."
In addition to his work in opera, choral and chamber music, Jake has composed over 200 art songs. His recordings feature such artists as Renée Fleming, Brian Asawa, Frederica von Stade, Kristin Clayton, Carol Vaness, Zheng Cao, Joyce DiDonato, Paul Groves, Isabel Bayrakdarian, and Susan Graham. I asked him about a characteristic style in his writing, specifically his use of multiple time signatures throughout any given song. The results are a feeling of ease with the text and an immediate embrace with the ebb and flow of dramatic tension.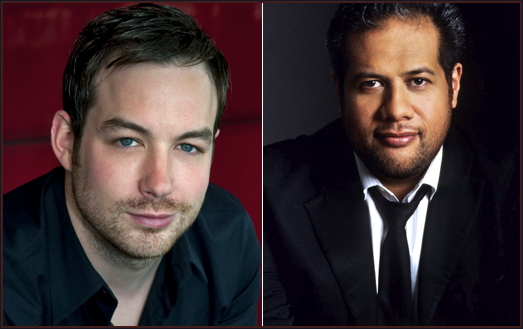 STEPHEN COSTELLO (Greenhorn) -- JONATHAN LEMALU (Queequeg)
Photos, San Francisco Opera
"I know I write very lyrically for the voice," he said, "but I write in a very free sort-of chromatic pallet and I do write complex rhythms when I need to. But when they're performed correctly they sound very organic and natural. Anytime I'm writing a big piece, the part that takes the most time is living with it so that a real musical universe for the piece emerges, so that all the characters live within that musical universe and that sound world and have their own identity within it. You can tell they're part of that world, but you can also tell who's singing. The breakthrough in Moby-Dick was this four chord pattern based on an E-minor triad that expands and collapses. All of a sudden, that became the central theme for the entire piece and everything emerges out of that. You hear it right away in the Prelude. It's an undulating rise and fall of harmony and melody that goes throughout."
"Is it safe to say you are in love with the libretto?"
"Oh, yeah! I have to be. I have to love every single character -- with all their flaws and everything else. I have to really feel them in my heart and empathize with them. I think that's part of my job as a composer -- to find out not only what's going on in their heart, but in the hearts of the people around them and how they're all influencing each other. And then how natural events are having an impact on them as well. Once a character encounters another character the music is immediately changed. Anytime you meet someone, if they occupy a place in our head and our heart, then somehow we are changed a little bit. We're either better or worse off for it, but that is a change."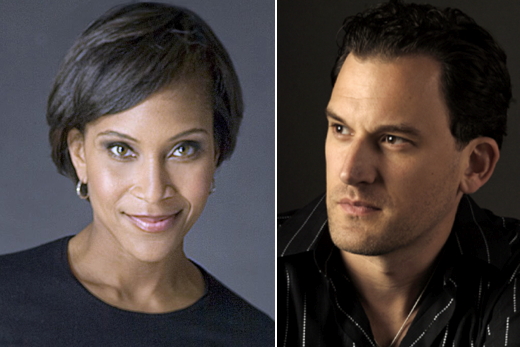 TALISE TREVIGNE (Pip) -- MORGAN SMITH (Starbuck)
Photos, San Francisco Opera
"I think the reason I struggled so much musically with Moby-Dick when I was first writing it -- because I wrote for about six months and then threw everything away and then started over again -- is that everyone seemed very real to me except the character of Ahab. I still had him as a sort-of archetype. So, I took the path of least resistance and went to this aria in the middle of the opera that I knew how it would go. And he suddenly just emerged as this fully-formed, very vulnerable, wounded person who knows he's going mad, can't do anything about it, and is lamenting that fact. Suddenly the whole world of the opera opened up and I was able to write. But while I was writing the music, I was also aware that my entire sound and style was going through a change. And those are the hardest times. Because you're not relying on what you've done before. You're finding fresh ideas and working through them. That happens every now and then through any creative artist's life. There are these moments when you suddenly sense that their style has changed. Something has either grown or shifted. Moby-Dick was one of those pieces for me. I think a lot of the struggle was that as well. Then once I had worked through it, I wrote the opera very quickly. And with great joy and appreciation and gratitude every single day -- to know that I'm the one who's getting to write Moby Dick! I'm so filled with gratitude everyday anyway that this is happening here in San Francisco and I'm still on the planet with people I love and able to share it. That is terribly moving for a creative artist -- that kind of opportunity and appreciation in your own lifetime."
Jake Heggie and Gene Scheer's Moby-Dick was commissioned by San Francisco Opera. It is a co-production with Calgary Opera, Dallas Opera, San Diego Opera, and the State Opera of South Australia. Click here to purchase tickets on-line: MOBY-DICK
Watch Frederica von Stade and Lisa Delan perform Jake Heggie's "My True Love Hath My Heart" with cellist Matt Haimovitz and Jake Heggie at the piano. Pacific Musical Society's centennial gala, December 11, 2010, in the Gold Room, Fairmont Hotel, San Francisco.
Popular in the Community