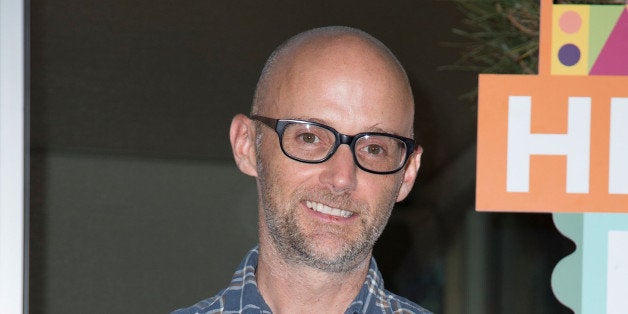 These days, our knowledge of celebrities too often originates with paparazzi images and snarky quotes by anonymous "insiders." After a while, it's easy to forget that stars are real people. That's why HuffPost Celebrity decided to launch its all-new #nofilter quick-fire question-and-answer series. Because how well do you know someone until they've shared their guiltiest pleasures?
Fourteen years after his 1999 masterpiece, "Play," Moby is back with his 11th studio album, "Innocents." In honor of the new release, the electronic-music pioneer chatted with us.
What's your guiltiest pleasure?
It's a tricky one, because I have a lot of guilty pleasures but I'm not all that guilty, and if I say what they are they're going to sound so benign. I stopped drinking about five years ago, so if we were doing this interview six years ago my guiltiest pleasure would have been staying up until 8 o'clock in the morning doing a lot of raw cut cocaine. Now my guiltiest pleasure is vegan pizza.
What sense would you most be afraid to lose?
Ideally I don't have to lose any of them, but I guess the sense that I would be most afraid to lose from a very practical perspective would be the sense of touch. As much as I'd hate to lose any of the other senses, I feel like losing your sense of touch would have the most deleterious consequences. That way, if you were bleeding, you wouldn't know that you were bleeding.
What or who is overrated right now?
I guess I would go with disingenuous celebrity culture and anyone who buys into it. Just whenever I see manicured, well put-together pop stars or actors trying to advance or present this public image, I just wonder why they make the effort. It seems like more trouble than it's worth.
If you could commit a crime and get away with it, what would it be?
The only crimes I can think of, I think even saying what they are is a federal offense. I don't know if it's possible to say this in the most diplomatic way, if I could commit a crime that would enable me to have Scalia, Clarence Thomas and Alito removed from the Supreme Court. Maybe even just a benign thing, like maybe my crime is I just take them on vacation for the rest of their lives so they're no longer on the Supreme Court and Obama can appoint actual sane people.
What's one thing you do when you're alone that you wouldn't do in front of someone else?
An easier question to answer is what's something that I do alone that feel comfortable doing in front of people. I would say dancing.
What happens in your recurring dream?
An entity from another dimension shows up into our world and steals people's souls and brings them back to the dimension that the entity comes from.
What's the working title of your autobiography?
"Little."
When do you feel most anxious?
Before having to end a relationship.
Is a good friend hard to come by?
I don't know if a good friend is hard to come by. I think it's sometimes quite hard to do the work involved in really sustaining a good friendship.
Describe one time you thought "This is harder than it looks."
After the Supreme Court handed the presidency to George W. Bush in 2000.
What are you most afraid of?
Clearly, I would not like to be buried alive in a bucket with a thousand black widow spiders.
When do you feel most at peace?
Whenever I'm playing with dogs.
What's the most unusual thing you have in your wallet?
St. Francis prayer.
Tell us a joke.
Unfortunately I have lots of jokes, but they're all so profoundly offensive that I can't really tell them in public because I run the risk of losing every friend I have. And they're really just horrible jokes that were, I believe, invented by Satan on crystal meth. I'm trying to think of one that's even relatively innocent and I can't.
Moby has partnered with BitTorrent to share the entire stem catalog from "Innocents," his 11th studio album, as a BitTorrent Bundle. Visit Bittorrent.com for more information and to download four new tracks, three music videos and album art.
Calling all HuffPost superfans!
Sign up for membership to become a founding member and help shape HuffPost's next chapter
BEFORE YOU GO
PHOTO GALLERY
They said WHAT? #nofilter