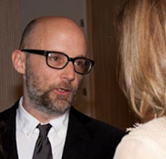 I had the pleasure of meeting Moby this past weekend in Los Angeles at the 24th Genesis Awards, an event honoring major news and entertainment media for producing outstanding works which raise public awareness of animal rights and protection issues. While many of us know Moby as a great musician, singer-songwriter and social activist, we can now add "editor" to his repertoire of how he is making a positive difference in the world.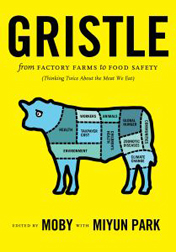 Moby and Miyun brought together fifteen leading voices on this issue to examine the food industry from different perspectives--including farming, workers' rights, science, environmental sustainability, food business, and animal welfare advocacy. Some of these voices include John Mackey, CEO of Whole Foods, Christine Chavez, former political director of the United Farm Workers Union, and Wayne Pacelle, President and CEO of The Humane Society of the US.
When I spoke with Moby on Saturday, he told me that he used to be a pretty self-righteous and holier-than-thou vegan, but found that being sanctimonious actually turned people the other way. Now that he has mellowed a bit, he says it has worked out better that way.
"There are a lot of people in the animal rights movement who can be very passionate and aggressive, and I applaud people's passion, but when people are judgmental and aggressive, all you end up doing is getting other people to turn away in irritation. To change people's minds, you have to respect the people you're talking to. Part of that is presenting the facts available, and not being pedantic or judgmental."

-- Moby quoted in an interview with Grant Butler of the Oregonian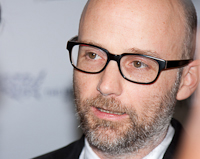 If Moby was at one time self-righteous in his activism, he certainly has changed his colors. I found him to be one of the most relaxed, easy-going and personable people I have met. And with that, I can't wait to read the book!
Moby started the promotion of Gristle last night at the Skirball Center in Los Angeles. His next stop is Seattle on Friday. To see when Moby will be in your city, click here. "Bring cookies and/or questions," says Moby.
After that, it's off to South America to tour in support of his recent album, "Wait for Me."
Have fun Moby! Thanks for all of the great work you are doing.
FYI: Any/all profits from the sale of Gristle will go to animal welfare organizations, including The Humane Society.
Photos by Lee Schneider. Book cover image courtesy of The New Press.

Calling all HuffPost superfans!
Sign up for membership to become a founding member and help shape HuffPost's next chapter