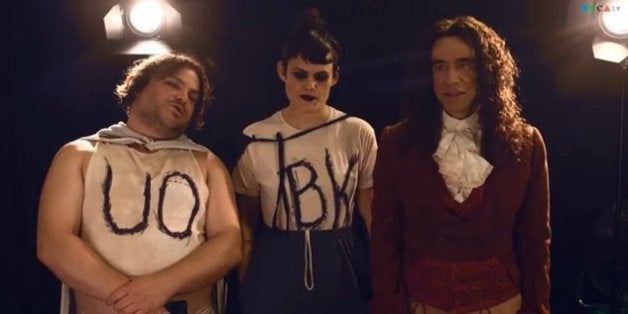 On Thursday, December 19 Los Angelenos braved the admittedly light rain and packed into the Museum of Contemporary Art's Ahmanson Theater for Art + Comedy night, kicking off a series of interdisciplinary programs airing on MOCAtv, the museum's YouTube channel. MOCA, an establishment known for its experimental and often youth-embracing initiatives, is "drawing on a long history of interplay between contemporary art and comedy," exploring the overlap between comedy and performance art.
The evening began with a performance by Fred Armisen, or as he preferred to be known that evening, Ian Rubbish. Rubbish, donning a leather jacket and gray mullet-esque do, waxed poetic -- in a British accent -- about the beauty of Los Angeles, declaring it the center of the United States.
The mood was perpetually shifting as audience members seemed eager to discern what was a joke and what was not. Clearly Armisen, as Rubbish, was performing, but with the line between comedy and art indistinguishable, the audience seemed hesitant to react too soon. Was he joking? Character acting? Playing with us all, Portlandia-style? While in comedy, the burden of the performance is placed mostly on the comedian, with art there is more pressure on the viewer to "get" the piece. We wanted to get it.
Then began a series of videos, the first of which featured joke DJ Doug Lussenhop, aka DJ Dougpound, talking the audience through his favorite YouTube videos. One showed bros thrashing around to techno in a European suburb, another the set of an undisclosed 1990s talk show with wildly dancing audience members and a peculiar life-sized Fabio cutout. The peculiar internet gems were funny, strange, uplifting, disturbing and, when projected on the MOCA stage, looked a lot like art.
The evening's main act was the premiere of "Ambiance Man," a comedy series by Alix Lambert featuring Fred Armisen, Jack Black and Jibz Cameron, aka Dynasty Handbag. Lambert rolled out the first four episodes of the web series, which centers around Armisen as a curly-haired superhero with a knack for sprucing up a room. "It's an idea I had many many years ago with a friend," Lambert explained to The Huffington Post.
"We were just spending time in her apartment and every time her roommate walked in he'd light a candle. So we started calling him Ambiance Man." Pumped full of fart jokes and Jack Black spread eagle in tighty whities, the shows certainly weren't typical museum material. But thanks to artists like Ryan Trecartin and Jaime Warren, who use the speed and logic of the internet as a starting point, low culture is starting to smell a lot like fine art.
"Santa Baby" by Dynasty Handbag
Dynasty Handbag stole the night with her closing live performance, which was something like a tragic karaoke marathon in the crux of a mental breakdown. With teased hair, a skin-tight leopard ensemble and makeup that looked as if it were a toddler's first attempt, Dynasty belted out the words to "Santa Baby," incorporating a medley of growls, lunges, squats and baby whimpers to the beat -- or not. Watching Dynasty perform was like watching a "Best of Jerry Springer" episode on fast forward. If a sensible human were to encounter this behavior in real life, they'd certainly phone the police within seconds. "I'd like to apologize for all the really bad art you saw tonight," Dynasty announced at the podium, again leaving audiences confused on how exactly to decipher her words.
We asked Lambert whether she saw a separation between the laws that govern art and comedy. "I don't know that they are so separate," she responded. "I'm not really concerned with what it's being called. If I think it's funny then I like it." It's true that both fields appeal to a singular logic, depending on an almost indescribable oomph to work as a successful piece. Dynasty's piece, a Dionysian all-you-can-eat buffet overload of voices, movements and modes, felt at once like Nickelodeon nonsense at its best and a experimental piece at a conceptual exhibition. High brow had dipped into low brow and made a beautiful mess.
MOCA's recent programming aims to break with the stuffy reputation of the old museum model, creating instead something accessible, shifting and alive. Whether or not this populist mentality results in a compromised vision of the museum is a widely debated subject, amongst art blogs at least. But one thing is for sure, Dynasty's schizophrenic karaoke breakdowns are a better mirror of our contemporary society than any figurative painting we've seen recently.
See the trailer for "Ambiance Man" below and the first two episodes above. Check MOCAtv for new episodes.
Popular in the Community