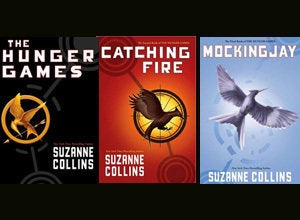 The last installment in Suzanne Collins' wildly popular "Hunger Games" trilogy hits stores today. Here's an early sampling of what people are saying:
"'Mockingjay' is the most violent and bloody and, based on the actions and statements of its characters, its most overtly antiwar -- though not so much that it distracts from a series conclusion that is nearly as shocking, and certainly every bit as original and thought provoking, as 'The Hunger Games.' Unfolding in Collins' engaging, intelligent prose and assembled into chapters that end with didn't-see-that-coming cliffhangers, this finale is every bit the pressure cooker of its forebears. Wow. Fans aren't likely to be disappointed."
"The realism is supplied by Collins' teen characters -- everyday kids thrown into a nightmare not of their making. The grown-ups tend to be plot devices, but they move the action along. 'Mockingjay' won't make much sense if you haven't read 'The Hunger Games' and 'Catching Fire,' but Collins' fans, grown-ups included, will race to the end."
"Fans will be happy to hear that 'Mockingjay' is every bit as complex and imaginative as 'Hunger Games' and 'Catching Fire.' Collins has kicked the brutal violence up a notch in an edge-of-your-seat plot."
"This concluding volume in Collins's 'Hunger Games' trilogy accomplishes a rare feat, the last installment being the best yet, a beautifully orchestrated and intelligent novel that succeeds on every level. In short, there's something here for nearly every reader, all of it completely engrossing."