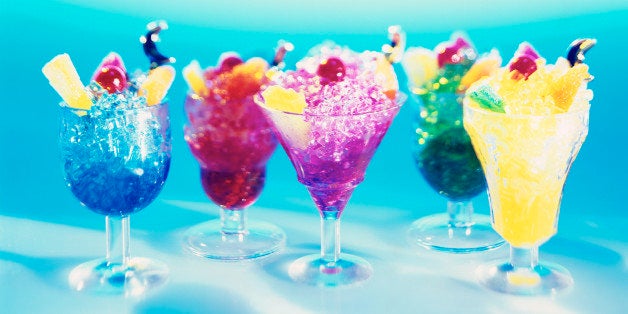 The boom in handmade non-alcoholic drinks.
It isn't sufficient that we have mastered the art of eating seasonal kale or succumbed to the charms of happy chicken or pork on our plate. In the relentless march of food as fashion, there is another fascinating front to explore.
A critical part of the dining landscape -- from curated wine pairings and cocktails to the explosion of craft beers and the proliferation of teas, water and juices -- we enjoy liquid refreshments throughout the day.
There is a growing interest in the area of creative non-alcoholic drinks, many of which embrace a dedication to seasonality or use ingredients spawned by the artisanal food movement. Think back to when shirley temples, virgin daiquiris, Cel-Ray and egg creams ruled. Fueled by a new generation of mixologists, mocktails are mainstream and no longer just for kids, teetotalers or pregnant women. They are delicious and innovative - and perfect for the warm weather months, challenging traditional iced tea and lemonade.
What do you need to know? Beverage and ingredient terminology can be unfamiliar. Here are some of the basic terms you will hear:
Shrubs are making a splash in the craft cocktail scene. Known as drinking vinegars, these are a wonderful addition to cocktails and mocktails alike, as they add a sweet, tart, bitter and acidic layer to your drink.
To make: Ferment any ripe fruit of your choice -- blackberries, pineapples, raspberries, peaches, anything -- by coating with equal parts sugar. Cover and refrigerate for 24 to 48 hours, when the sugar will break down the solid fruits into liquid. Strain and add vinegar. Conventional shrub recipes call for equal parts vinegar. We recommend using as much or as little as you prefer. My favorite types of vinegar are Normandy Champagne and apple cider, which give your shrub a cleaner, more fruit-forward taste.
A cordial is another term for "fruit-based liquid," and is generally thought of as an alcoholic liqueur. To make: boil 1 part water, ½ part sugar and 1 part ripened fruit/vegetable and/or herb at medium-low heat for 20 minutes. Let cool and store in a glass bottle. For a more complex, molasses-like taste, use Demerara or turbinado sugars in place of white cane sugar.
Infusions are the magic that happens when you steep fruit, vegetables or herbs in your base liquid or spirit, imparting flavors and creating a life on its own.
Syrups are common in cocktail bars and very easy to make at home. The most common -- simple syrup -- is equal parts sugar and water. For more intricate syrups, try infusing mint or basil in a mixture of equal parts hot water and sugar and steep for 20 minutes, so that the syrup imparts all of the flavors of the herb.
Dehydration is a great way to both preserve a short season ingredient (peaches, citrus) or to create a garnish with an intense flavor profile (pineapple, rhubarb, apple). You can dehydrate thinly sliced fruit, vegetable or herb in an electric dehydrator in your home, or use your oven on a low temp to accomplish the same result.
A well-balanced drink utilizes 5 main components:
Base spirit -- which we omit for our mocktails
Sweetener -- simple syrup, juice, straight up sugar (provided by the shrub). Substitutes for sugar include agave or honey. Suggested sugars include white granulated or the more upscale turbinado or Demerara, which add more complexity to the drink (smoke, a more caramel quality flavor.)
Sour -- citrus, lime, lemon, grapefruit (provided by the shrub)
Herb -- basil, mint, rosemary, cilantro
Water -- fizzy, or shaken into the drink over ice
I recruited my colleague, Luis Antonio Thompson, director of beverage innovation at Great Performances, to provide us with a few sample recipes, taking inspiration from our impending spring.
Ginger Root: Celery Root Juice, Spiced Cordial, Fresh Lime, Ginger Beer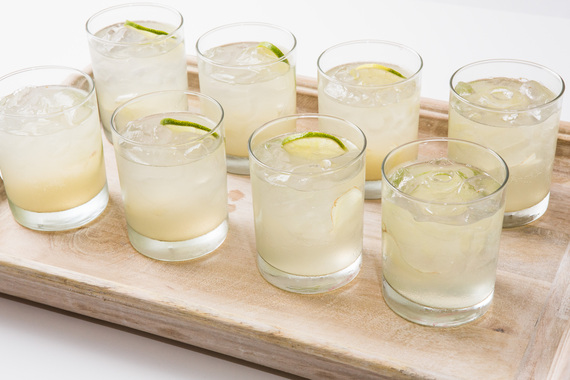 INGREDIENTS (serves 1):
3 oz. celery root juice (available at supermarkets or by juicing a root)
½ oz. spiced cordial (recipe below)
Squeeze of ¼ lime
2 oz. ginger beer
Lime wedge
Add all ingredients in shaker with ice; give light shake; pour into glass; garnish with lime wedge.
To spike: add 1 oz. spiced rum for every 3 oz. ginger root
To make Spiced Cordial:
2 cinnamon sticks
6 medium star anise
4 whole cloves
2 cups turbinado sugar
2 cups water
Boil all for 10 minutes on medium low heat
Let cool; strain into clean glass bottle
A Wonderful Thyme: Organic Thyme-infused Citrus-ade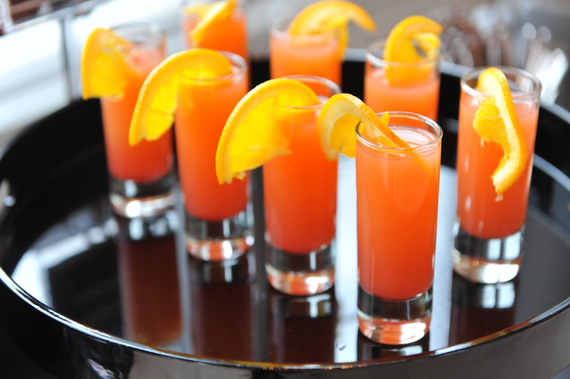 INGREDIENTS (yields 1 gallon):
1 ½ pints Demerara sugar
1 ½ pints water
1 ½ cups organic thyme leaves (approx. 4 bunches thyme without stems)
1 pint chilled fresh lemon juice
½ pint fresh squeezed orange juice
½ pint fresh squeezed lime juice
4 ½ pints water
Serve in 5 oz. tumblers with ice.
To spike: add 1 oz. organic vodka for every 4 oz. organic thyme-infused citrus-ade
To Make an Infusion:
Boil 1 ½ pints Demerara sugar, 1 ½ pints water, and thyme leaves for 10 minutes. Let cool and set aside. Once cool, mix with 1 pint chilled fresh lemon juice, ½ pint fresh squeezed orange juice, ½ pint fresh squeezed lime juice, and 4 ½ pints water.
Yields approx. 1 gallon thyme-infused citrus-ade.
Diced Pineapples: Pineapple Shrub, Fresh Mint, Sparkling Mineral Water, Pineapple Spear
INGREDIENTS (serves 1)
¾ oz. pineapple shrub (recipe below)
4 mint leaves
3 oz. sparkling water
Build in shaker with ice; give light shake; pour into glass; garnish with mint sprig.
To spike: add 1 oz. Kentucky bourbon for every 3 oz. diced pineapples
To make Pineapple Shrub:
2 pineapples cut into cubes
8 cups sugar to fully coat
Let sit 2 days; strain liquid from pulp
Yields 7 cups syrup liquid
Add 5 ¼ cups ponzu citrus vinegar
Rhubarb Basil Sparkler: Rhubarb Basil Syrup, Fresh Squeezed Orange Juice, Club Soda, Basil Leaves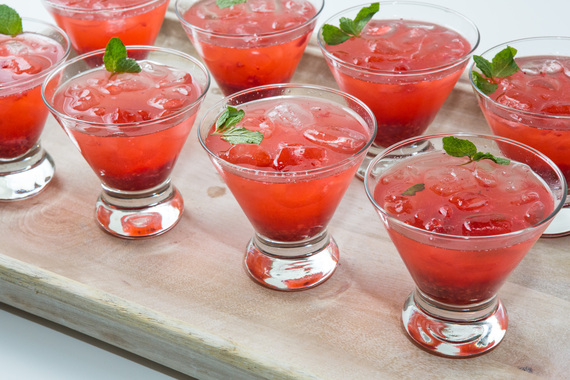 INGREDIENTS
1 oz. rhubarb basil syrup (recipe below)
1 oz. fresh squeezed orange juice
4 oz. club soda
basil leaves
Add all ingredients in tumbler with ice. Garnish with basil leaves.
To spike:
Add 1 oz. Limoncello to 4 oz. rhubarb basil sparkler.
To make Rhubarb Basil Syrup:
2 lbs. rhubarb
2 cups water
2 cups sugar
20 basil leaves
Wash and slice rhubarb into 1-inch cubes. In a pot, add rhubarb, water, and sugar. Bring to boil and simmer until rhubarb is soft, approximately 10 - 15 minutes. Remove from heat, add basil leaves and let sit + cool for 30 minutes. Yields 2 cups rhubarb basil syrup.
This piece was originally published in Our Town.