Members of the Occupy Wall Street movement raided a fictional recreation of their former Zuccotti Park camp late Thursday night into Friday morning, interrupting the filming of a new episode of NBC crime drama "Law & Order: SVU" that was taking place in lower Manhattan's Foley Square.
The show, a long running ripped-from-the-headlines police procedural, was in the midst of producing an episode that seemed to involve the economic protests that began in Zuccotti Park in September and have spread throughout the world. Word traveled online through Occupy's various social channels and a crowd of people quickly showed up to "mockupy" the square.
"Basically, obviously, 'Law & Order' was using this as a backdrop for some salacious story," Han Shan, a member of the OWS press team, told The Huffington Post. "People did it in the spirit of absurdity and fun, and we like to come together in public space and share ideas and show our vision through our action and we're doing that tonight with a good bit of jest and big fat smiles on our faces."
Although it was unclear if the filming permits had been revoked, the protestors were asked to leave the square when the park closed at 1 a.m. Various reports on Twitter stated that police forced out protestors, as well. When reached for comment, the NYPD was unable to provide any information.
"There's a pretty significant NYPD presence at this point," Shan said as 1 a.m. approached. "They did push us out, I don't think anyone wanted to take an arrest for this. It's fun and we were successful in kind of taking back our history, our very young history but taking it back from this TV show that wanted to use it. I don't know if it was our presence here that caused them to rescind [the permit] but they wouldn't be able to film, unless the jokes on us and they've been filming the whole time."
The "SVU" recreation of Liberty Square, the nickname given to the OWS encampment that was raided and cleared by the NYPD on November 15, had its own library and kitchen, which was stocked with real food, including animal crackers.
"I have to admit, it really felt like a very strange dream, that moment," Shan said of their initial raid of the recreated square.
"There are certainly some folks who feel really offended by the attempt to kind of use this very real, very living movement, this economic justice movement that's making real change for working families in this country, to use it in some kind of story line in this dramatic cop show," Shan said. "There are probably other folks among us who think it's just a fun excuse to get together and share in public."
PHOTOS (via Sandi Bachom):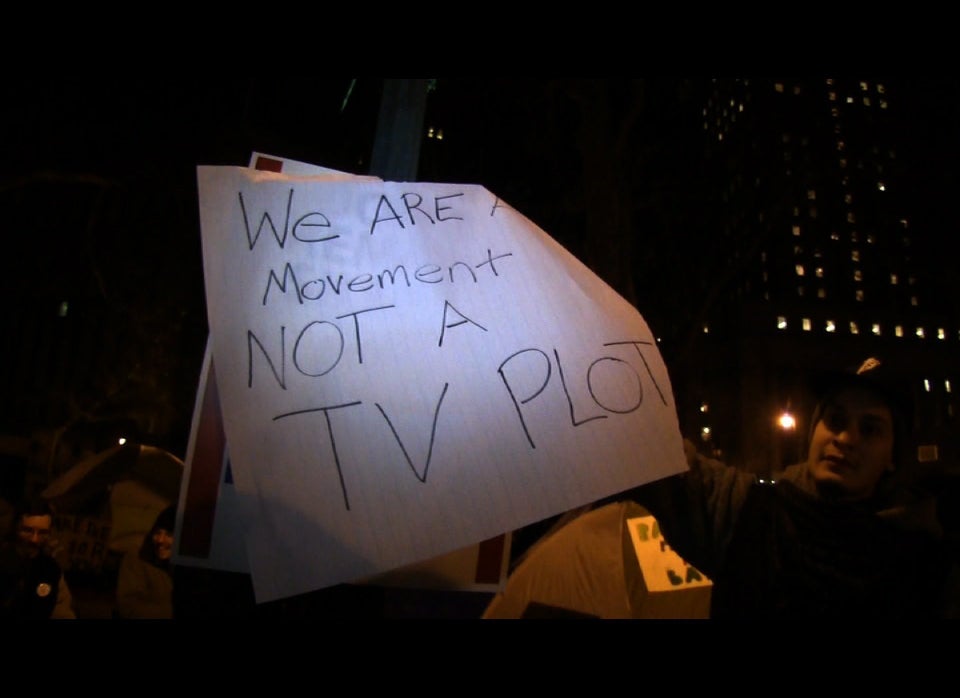 Occupy Wall Street At 'Law & Order: SVU'
Popular in the Community