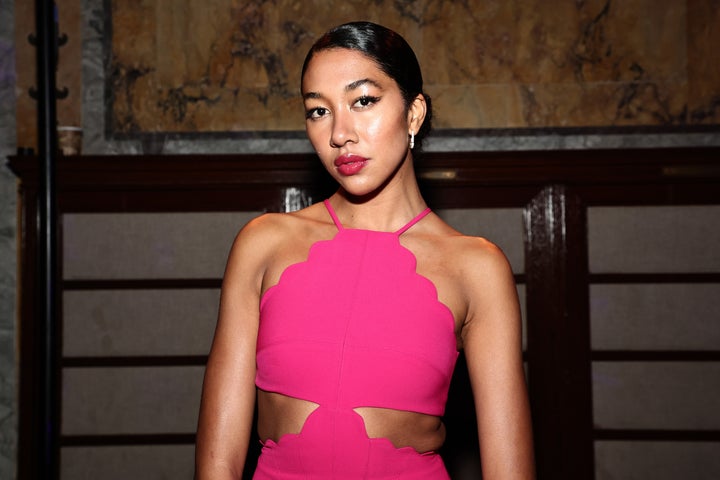 Following in her mother Kimora's footsteps, Aoki Lee Kyoko Simmons walks the runway with a purpose — and a lofty five-year career plan in hand. The 20-year-old model and classics scholar already made her New York Fashion Week debut while balancing a rigorous course load at Harvard University.
"I decided from a young age, I wanted to go to Harvard, Yale, or Princeton, much like Blair from 'Gossip Girl,'" Simmons told HuffPost. "I do this thing where I'm like, 'I want to have a plan.' And everyone's like, 'Thank you for your 85th five-year plan.' They're like, 'No model has an eight-year plan. Please calm down.'"
But with just five days until commencement, Simmons had yet to find a dress for the occasion. Between translating ancient Greek texts on final exams and celebrating her sister Ming Lee's graduation from New York University, fashion got lost in the fray.
"I had dreams to set up this cute outfit and do all of this stuff, but it was during finals," she said. "I wasn't thinking about the fit prep for a graduation that was right after finals."
In true Gen Z form, Simmons turned to the internet, scouring online retailers for her next option.
"I'm on REVOLVE like, 'What two-day shipping dress do I think will maybe be cute?' I have no shoes planned, I'm gonna do my hair and makeup myself and call it a day," she said. "And I'm really happy I get a chance to say it so no one's like, 'The graduation look didn't hit.' I don't think so, either. I didn't plan it very well!"
Needless to say, Simmons' graduation look from PatBo by Patricia Bonaldi was revered by many, garnering over 125,000 Instagram likes.
Although one thing may have slipped through the cracks, Simmons has a clear vision for the path ahead of her — and always has.
Daughter of hip-hop and entertainment mogul Russell Simmons and fashion icon Kimora Lee Simmons, she's no stranger to the limelight, making cameos as a toddler in "Kimora: Life in the Fab Lane." With an upcoming LSAT exam and a full-time modeling contract on the horizon, Simmons is now carving out a lane of her own.
Before she became the face of Tommy Hilfiger campaigns and strutted at Sergio Hudson shows, Simmons was drawn to academia and storytelling. Her mother enrolled her reading-obsessed daughter in kindergarten at the age of 2 or 3, said Simmons. By age 8, "D'Aulaires' Book of Greek Myths" captured her attention.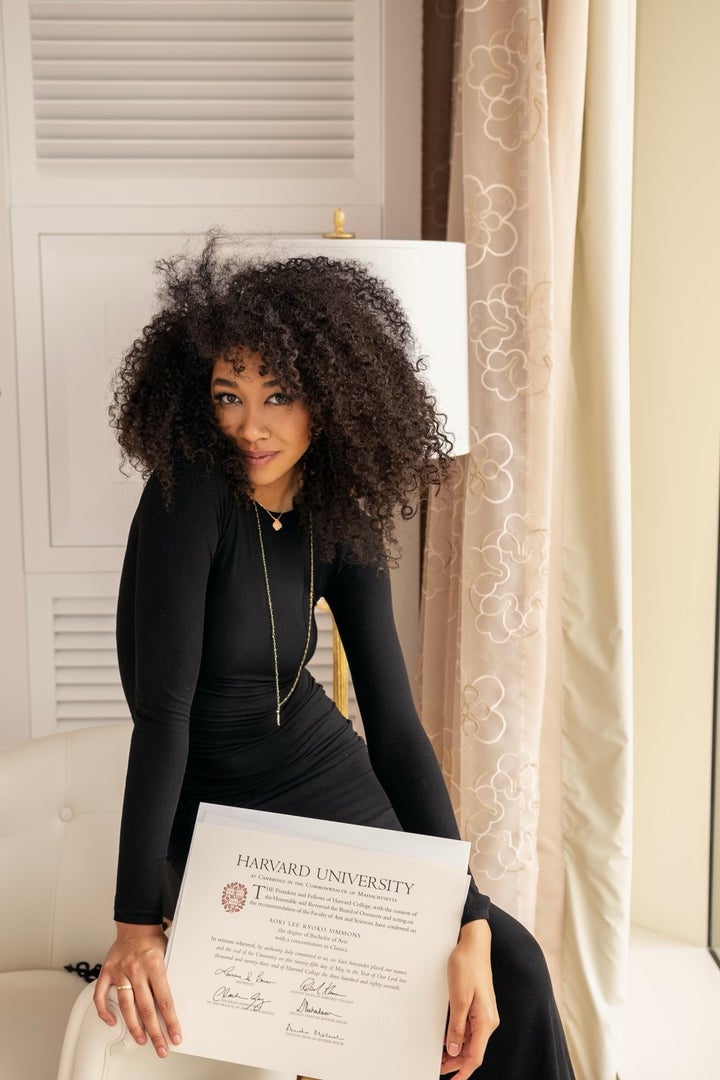 "I was looking at apartments just now. There was one — I loved it so much, but it was a loft — but I could tell from the huge collection of books that the person who owns it, who's selling it, is a classicist!" exclaimed Simmons. "They had all my books. I was like, 'Oh my God, they have Plato in Greek and English. Yay!'"
Intrigued by the gladiators, betrayal and drama, Simmons leaned into Greco-Roman history. Upon arriving at Harvard Yard, a recent alumna reached out to Simmons through the university directory. Turns out, the woman was working in an entry-level marketing and public relations role at a modeling agency. On a mission to scout new talent, she asked Simmons if she'd want to take up a modeling gig. Simmons' first response?
"We've been over this: No, I don't," she said. "It's kind of funny. I went through a whole life cycle, from a tadpole to a frog, then back to a tadpole."
As a toddler, Simmons would twirl in dresses and sprint down runways, throwing caution to the wind and ignoring her mother's instructions. As a preteen, she threw herself into her books, rejecting the camera. (Simmons said she had to be coaxed to pose in family photos.)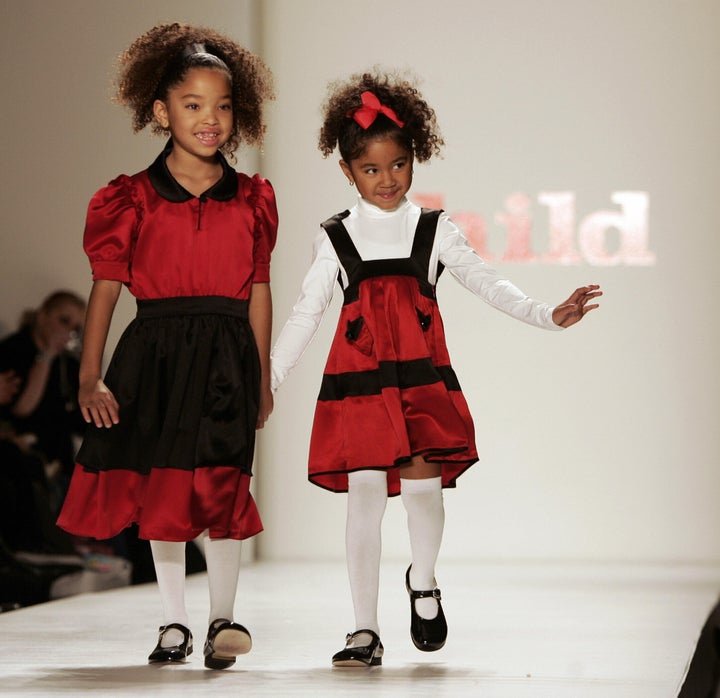 Simmons didn't feel drawn to academia just to buck assumptions that she's some vacuous celebrity kid — but because the importance of education was instilled in her by her mom. After her pioneering career in the fashion industry that started at age 13, when she was signed exclusively to Chanel (then led by the late Karl Lagerfeld), Kimora Lee Simmons earned her college degree in 2018 as Ming Lee Simmons finished high school.
"People see her as a very creative, forge-your-own-path woman. But there's a side of her that's just a really normal Asian mother," said Simmons. "Your job as a youth is school and good behavior. I grew up thinking that was the normal path. It wasn't a reversal; that's your whole business as a kid. She really believes in formalized education."
She continued, "Growing up, if anyone was ever like, 'What's it like to have your parents?!' She's like, 'You're not special. Just go be a professor, get a degree.' We weren't allowed to go out on school nights. My brothers, now, go to the mall on school nights — and I'm shocked, baffled, bewildered! When I was their age, I would go to school, volleyball and come home, play on the violin for an hour, do homework, eat dinner and go to sleep."
Little did Simmons or her mother know that education would bring her right back to modeling. Despite Simmons declining the Harvard alumna's offer, the woman was persistent.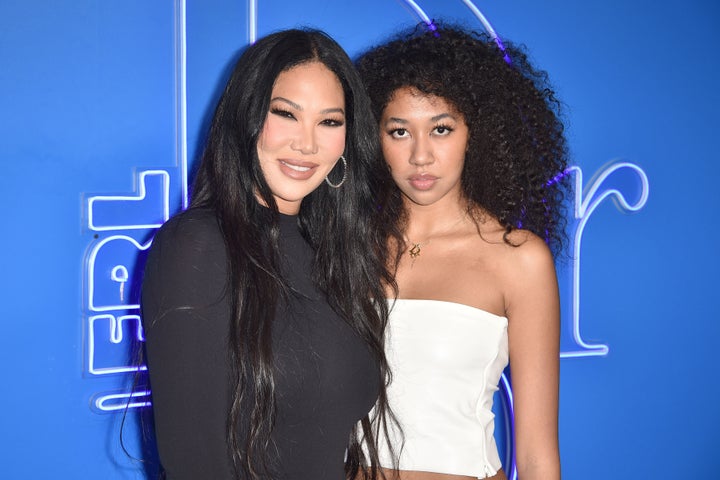 "She was like, 'But I can see that you work at the Harvard Museum and Widener [library],'" recalled Simmons, who worked in the school's libraries and assisted professors with translating manuscripts. "You can do that every single day for minimum wage — or you can take the train to New York every couple of weeks, do like one modeling gig, then turn that into spending money for the same amount."
Simmons caved and started modeling. Once COVID-19 hit, derailing her spring break plans and ousting students from their dorms, Simmons left and didn't return to campus until her junior year. In the meantime, she became more immersed in the modeling world, pleasantly surprised to learn that she was enjoying it.
"I went back to very basic, first principles of mine: What are you having fun doing? What parts of your life make you so excited that you can't wait for them to come around? It was always a fashion-related job," said Simmons. "I thought, you should probably follow your excitement. It's been really fun to rediscover with my mom an interest that I had as a very young child and have that connection again. She was a very chill part of it."
Her mom never pressured her, said Simmons, and was more than happy with her journey to becoming a "nerdy professor." While not overbearing, the matriarchs in Simmons' family have always been a strong presence in her life, imparting a sense of security and self-worth upon her, she said.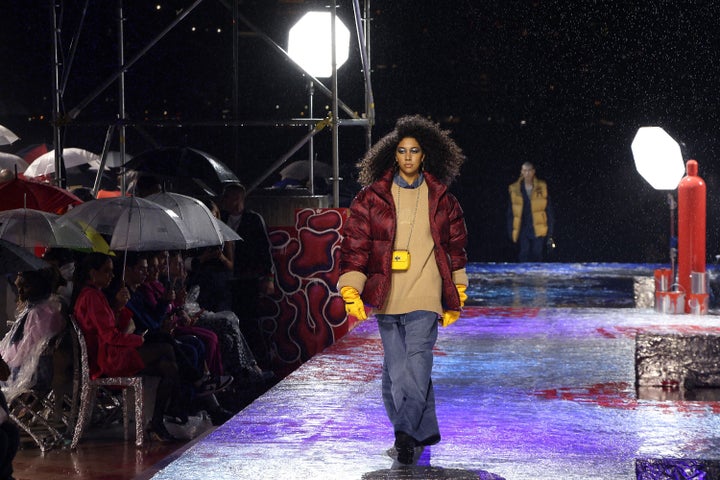 "I have great parents. I have a great mother," said Simmons. "I live with my mom. My dad is like a fun uncle. My mom is my mom. That is my person. She's not letting me fall, or mess up."
Simmons' maternal grandmother, Joanne Perkins, is Japanese-Korean, and her maternal grandfather is Black. Thus, her mother is biracial, while her father is Black. When Perkins first immigrated to the United States, she planted roots in St. Louis, said Simmons.
"She can make all kinds of American, Japanese and Korean foods," she recalled, rattling off her grandmother's delicious ribs, deviled eggs, homemade udon and Korean barbecue. "She used to live near my high school, so if I didn't like whatever lunch my mom packed, I'd be like, 'Hi Grandma, I'm going to walk over,'" said Simmons. "And she'd be like, 'Oh, I'm already cooking. It's already going.'"
Growing up multiracial and highly visible, Simmons never had the luxury of turning off the news. Be it through work with refugees or philanthropic efforts, her mother encouraged her to engage with pressing issues and current events.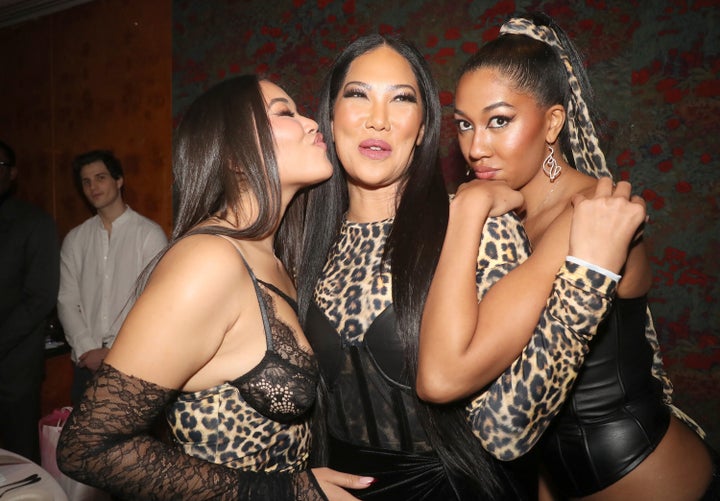 Simmons said, "I have friends who are like, 'I just don't watch the news because it's stressful.' I have never considered just tapping out of the news. As much as it's not always fun, I don't think women of color can tap out of the public consciousness. The idea of not being engaged with society — when society is a constant project, moving it forward to be accessible and safe for you and people like you — that was never a thing."
"That's insane. I took a class on this. Affirmative action is not the problem. Recruited athletes have a 12 times acceptance rate. Legacies [descendants of Harvard alums] have a six times acceptance rate," said Simmons, dishing out statistics that point to inequity in admissions at Harvard. "I had someone try me in a class. They were like, 'Oh, you would say that,' basically implying that I didn't say I was Asian on my application."
She continued, "My application literally said Aoki Lee Kyoko Simmons, and I put that I'm fully half Asian. I did not lie about being Asian, so I'm on both sides of this. They were like, 'Oh you benefited from it because you look Black.' I am Black, but I didn't hide that I was Asian. It's Google-able."
Possessing multiple identities can be hard sometimes, said Simmons, but is overall a blessing to "feel connected to a sisterhood and a community of people." While at Harvard, Simmons said she was embraced by the Association of Black Harvard Women, peers who immediately showed up for her privately and publicly over the past four years.
"I love that there's always a group of women who are like, 'Hi, you look like me! Let's be homies,'" said Simmons. "To this day, I have a group chat where it's like, 'Does anyone know where I can get a good, natural curly cut?' I have a bunch of lists. Girls have been like, 'Here's a great Black hairdresser. I've been to her three times.' It's been a blessing."
Simmons doesn't subscribe to the "woe is me" narrative when it comes to navigating her identity, nor does she feel the need to be put into a box. She said she recently spoke to her mother and asked about the intention behind their names.
"I recently talked to my mom and asked why we have such Asian names. And she was like, 'So you don't forget that you're Asian. I set it up so that someone is going to ask immediately,'" said Simmons, who attended Harvard's Korean Association events and Black student groups. "You're not gonna say I can't be here. I have such strong connections to both cultures. I talk to my grandmother in Korean often. It would be disrespectful to my grandmother to pretend [emigration] didn't happen."
But in undergrad, there was one tightrope to walk: getting permission from professors to do her literal job. On TikTok, Simmons has been outspoken about her belief that many faculty didn't consider modeling or creative fields to be "real work" and would often pick and choose which students' work opportunities they respected.
Simmons' boyfriend, a Harvard alumnus a few years older than her, took the more traditional route expected of Ivy League students and works in biotech. But Simmons says he actively makes an effort to learn about fashion and takes it quite seriously.
"Harvard's a bit rigid in terms of people's attitudes towards predominantly feminine professions that are more creative and that aren't entrenched in the Harvard career office," said Simmons. "Shoutout to Tommy Hilfiger for saving my life because now I have a brand that people know. Personally, I have found quite good professors. I'll go to the open house for the class and I'm like, 'So how do you feel about creative work?'"
Simmons continued, "I have been trying to apply an academic framework to my life because it's important for me. The gig economy of modeling is baffling to my brain, so I've been trying to understand my job." Referencing sociologist Ashley Mears' book "Pricing Beauty: The Making of a Fashion Model," Simmons said: "It's really good because she applies economic frameworks that you'd get from [the] banking industry to [the] modeling industry."
A triple Leo, Simmons is a self-proclaimed "rusher." Similar to how she rushed out of high school at 15, there hasn't exactly been a break between finishing undergrad and transitioning into the workforce. "I don't believe in breaks," she said. "Which I've been told is not always the most healthy, but I'll deal with that when I'm 40."
Simmons walked the runway for Tommy Factory in September 2022, as well as Sergio Hudson in both September 2022 and February 2023. The latter was the first show her mother was able to attend, since back-to-school season for Simmons' younger brothers occurs during the spring-summer season.
"She yelled, 'Shoulders!' because I think I was like hunched over in her opinion," recalled Simmons. "So that was helpful from the runway. She was very impressed with [my walk at] Kim Shui. I was so happy because she was like, 'Oh, look at those crazy stairs. I'm worried about the first girl who comes out.' She didn't know I was opening."
In April 2023, Simmons' mother was spotlighted in New York Magazine's "Yesteryear" issue, examining the "It" Girls through the decades. Of course, the Baby Phat founder was the face of the 90s, which her daughter saw and said, "I thought it was so cute!" Earlier this year, the publication's January 2023 cover unpacked the "nepo baby" boom, which has sent pop culture discourse into a tailspin.
"I will say, because I do have friends in journalism, I'm not going to get got! Unfortunately, I don't have a comment on the nepo baby question," Simmons laughed. "I'm very blessed and very grateful. I'm never going to be the person who stands up and says, 'I started from the bottom,' because it's not true. I'm never gonna give you the Drake line. It's not accurate."
She continued, "Beyond that, when it comes to my plans, I want to forge my own path."
Related
Popular in the Community