Ahhh... New York Fashion Week. The clothes. The shows. The models. And, oh, the jewels. We at Model Citizen, New York's online closet-sharing destination, partnered up with jewelry design visionary, Gerard Yosca to feature his newest collections of elegant baubles of hammered metals, hand-painted stones and decorative pavé on the ears, wrists and décolletages of some of New York's hottest ladies.
You may know fashion designer, Anya Ayoung-Chee, for more than just a few reasons. She is Miss Trinidad and Tobago 2008. She was the winner of Project Runway's ninth season in 2011. And she most recently managed, coached and directed designers alongside Tim Gunn in the aptly named reality competition show, Under The Gunn. She wore Yosca's 70s rock Disco Swing Earrings, Powerball Necklace and a necklace and cuff from the Argyle Collection, for a twist on the classic black and gold combination.
Our second beauty, Kendra Webb you may know from her New York style blog ClosetConfections.com. She donned the Stevie Necklace, Buckle Up Cuff and Powerball Cuff at the Empire Hotel.
To say they rocked the collections during NYFW shows and parties is to say the least. The pieces were so beautiful, we just had to know more about them. After thirty years, Gerard Yosca Jewelry, Inc. remains a force within the fashion industry. And we had the honor of asking the man behind the jewelry, Gerard Yosca himself, to tell us more about these new collections.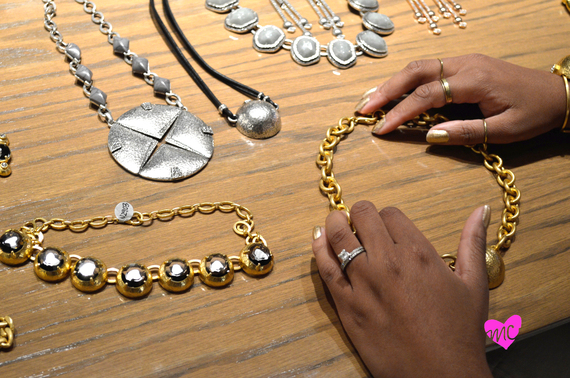 MC: Can we know a bit more about the metals, tones and color pallets chosen?
GY: The metal is a lot of the color for this collection. The texture acts as the color. Where there is color, we've gone with shades of grey. Very monochromatic.
MC: Do you have a muse or idol? Was this person in mind?
GY: Time and place is my muse. This season was downstairs Studio 54, 1977, just before Bianca road in on a white horse.
MC: Anything special, interesting or unique about this collection that you wants fans of your work to know?
GY: This collection represents one of those big shifts fashion makes, one from fun, colorful, "More more, more!" to clean, quiet and quality. I love color and extravagance more than most people, but right now, restraint and taste make the real statement.
MC: Any funny stories about any of the pieces?
GY: There was so much hammering during the model making process, the neighbors thought we were renovating.
MC: Do you have a favorite piece, and why?
GY: The Powerball Necklace -- it's strong, gorgeous and you can put it on everyday with practically anything. Fashion needs to get easier.
We can't help but agree! The Powerball Necklace featured here on Anya is powerful and versatile indeed. An the open frame Powerball Cuff on Kendra is stunning. These and other pieces are available in gold, rose gold and oxidized silver. We love these modern collections. Thank you to Gerard for creating and sharing these beautiful pieces, and to Anya and Kendra for donning these New York-made jewels during Mercedes Benz Fashion Week.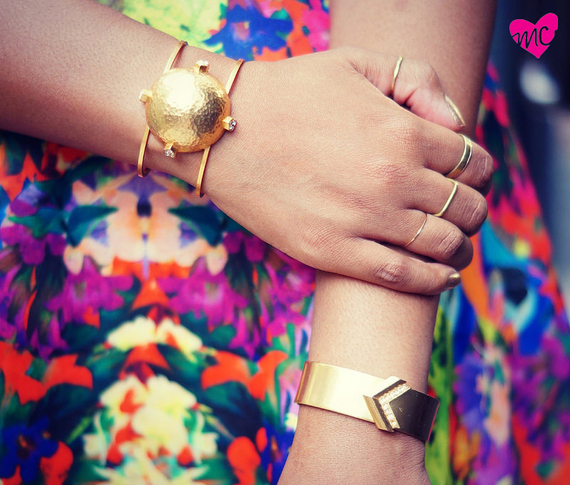 **Sound off: What do you think of the Gerard Yosca collection? Sound off to us on Twitter @itsmodelcitizen!