 Here's a new series on modeling advice that works for all of us... we're excited to hear your feedback!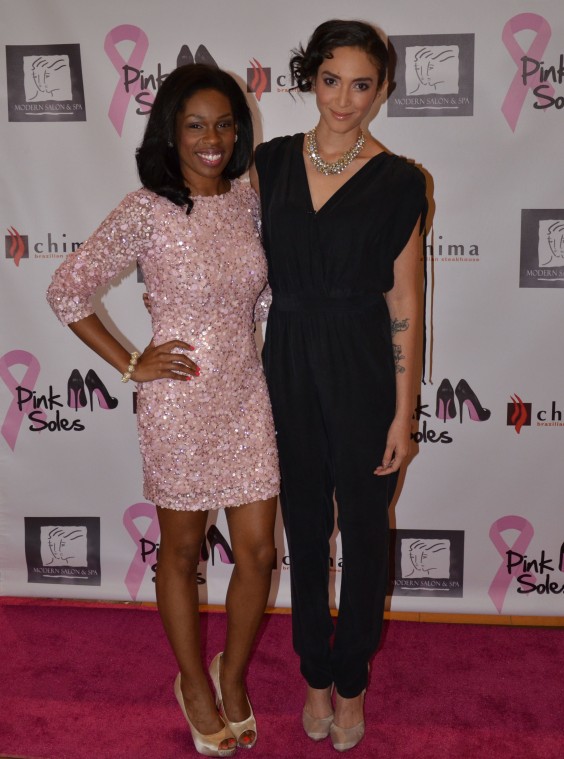 With Charlotte Style Magazine's Ivey Moore. Photo courtesy of Daniel Valverde.
I recently had the opportunity to be the guest speaker at a Model Clinic in North Carolina as part of an event held by the Breast Cancer Awareness organization Pink Soles. I have spoken at many model clinics before, and I really love having the opportunity to share the knowledge that I have gained over the last several years with other young men and women. So many young people across the nation are eagerly trying to pursue a career in the fashion industry, specifically as a model. And they just don't know where to begin.
I thought that it would be really cool to include some of the key topics I share at these model clinics here on my blog! Here is the first installment of my model tips for young aspiring models.
Maintaining a healthy body.
It is so very important for a model to maintain his or her health. We work in a very physically demanding profession and what we bring to the table, besides our charm and charisma, is in fact our physique. When we eat a healthy, well-rounded diet and exercise regularly, our bodies perform to their maximum potential. I mention this in my book Model Behavior.
As models, we have to be very conscience of what we eat. Consider researching raw foods and replacing animal fat with other forms of protein like soy-based products and grains like quinoa. Juicing is amazing, as well, because it delivers a nutrients from fruits and vegetables directly to your stomach to be absorbed by the body.
Food is the energy we fuel our bodies with. When we fuel them with the best kinds of foods, our bodies will naturally react in a positive way. Our skin becomes radiant, our hair shines, toxins are more readily removed from our systems and we gain so much more energy!
Beyond the physical benefits, eating healthily and exercising regularly actually improves our mood. Think about all the time you've had a bad stomach ache, and how irritable it can make you. When those ailments don't exist anymore, we have room to actually feel good.
What this does for your career is this: The hardest part of modeling, in my opinion, is booking the job. When we go to castings and go-sees, we need to present ourselves in the best way we can. The client wants to see the best version of you as possible. I can't you tell the number of times I've gone to see a client, and after looking at my book they scrutinize over my face and say, "This is a great portfolio, and you have great skin!"
The client wants to make sure there is a natural glow to your skin, something that cannot be added by Photoshop. They also want to make sure they do not have to pay a photo editor for hours spent in retouching your skin. With a glowing face and a radiant personality, you've booked the job! At that point, you just need maintain your regimen so that when you arrive on set you can continue performing your best!
There is a stigma in the fashion industry that models do not eat. A lot of models actually think they must literally starve themselves to attain a model's physique, especially when they start out in their careers. We are who we are and we must respect the bodies that we are blessed to have. For example, I will never be a size zero -- or double zero at that. It's just not in my genetic makeup to be that size. My natural size is a size two, and I have learned to respect that and cater to my body's specific needs.
Eating healthily and keeping up a good exercise regimen gets you in shape. It helps you to maintain a lean physical appearance, as a toned healthy young person without having to result to drastic measures (that can actually harm your body) to stay thin. It is a part of a model's job to stay lean and thin, but it is possible to do this in a healthy way.
For more advice on how to maintain a healthy diet and other great tips on starting your modeling career, please consider purchasing my book Model Behavior on iTunes today -- or wait for the print version coming soon!