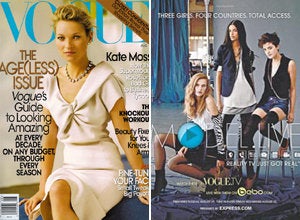 Television advertising is so last season.
In a new effort to attract a younger audience and capture marketing dollars that are increasingly going to the Web, Vogue magazine has teamed with the fashion and media divisions of IMG to produce an elaborate Web-based reality series about the fashion industry.
The show, called Model.Live, tracks three models as they navigate casting calls, catwalks and airports for fashion weeks in New York, London, Milan and Paris. The first of 12 eight-minute episodes will debut Aug. 19 on-demand on Vogue.tv, a site that runs advertiser-sponsored videos and allows consumers to buy the featured products.
The shows will also be syndicated on sites such as Veoh.com and hulu.com. From Vogue.tv, viewers can connect to Bebo.com, a video-based social-networking hub, to watch updates and interact with the show's stars.
Popular in the Community