For all of the signs that the GOP health care bill is on life support, a key fact should still frighten Obamacare proponents: None of the so-called moderate Republican senators who could kill the bill have done so.
And one of them, Sen. Dean Heller (R-Nev.), who threw cold water on the legislation early on with a scathing statement, can be "bought off" with perks for his home-state, according to a report in Axios.
At this point, the Senate is deliberating over its second iteration of Obamacare repeal that has been ever-so-slightly modified to pick up the support of both centrist and hard-line conservative skeptics.
To address the concerns of moderates, the bill's revisions keep in place a 3.8-percent Obamacare tax on investment income for individuals making more than $200,000 a year and significantly increases funding for opioid addiction treatment.
At the same time, to pick up the backing on Sen. Ted Cruz (R-Texas) and like-minded allies, an amendment would allow insurers to offer plans that don't comply with Obamacare coverage regulations so long as they offer at least one plan that does. The rules that the plans would be permitted to flout include community rating provisions, which prevent insurers from charging people with pre-existing medical conditions higher rates. 
Two senators announced their opposition to the new bill right away: Sens. Rand Paul (R-Ky.) and Susan Collins (R-Maine). 
Majority Leader Mitch McConnell (R-Ky.) can only lose two of his 52-member conference and still pass the bill (with the help of Vice President Mike Pence's tie-breaking vote). But a curious thing happened Thursday, after McConnell released the text of the new bill, which still unwinds the Medicaid expansion and undermines protections for people with pre-existing conditions. No one else came forward to sink the bill. 
It appeared as if the senators who would oppose the bill were waiting for another senator to cast the third and final vote that kills the bill.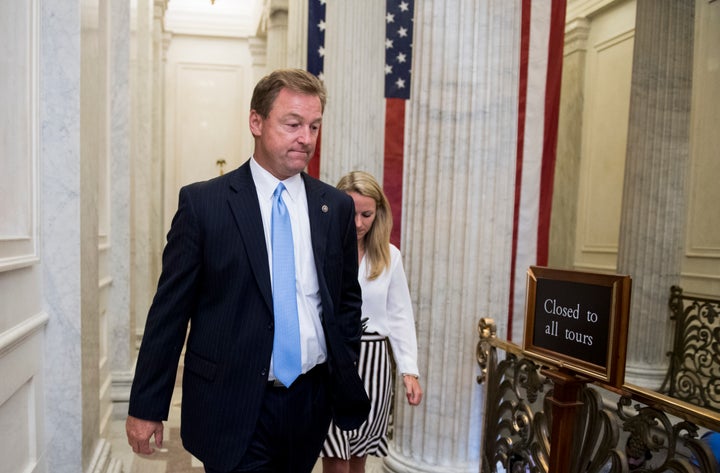 Among that group of potential "no" votes is a small list of more moderate Republicans: Sens. Rob Portman (Ohio), Lisa Murkowski (Alaska), Shelley Moore Capito (W.Va.) John Hoeven (N.D.) and Heller.
The opioid addiction funding was politically helpful for Capito and Portman, who hail from states at the heart of the epidemic. Portman has nonetheless expressed concerns about the fate of Medicaid beneficiaries in Ohio, where Republican Gov. John Kasich has vigorously defended Ohio's acceptance of Obamacare funds to expand the program.
The bill also includes a provision that could give Murkowski cover by offering additional funding for insurers in Alaska where premiums are more than 75 percent higher than the national average.
But of all the senators on the fence, Heller appears to be the most important. He is the only skeptic up for reelection in 2018. And in a state that went for Hillary Clinton in November, he is perhaps the most vulnerable Republican in the entire Senate.
Nevada's Republican Gov. Brian Sandoval, a popular moderate who expanded Medicaid under Obamacare, has also indicated he opposes the bill.
Which explains why Heller took the strongest position against the Senates' first version of the bill. Where other senators alluded to various concerns in staid terms, Heller's comments sounded more like the sort of stinging rebuke that would come from a Democrat.
"I cannot support a piece of legislation that takes insurance away from tens of millions of Americans and hundreds of thousands of Nevadans," he said at a June 23 press conference alongside Sandoval, with former Nevada Democratic Sen. Harry Reid standing backstage. 
I cannot support a piece of legislation that takes insurance away from tens of millions of Americans and hundreds of thousands of Nevadans.

Sen. Dean Heller (R-Nev.)
There is nothing in the new Senate bill to suggest that it would prevent more Americans from losing their health insurance, though senators may not have an official score from the nonpartisan Congressional Budget Office to confirm its exact impact one way or another. Nor is there any reason to believe it would lower insurance premiums, another concern of Heller's. 
So it was surprising Thursday when Heller, sneaking out a backdoor from McConnell's office, told reporters staking out the meeting that he was "undecided" after "very, very good" conversations with McConnell.
The Axios report said Republicans believe Heller's support could be purchased with a few goodies, and that could be the key for passing this Senate health care bill. 
If Murkowski was bought off with funds from a long-term stability fund for her state, and Portman and Capito got their opioid funding, save Heller, North Dakota's John Hoeven would perhaps be the biggest question mark left ― and no one should reasonably think a senator from a state that President Donald Trump won by over 35 percentage points would be the one to sink this effort.
After Heller's June press conference announcing his opposition, most Republicans thought McConnell had his work cut out for him, as Collins and Paul had both looked likely to oppose the bill from the very start.
That Heller isn't rushing out to announce his opposition, perhaps even sending McConnell back to the drawing board, could be an indication that he either wants this effort to fail, or that this bill is truly about to pass.
Heller's office did not respond to a request for comment.
Matt Fuller contributed reporting.
REAL LIFE. REAL NEWS. REAL VOICES.
Help us tell more of the stories that matter from voices that too often remain unheard.
BEFORE YOU GO
PHOTO GALLERY
2017 Scenes From Congress & Capitol Hill