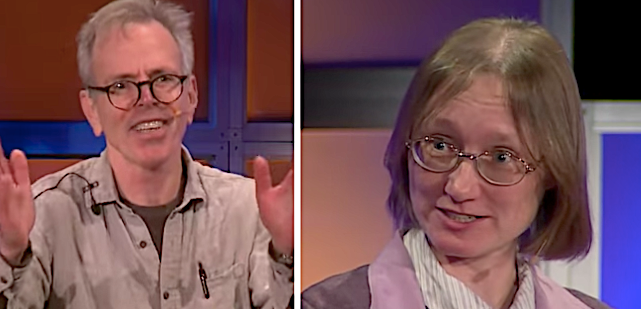 When a panel of the brightest minds in science are discussing the depths of the universe, it's typical for the audience to be in awe. However, one audience member during one such panel on cosmology had a different takeaway: Sexism is real and it's happening right now.
While watching a panel titled "Pondering the Imponderable: The Biggest Questions of Cosmology," Marilee Talkington noticed that the moderator wasn't giving physicist Veronika Hubeny, a professor at UC Davis and the only female on the panel, her fair share of speaking time.
So when the moderator, New Yorker contributor Jim Holt, finally asked Hubeny a question about her research in string theory and quantum gravity, then immediately began speaking over her to explain it himself, Talkington was furious.
Fed up with the continuous mansplaining, Talkington interrupted Holt by yelling loudly, "Let her speak, please!" The crowd applauded the request. 
"I guess if there was a 'last straw,' it was my body literally shaking," Talkington told HuffPost. "I felt like a teakettle right on the verge of boiling over and screaming. And yet, I knew I couldn't scream."
As seen in the below, Holt immediately apologized after Talkington spoke out. Then he yielded to Hubeny who discussed her mind-blowing theories on gravity duality.
Holt's interaction with Hubeny begins at the 1:01:55 mark in the YouTube video below. Talkington interrupts Holt around the 1:05:30 mark.
Talkington wrote about her experience the following day in a now-viral Facebook post, calling the incident sexism that is "beyond blatant." 
She also explained that many people in the audience, both men and women, thanked her after the show for speaking up for Hubeny, which reminded Talkington why it's important to fight for women's voices to be heard.
"I knew immediately that the moment of speaking up was much larger than me. And that I just happened to be the one to do it," Talkington told HuffPost. 
Holt has since apologized for interrupting Hubeny and applauded the audience for moderating the moderator.
"I talked too much," he told Mic. "The reproach from the audience was well-merited. I apologize to Dr. Hubeny and salute her for her stellar contribution to the discussion."
Let her speak, please!

Marilee Talkington
Hubeny sent HuffPost her own account of the incident, which she detailed in a lengthy comment on Talkington's Facebook post.
In it, Hubeny claims she didn't feel discriminated by Holt during the panel, and didn't think Holt's interruption was rooted in sexism, despite being the only female on stage.
"Maybe I'm too naive, but I simply gave him the benefit of doubt that he was so excited by the newly-learned idea of the duality that he couldn't resist," the theoretical physicist wrote on Monday. "And that the same might have occurred had the panelist been a male instead of me. So it didn't bother me."
Hubeny explained that when she encountered sexist colleagues during her academic career, "they somehow seemed insignificant" ― though she did note that she felt more camaraderie in the world of physics than sexism.
The physicist also offered an explanation for her own optimism on the subject.
"Please understand that I'm not trying to say that sexism in science is a myth. It is real and we should all aspire to diminish it," Hubeny wrote. "But I am trying to say that it need not pose as much of an impediment as you might fear and that you might be in more control over its influence yourself than you might think."
Calling all HuffPost superfans!
Sign up for membership to become a founding member and help shape HuffPost's next chapter
BEFORE YOU GO
PHOTO GALLERY
14 Women Scientists You Should Know About