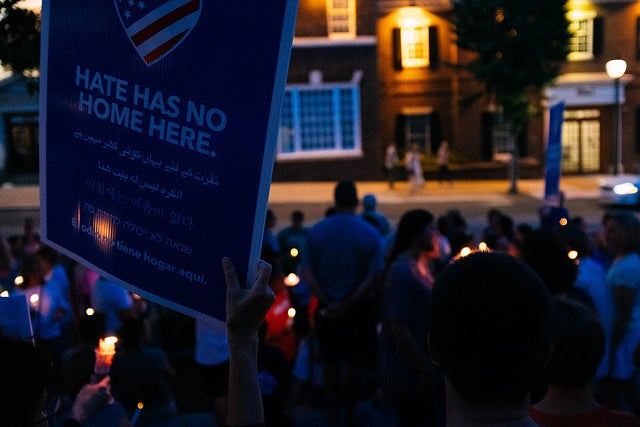 "There is only one side." - Former Vice President Joe Biden on Twitter
With each day of "President Trump," the United States' moral authority continues to crumble. And unless we act, soon there may be nothing left to salvage.
"I have been a Republican before Donald Trump, I will be a Republican afterwards. I honestly don't think we will see this issue a racial divide addressed until we remove identity politics out of the political process." - A Trump supporter in CBS News
Now is not the time to cower behind partisan lines. This is not about politics. This is about good versus evil; inclusion versus intolerance. President Trump and his administration embody values that have no place in America: racism, white supremacy, misogyny, transphobia, homophobia, Islamophobia, and xenophobia. Minorities are neither valued nor safe under this hostile administration.
We all must come forward in strong opposition to such hate. Those who voted for President Trump can still change their views:
It is now clear that my optimism was unfounded. I can't stand by this disgraceful administration any longer, and I would urge anyone who once supported him as I did to stop defending the 45th president. Far from making America great again, Mr. Trump has betrayed the foundations of our common citizenship. And his actions are jeopardizing any prospect of enacting an agenda that might restore the promise of American life. - Julius Krein in an op-ed in The New York Times
And to those who continue to support President Trump or fail to voice their opposition: you are enabling hate and bigotry to drag down our democracy. You are enabling the fall of modern America. And history will remember you this way.
History will equate those who cling to "Make America Great Again" with the emboldened white men and women in Charlottesville, using everything in their power to spread hate and incite carnage. They too will appear inhuman in history books, their faces - like their legacies - distorted by a lethal combination of blind rage and ignorance.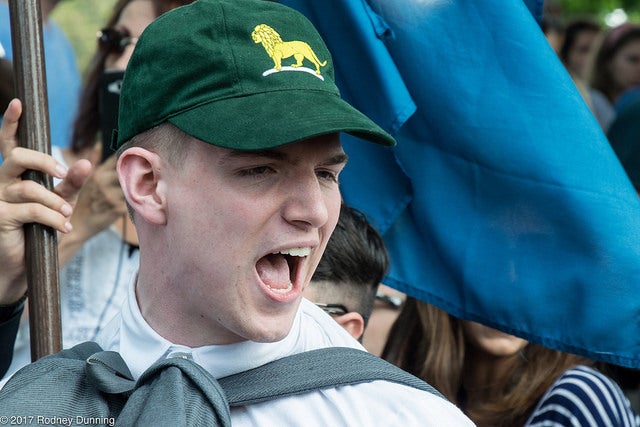 Those of us who value an inclusive, diverse society cannot afford to remain silent in the face of mounting tensions. We cannot passively allow the Trump administration to unravel our hard fought progress. Trump's America is not "great." Trump's America is dangerous.
The violence in Charlottesville has put a spotlight on America's ugly truth: racism and blatant bigotry are still very much alive and well in "the Land of the Free." President Trump's hate-filled rhetoric, spewed from the campaign trail to the White House, has resurrected ideals which have no place in modern America. Trump's revival of fascism will continue to incur deadly consequences unless we all - regardless of party affiliation - unite our voices in opposition to this administration. We have a moral imperative to protect each others' civil rights.
Everyone - private citizens and members of Congress - must publicly condemn white supremacy, neo-Nazis, hatred, and bigotry by name. This evil will not fade with inaction or time; it will only flourish.
Now more than ever before, all of us need to speak out and show leadership where we are lacking it. Leadership means standing up and speaking out when equality is in jeopardy and hateful ideologies are undermining our common values. We all have a responsibility to tell President Trump and the white supremacists and Neo-Nazis who agree with him that this will not be tolerated. We have a responsibility to lift the voices of the voiceless, unify our communities and continue to push back against hate and discrimination. - Senator Kirsten Gillibrand (D-NY) in New York Daily News
Modern America is at stake.
Help remove President Trump from office: