When entrepreneur Nazym Paltachev stepped into the business meeting, he looked around at the distinguished men and women around the table and noticed something wrong with the picture. In a room of prominent, affluent executives and clients, there were but a few who looked the part. With red eyes, rumpled suits, and the occasional grimy athletic wear, the gathering, and men in particular, looked worse for wear. He'd seen this inadvertent trend of dishevelment among the businessmen countless times during his own travels. It is a familiar feeling to many red-eye passengers, too. Looking and feeling good after a flight, however long or short, is no easy task. In the demanding world of business, sharp focus and first impressions are non-negotiable.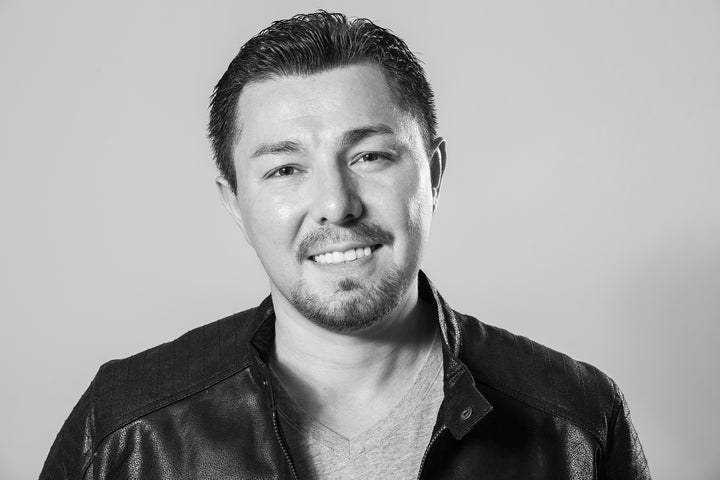 As business culture and its sartorial customs shift, the modern generation of young professionals, as well as influential leaders, are left with specific demands yet limited options. Simply put, they want luxury without sacrificing ease, style, and comfort. Despite a market overfull of prestigious labels and expensive suits, many are unconvinced by the typical fashion purveyors that have yet to answer their desires for convenience and casual elegance and satisfy customers' hunger for distinction and exclusivity. After all, many classic menswear designers are in the business of making suits, and, if you have been following fashion trends, suits are on the verge of obsoletion. Enter a new era of a (relaxed) dress code: t-shirts and jeans. This updated business wear protocol has pervaded offices around the world and is particularly true in Silicon Valley - the auspicious land of tech, innovation, and perpetual #CasualFridays.
As with any change, comes opportunity.
Paltachev is a keen entrepreneur; he used his years of business management and product development experience to reimagine menswear for the mobile culture by launching Soul of Nomad, a luxury menswear brand "designed to meet the demands of the discerning man with a modern nomadic spirit." Based in Silicon Valley, like his target client, Soul of Nomad managed to improve on the casual, everyday essentials including denim, sportswear, and luggage accessories, by using innovative materials and age-old craftsmanship.
To move forward, sometimes one must look inside; while quality is often associated with tangible elements like high-end textiles or reputable logos, for Paltachev, quality is achieved through the intangible and lies within the emotions evoked when customers experience Soul of Nomad products and love them. Can comfort improve travel? Paltachev believes it can, and we are willing to give it a try in our perpetual search for a perfect travel uniform.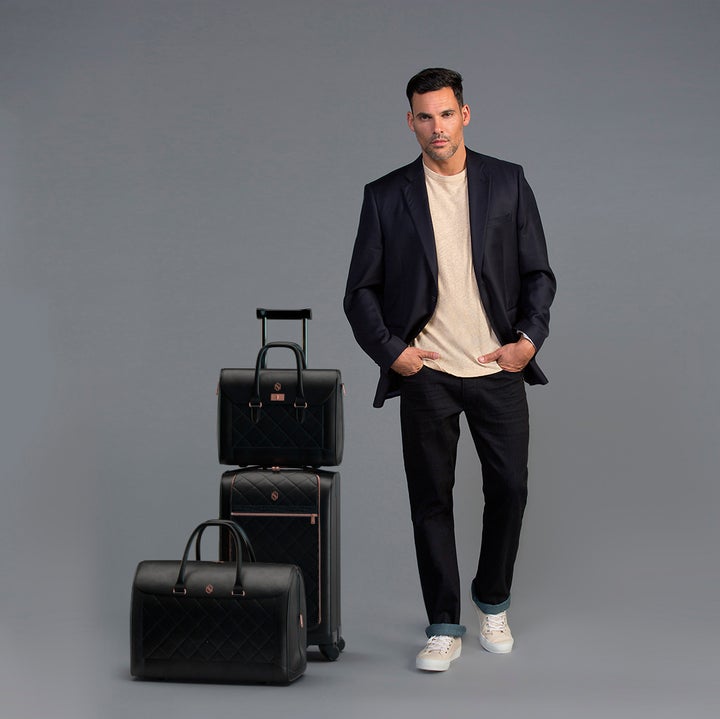 Angela Han: Can you tell me about yourself? What did you do before venturing into menswear?
Nazym Paltachev: I was born in Kazakhstan and grew up in St. Petersburg, Russia. When I was 15-years old, my parents moved to the U.S. and we moved around a lot – Utah, South Dakota...eventually I stopped in California to attend California State University, East Bay for Industrial Engineering and Design. After school, I got a great job offer in Russia to work in the oil and gas industry. Later I switched to a conglomerate company and ended up developing Formula 1 race tracks. Then there were my years in commercial real estate development. When I decided to come back to California, I got into investment banking. The job required a lot of traveling to Russia, Europe, and Asia, and that's when I got the idea for Soul of Nomad. I'd meet high-level clients, and even after a long flight, we all had to look sharp and remain focused, which was really difficult. You want to look good, you have to look good.
AH: From industrial engineering and real estate development to investment banking and menswear, was it difficult to go through these transitions in your career?
NP: It wasn't that difficult. Throughout my career, I've managed big companies in various industries. From a strategic point of view, most of my work has been based on product development and functionality. In reality, there are a lot of parallels from industry to industry. So it's not so much about the industry, but about the vision, right approach and how you tackle it.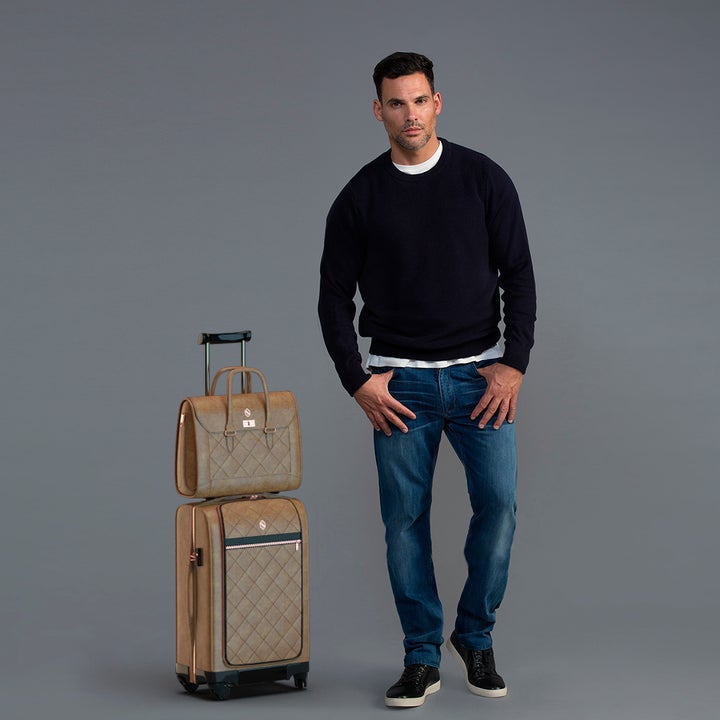 AH: How was Soul of Nomad conceived?
NP: I'm a frequent traveler and many times I fly business class with other elite travelers and gentlemen. The idea was born from a simple observation. Businessmen are always on the go, jet-setting from one business meeting to another, all around the world. Looking and feeling good after a long 12-hour flight became a noticeable problem. Distinguished men would arrive to meetings looking, frankly, horrible. If they traveled in their Brioni or Kiton suits, they were uncomfortable and by the time they reached their destinations they'd find their suits ruined. Flying in athletic wear, which is often made of synthetic fibers, wasn't any better. It was a real challenge, and I wanted to solve it for myself, and help others along the way.
This is how Soul of Nomad was born. I wanted to focus on power and strength of character, creating a brand that honors the internal and harmonizes it with the external. The name was inspired by the nomadic culture of Kazakhstan. Movement was essential for my ancestors and remains essential today. We live in relentless times. Travelers I observed during my trips were professional and energetic with clear, ambitious visions. They are modern nomads. It's this bold and ambitious spirit that transcended generations and inspired Soul of Nomad.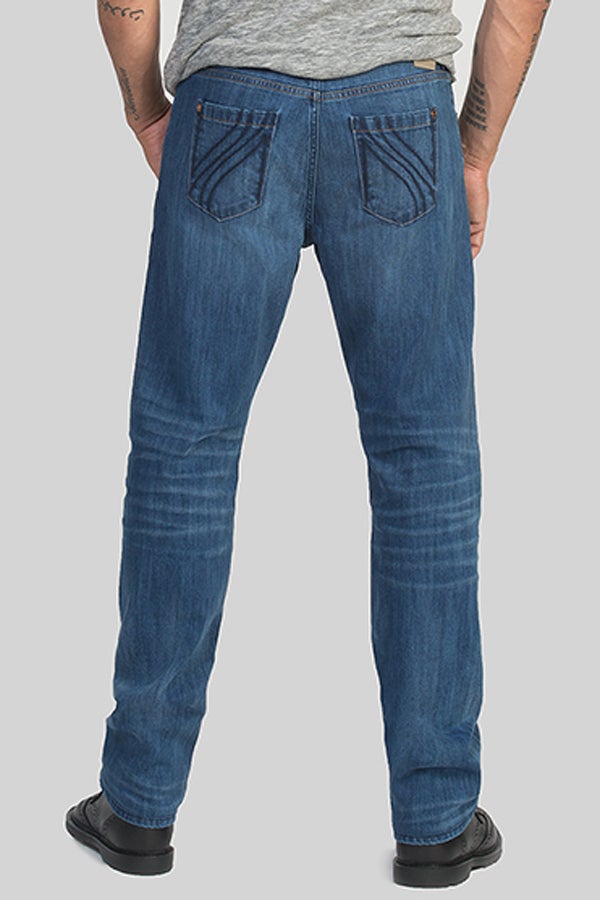 AH: That being said, how would you describe the quintessential Soul of Nomad man?
NP: Bold, daring, confident, mature in character, and adventurous. And of course he values comfort and functionality in his wardrobe.
AH: Why did you choose to Silicon Valley for the brand's birthplace?
NP: Silicon Valley is a tech hub packed with high-tech and intelligence, but with little to no style sensibility. At the same time, the people in Silicon Valley want brands and products that are made with their needs and wants in mind. Fashion wise, established French and Italian brands aren't relevant to current generations of high tech executives. There is a real disconnect between current fashion offerings and modern nomads' needs. Clients are willing to spend the money, it's just a matter of pertinence.
Every place has a unique style, call it a 'uniform', and Silicon Valley is no different. They value comfort and versatility, and Soul of Nomad answers to those necessities. I believe that less is more, and quality trumps quantity, that's why we offer timeless styles that are time-tested, proven for convenience and adaptability no matter your mode of travel.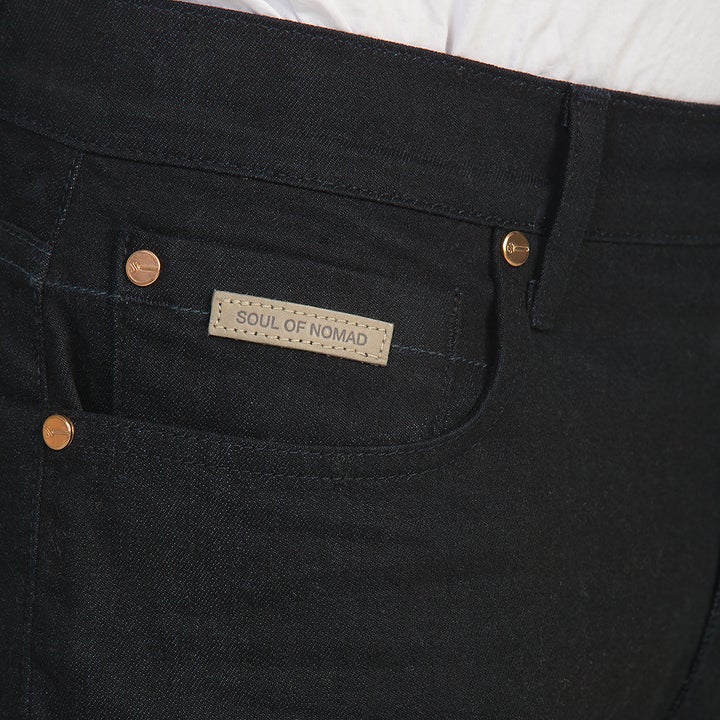 AH: How would you describe Silicon Valley's style?
NP: Silicon Valley is all about casual dress. We're not going to go into this making crazy suits to try to convince the area's most influential leaders to wear them. I don't want to change Silicon Valley's style; I want to cater to it.
It's about enhancing the everyday essentials with luxury details, like incorporating rose gold hardware into a pair of jeans. If anything we are elevating Silicon Valley's sensibility to fashion. We imagine that our products will never go out of style.
Silicon Valley has already produced its own high technology, and now it's time it produces its own fashion brand(s). Maybe we'll even shape outsiders' perceptions of Silicon Valley style reputation. [laughs]
AH: Typically, men that aren't already interested in fashion aren't naturally inclined to go shopping for clothing. What makes the Soul of Nomad shopping experience more appealing?
NP: It's true, many men still have aversions to shopping. They see it as time wasting. We wanted to create a brand that takes all the excess and uncertainty out of apparel shopping by providing a carefully selected collection of products that are not only universal and versatile, but also elegant and timeless, and most importantly can be purchased and delivered quickly. Our clients don't have to worry about making difficult choices, as we put the most relevant options forward. We thoroughly consider every component, every detail to make sure our customers are totally satisfied. Soul of Nomad is not for a mass market brand, so we count on our customer's loyalty.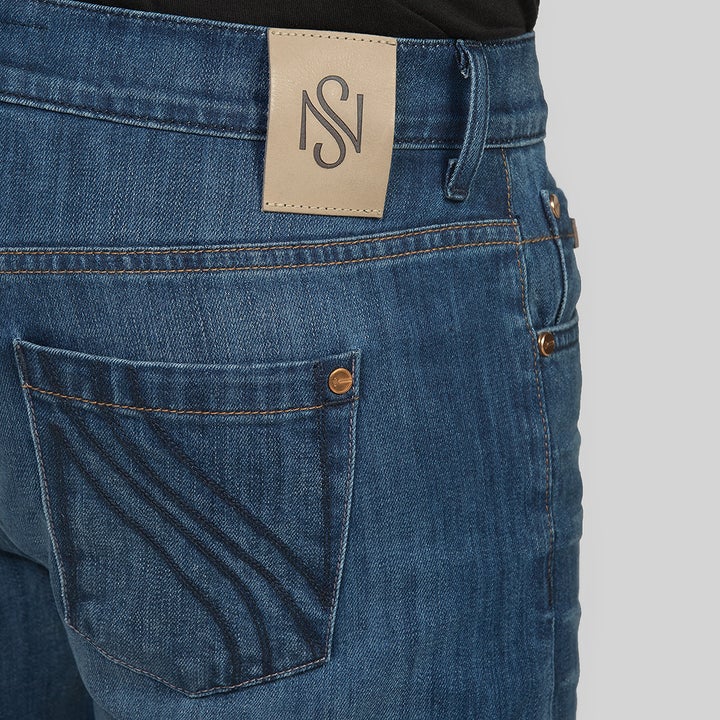 AH: So, exclusivity is a core component of the brand.
NP: Absolutely. We offer a membership to our loyal customers that includes access to concierge services, styling services, and access to limited editions and pre-orders.
AH: In many ways it's more of a club than a retailer, particularly with the concierge service. What inspired its addition?
NP: The concierge service was added for our distinguished customers because it's a luxurious and useful amenity that fits the high-end business lifestyle. Whether you need to book a car, hotel, private jet, or dinner reservation, our concierge service will handle it. Each member will be assigned his own concierge, so there's always that element of personal engagement and trust. We want to treat our customers well, to make them feel special and taken care of, which will ultimately preserve the value of the brand. We are currently still developing the service and seeing how we will expand it internationally.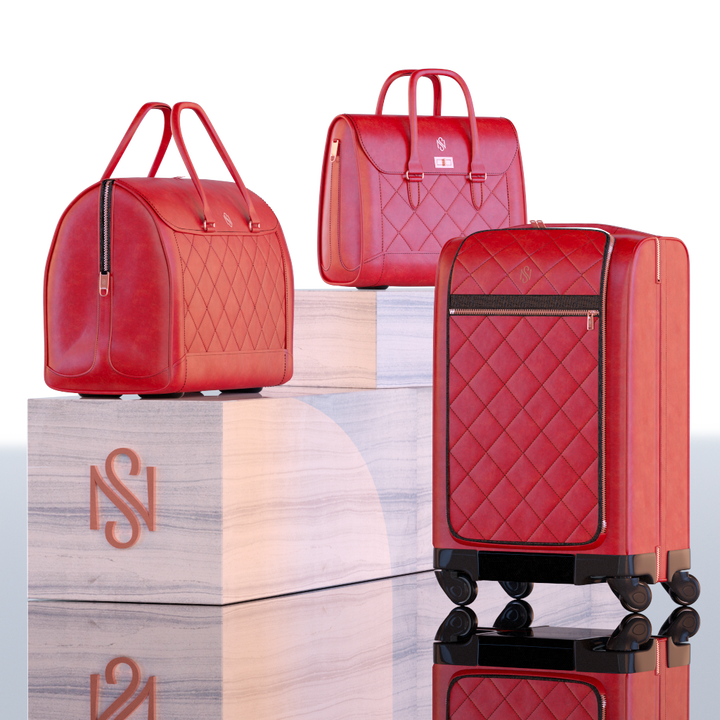 AH: Amity and community are definitely potent factors that have been marred by the rise of eCommerce. Everyone is anonymous online. Is that why you chose to launch smaller, physical boutiques tandem to the brand's eCommerce site?
NP: Absolutely. Building those personal connections is important to the business. It goes back to those mom-and-pop shops in smaller towns where everyone knows each other. That sense of community can be powerful. We want our customers to feel comfortable and familiar, to know each other by name.
AH: Aside from denim, Soul of Nomad also offers luggage. How makes the luggage line unique?
NP: A lot of thought went into it. All of our luggage goods are made from the finest Italian leather. We incorporated three of the best, most durable materials into our products–leather, carbon fiber, and aluminum. Along with the first-rate craftsmanship, our luggage has a look and design that communicates luxury and sophistication.
For some, air travel has become a platform for showing off and underscoring social status. Many times when you see people roll into first class or business class check-in they carry brands like Louis Vuitton. We wanted to offer an alternative, especially here in Silicon Valley, that lets them stand out–the fine stitching, the leather, the handles. When we were brainstorming the line, we wanted to create something smooth and practical, something that looked good and offered a lot of space, something that people want. People want attention, they want durability, and they want dependability.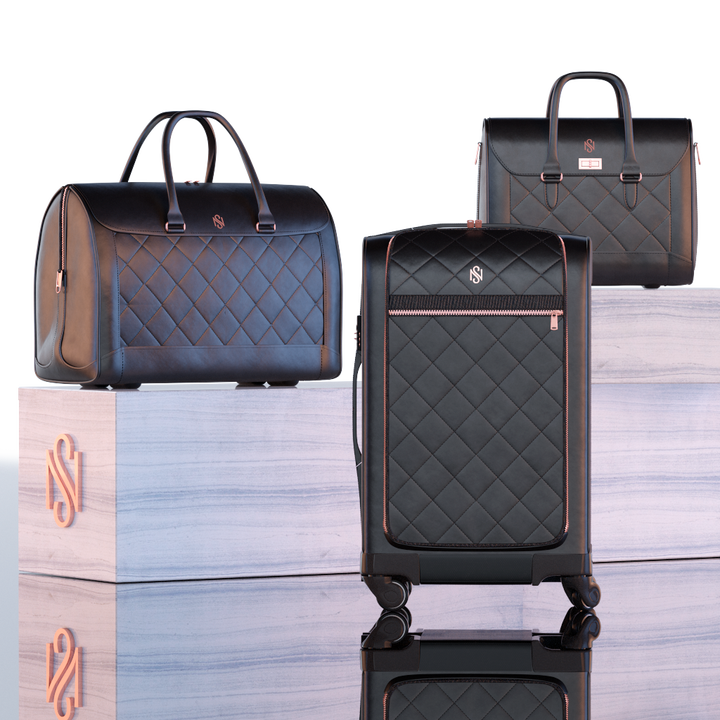 AH: Luxury and quality are established in subtle, minute details. What unexpected elements are incorporated into the denim collection?
NP: Let me ask you. What parts of a pair of jeans are the most useful?
AH: The first thing that comes to mind is the button closure and pockets.
NP: Pockets, sure. But you forgot the zipper. Most people don't think about it, but zipping and unzipping your pants is an experience. In most jeans–even premium brands–the zipper pulls are tiny, sharp, inconvenient. We researched it extensively and people hate them. So we went out and solved the problem by using custom-made rounded rose gold zipper pulls from Italy. A lot of testing went into it, and at the end it just felt better. It was expensive and took quite a bit of time, but it's worth it because the minor details matter.
Also, all of our jeans come in special microfiber envelopes so customers can store them, pamper and protect them, and take proper care of them.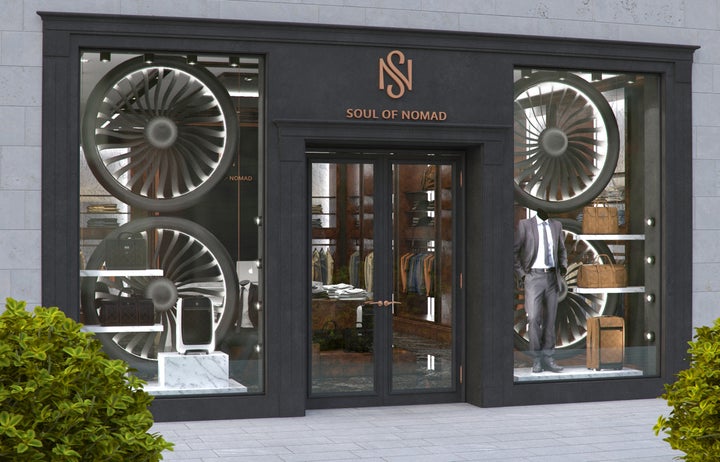 AH: What's your favorite Soul of Nomad product?
NP: I really love our slim fit cuts in Nightrider (black). It's versatile. Coupled with some other basic essentials like a sport coat, t-shirts, and nice leather shoes, I can go into a meeting sans suit. Dress it up or down, it works.
AH: As a nomad, where are some of your favorite places to travel to?
NP: So many to list, I love Switzerland, Italy, Spain and France, who doesn't like a glass of cold champagne on French Riviera? I also love traveling to Russia and Kazakhstan because it's my home countries. Japan and Korea are amazing, and Hong Kong is out-of-this-world and really cool.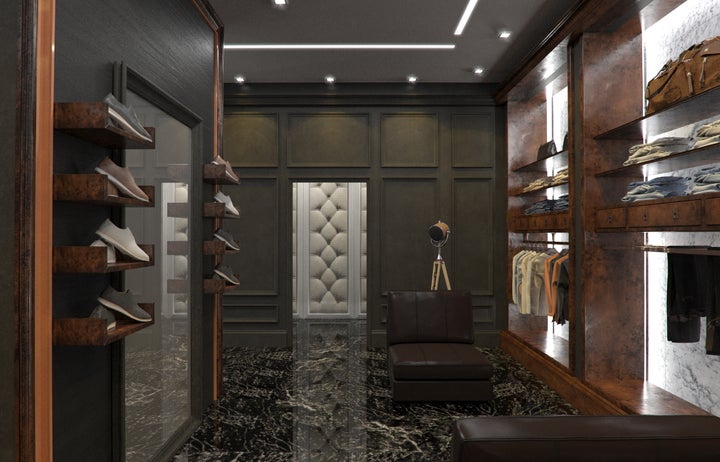 Popular in the Community