This is a big year for Robert Dekkers.
He has always juggled his roles as dancer, choreographer, teacher, and director of his own small but highly visible company with seemingly superhuman energy.
The company then travels across country to perform for the first time at the world-renowned festival at Jacob's Pillow.
And in November, he wraps his most ambitious project to date: a quintet of dramatic pieces, to purpose-built scores, under the umbrella designation Do Be.
Thrown off guard by a serious injury earlier this year, Dekkers has had to recalibrate how he works. "I'm a very physical dancemaker," he explained, "I'm used to demonstrating all the steps - that's how I create work on my dancers, how I explain to them what I want." After a harrowing hospital stay, he was dependent on crutches to get around.
His first challenge post-injury was to create a new solo on Houston-based dancer Jessica Collado. He e-mailed her 17 emoji, representing 17 facial gestures that would evolve into body shapes and movements. Armed with the bones of a score by Bay Area composer Samuel Adams, he hobbled onto a plane to Houston for one intensive week. Dekkers and Collado had trained together as young dancers in Atlanta, and having worked together over the years has enabled the pair to forge this new piece under less than ideal circumstances.
The rest of his close-knit company are also accustomed to his collaborative process, as are the other artists, composers and designers with whom Dekkers partners to realize his often cerebral, cutting-edge creations - work that never seems to tread the same ground twice.
Having seen Collado perform Sixes and Seven, an earlier solo set to a fragment of Philip Glass' Einstein on the Beach, Ballet to the People watched her rehearse the new Pitch Pause Please, and was struck by her evolution from the vulnerable half-sea creature, half-nymph of Sixes and Seven to the fearless, mercurial specter that seemed to ripple from percussionist Andy Meyerson's cluster of instruments and electronics.
When Ballet to the People showed up to rehearsal at the Joe Goode Annex, Dekkers was beaming. That day marked his first full week since he started walking without the aid of crutches - a critical milestone on his road to full recovery. With his customary verve, he had his dancers run through passages from "Six Pack," stopping them occasionally to tweak the movement, timing, and floor spacing.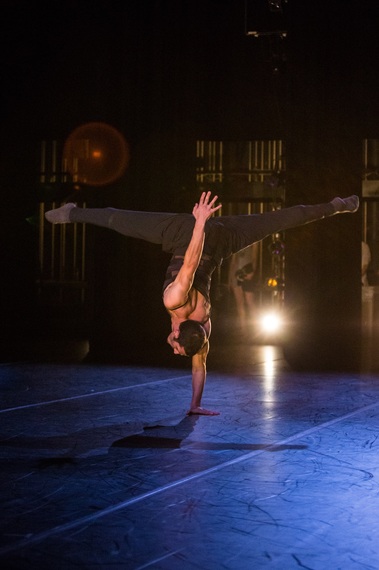 Jeremy Bannon-Neches in Robert Dekkers' Yours is Mine. Performance at DanceFar 2014. (Photo: Alexander Reneff-Olson)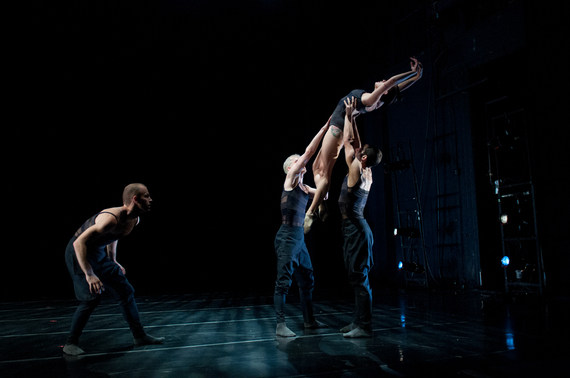 Jeremy Bannon-Neches, Aidan DeYoung, Christian Squires and Raychel Diane Weiner in Robert Dekkers' Yours is Mine. (Photo: Natalia Perez)
In Yours is Mine, driven by an explosive score by Jonathan Pfeffer, Cora Cliburn gatecrashes the trio of Christian Squires, Aidan DeYoung and Jeremy Bannon-Neches, looking for trouble. She taunts them. She shoots an imaginary basket. Wit and humor penetrate even the bleaker works by Dekkers. She head butts Bannon-Neches, to signal that it's time for some contact sport.
Moments later, Squires and DeYoung are having a little trouble with a lift. Dragging Cliburn toward him by her ankle, Squires must fall onto his back on the floor, shift his grip to her hips, and move her above him through the air just a few feet off the ground. DeYoung, meanwhile, is crouched nearby, and Squires must set Cliburn down on the back of DeYoung's neck. Which must all happen in about one-fifth the time it takes to read that last sentence.
Dekkers notes that Squires' fulcrum is shaky. He has him lock his elbows, and Cliburn seems to float in the air momentarily, before gently alighting on DeYoung's neck and shoulders. A rare tender moment in this ballet shot through with the sounds of a cash register, pinball machine, machine gun fire.
Pfeffer also supplies the moody, bewitching score to Reason does not know, one of the new pieces on tap, making its West Coast première after an earlier outing by Kansas City Ballet. The lithe bodies of Cliburn and Ricardo Zayas etch the contours of modern-day intimacy.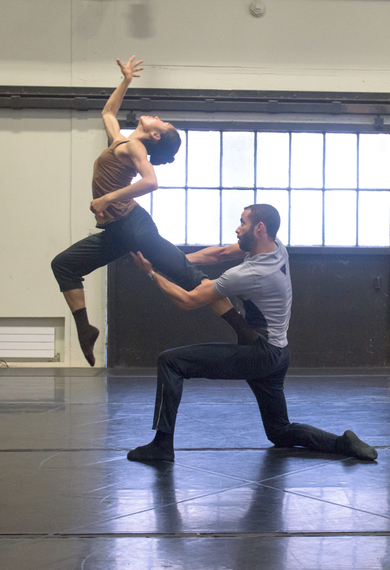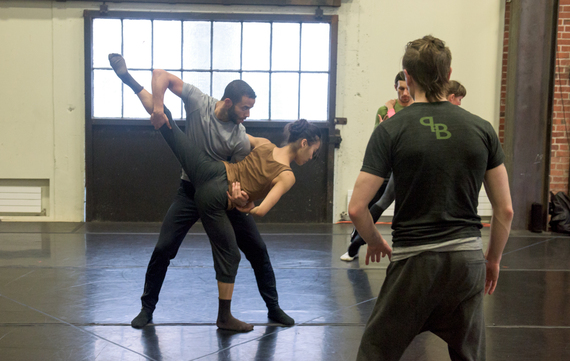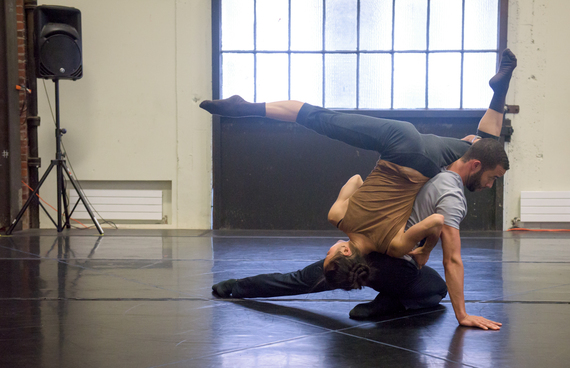 Cora Cliburn and Ricardo Zayas in rehearsal for Robert Dekkers' Reason does not know. (Photos: Natalia Perez)
In another time and another galaxy, DeYoung, Squires and Vanessa Thiessen swim through a primeval sludge - initially to Steve Reich's virtuosic eruption of clapping. Flutter is the very first work that Dekkers choreographed for Post:Ballet, and each revival seems to incorporate some new tweak. In rehearsal, DeYoung is test-driving a new costume: a long flowing skirt designed by Squires. The floor shakes as the dancers skitter and jump. Squires sculpts a series of spirals out of thin air as he spins with one leg held in a high curve behind him. The clapping stops. The three dancers collapse to the floor, listening for follow-on tremors, their ears to the ground, to be revived by the Sarabande from Bach's Violin Partita No. 2.
Flutter, Pitch Pause Please, and the fourth installment of Do Be all feature live music. Guitar-percussion duo The Living Earth Show (Meyerson plus Travis Andrews) hand off to violinist Abigail Shiman in Flutter, but return to pilot Do Be: Family Sing-a-Long and Game Night, with an original score by Nicole Lizée. Dekkers doesn't often employ props, but for this chapter of Do Be the dancers are wrestling with chairs, their brows furrowed as they maneuver the essentially uncooperative furniture - one moment manic, the next serene. "Letting go of things we hold on to" is how Dekkers cheerfully describes the overarching theme of Do Be, which might well describe his pragmatism in the face of injury. "We're all so busy do-ing in today's world that we forget to make time just to be."
Post:Ballet audiences are generally thrilled to watch these powerful, sensual dancers doing or being. Even when we're not entirely sure what they're doing or being.
Ourevolution, the third revival of the pack, is illustrative. Hooded figures make a point of avoiding each other in the first part of the piece; later, in the glow of Enrique Quintero's visual art and the animations by Stephen Goldblatt and Yas Opisso, by turns eerie, playful, and geometrical, the ensemble start to connect. They strip to sheer sea green bathing costumes, they huddle and gambol, they goad and comfort each other, as the projections hover and shimmer, and as composer Nils Frahm translates the echoes of meteor showers into sound - recalling the exotic landscapes and adventures of Saint-Exupery's Little Prince, who left his asteroid and fell to Earth after he was betrayed by a fiery rose.
This image of fragile yet resilient creatures, exploring inhospitable terrain, reaching for the moon and stars, is likely to haunt long after the curtain falls.
Mais, sur ta si petite planète, il te suffisait de tirer ta chaise de quelques pas. Et tu regardais le crépuscule chaque fois que tu le désirais.

(But on your tiny planet, [my little prince], all you need do is scooch your chair over a few steps. You can see the sun set and the twilight fall whenever you like.)

- Le Petit Prince, Antoine de Saint-Exupéry
Post:Ballet presents "Six Pack" on Friday, July 24, and Saturday, July 25, 2015, at 8 pm at the YBCA Theater, 701 Mission Street, San Francisco.
Calling all HuffPost superfans!
Sign up for membership to become a founding member and help shape HuffPost's next chapter