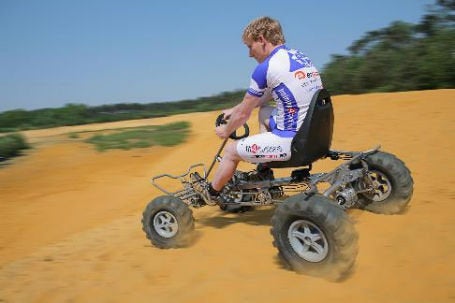 Trailcart, Four Wheel Drive Pedal Powered Adventure Machine
Meet


the Trailcart, the future of offroad adventure for the post peak oil generation. A series of lucky coincidences led Frank Fraune and his invention -- a four wheel drive pedal powered vehicle called the Trailcart -- to the Adventure and Offroad Convention in Bad Kissingen Germany. There, surrounded by gas-guzzling, large footprinted vehicles, two trailcart prototypes drew a curious crowd.
Trailcart Inventor Frank Fraune
Trailcarts are being manufactured under the auspices of the AS Group which is better known for refurbishing gears and hydraulics and supplying related products, mainly to the paper industry. The Trailcart caught the eye of the bosses at AS Group when it was featured in a local newspaper. AS Group contacted Frank Fraune, and the rest is history.
But take this start-up seriously: the world champion in 24-hour mountainbiking is working with Trailcart, bringing knowledge and experience on two-wheelers to the development of the first pedal-powered four wheel drive offroad vehicle.
Trailcart prototypes are currently undergoing intensive testing, including trials at Land Rover's obstacle park in Wülfrath, Germany. Manuel Froncek, responsible for marketing in the budding company, reports that Land Rover has purchased the first production vehicles with the intention of using the Trailcarts for a leg of the Land Rover Adventure Tour 2008 in Malaysia, an event sponsored by Land Rover of Germany. Feedback is resulting in improvements in the Trailcart design. The team is also targetting to keep the vehicle under the 50 kg limit typical for bicycle racks on automobiles.
Trailcart Enjoyed by Visitors at the Offroad Convention in Bad Kissingen
The Trailcart was enjoyed by Offroad Convention visitors, young and old. Although it is designed for adults, the ergonomic seat was adjusted down to give pre-teens a go at the new adventure machine. The Trailcart has permanent four-wheel drive and can conquer obstables with up to 400mm axle displacement. Approximately 290Nm of torque powers the Trailcart over the terrain. A double-action mechanical hydraulic braking system keeps the Trailcart under control. The bike is built from high-end sportsbike parts, including the Shimano Nexus 8 shifting system.
Trailcart Careening Downhill on a Narrow Path
The Trailcart gallery features a slideshow of the Trailcart fording rivers, dusting dunes and tackling woodlands. Warning: these images will spur your excitement to test a Trailcart yourself. We will be watching Trailcart closely, hoping that four wheel drive pedal power can jolt people away from their motorized toys and into the joys of human-powered vehicle adventures.
Popular in the Community