Sarah Hyland is defending herself after receiving criticism for a racy selfie she shared of herself with her new boyfriend from bed.
The "Modern Family" actress took to Instagram on Monday to post a selfie with boyfriend Wells Adams, who used to be a contestant on "The Bachelorette," which showed the couple spooning in bed with her dog.
"Two more reasons to smile again. My big🥄& furry🥄," she captioned the smiley shot.
The couple, who started dating recently but haven't fully confirmed their relationship, received backlash for the photo, with many fans suggesting that the photo is too intimate to be sharing online. In response to the criticism, Hyland took to Twitter to share a lengthy statement defending her decision to post it.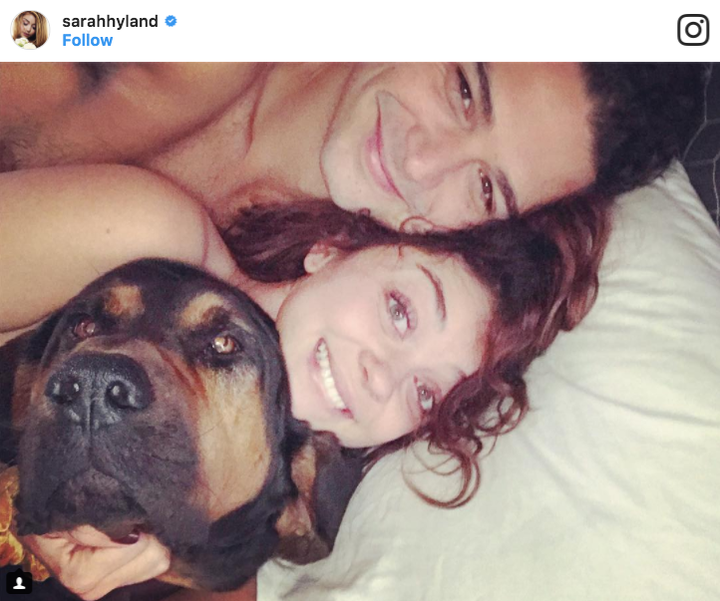 "Hey guysssss. I'm explaining myself again! Aren't you so happy???? Isn't this what twitter is for???" she wrote alongside a handful of screenshots.
"Every once in a while I'll go through my direct messages from to see what you're saying and respond," she wrote alongside a screenshot of an Instagram direct message she had received. "I woke up too early to go to work this morning and saw this."
"You can go out with whoever you want," the DM said. "But there are limits. Do not you know that some private things must stay private and not be shared with the whole world. KEEP YOUR SEXUAL LIFE PRIVATE. We do not necessarily need to know all the details of your personal life."
"Not putting her on blast," Hyland responded in her next tweet. "She just brought to my attention that that picture I posted might have been inappropriate since we're in bed. So I just have to say I'm so sorry ... FOR POSTING AN ADORABLE PICTURE [BECAUSE] CARL WAS ACTING LIKE THE NUGGETIEST SNUGGLW [sic] BUG! Couldn't let that moment pass without a picture."
"The only things I share about my [life] with you all is through Instagram and Twitter," the actress continued. "I do want my privacy. Especially in relationships. I've made the mistake in the past on being way too open and talking way too much about them. This time is different. It's special. And I will share what I [deem] 'appropriate' on social media because I still want you all to be updated. Because you guys are the greatest fans in the world. I even hate saying fans...because you're people. You're people who have had chronic illnesses, eating disorders, [troubled] family situations that 'Modern Family' helps you get through. People who share their stories with me and I love you all for that. So thank you for always [being] so wonderful."
"However," she continued. "This relationship's tea will only be spilled on social media... for now. Cause never say never and I don't want to be reminded in the future that I'm a 'hypocrite.' Ok. Gotta get ready for work. I LOVE YOU ALL!"
Popular in the Community