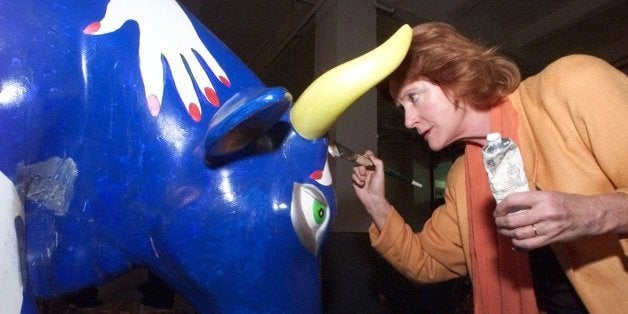 Feminism Across the Millennia
The vague feminism of our grandmothers was about their desire to be counted not only as wives and mothers, but also as equal partners in life outside home and society salons.
If we think of feminism as influence-seeking, it's as old as humanity. Strong women always strived to achieve individual influence -- and some succeeded. Think La Malinche (lover of/advisor to Juan Cortez), or Esther (wife of Persian King Ahasuerus), or feminist-minded Eleanor Roosevelt (who shaped the role of the First Lady), or countless others who became influencers because of their men. Women rulers, like Queen Victoria, Catherine the Great, Indira Gandhi, Golda Meir, and Margaret Thatcher impacted the world through their strategic thinking. History provides ample individual illustrations of what's feasible for the "weaker sex."
In the 20th-21st centuries, the idea of women as equals in leadership reached the masses, transitioning from individual to mass feminism. Many good things happened since the initial suffragist/feminist movement.
Of late, however, the term "feminism" lost much of its luster -- and even acquired negative connotations from anti-feminist celebrities. Do they know about modern feminism? Probably not: with Hollywood's prodigious populism, it's not easy to see past Kim Kardashian's beautiful behind. Anyway, let's put feminism's record straight again -- because it's time, and because of what the new blood of American society -- immigrant women leaders--bring to the table.
According to its classic definition, feminism entails "the belief that men and women should have equal rights and opportunities." The 2013 poll found that 82 percent of Americans agree with this, so it's clear that feminism's bad rap comes from some folks confusing modern feminism with the anti-male, radical ideology of extremist feminism in the 1960s and 1970s. Modern feminists, including the Harry Potter actress Emma Watson, a UN Women Goodwill Ambassador, strike back. In free-thinking America, the likes of Arianna Huffington, Christine Pelosi, Sheryl Sandberg, Lindi West and Patricia Valoy write about three waves of feminism, feminists to advance immigration reform, new feminist issues, feminine feminism, leaning in, etc.
And I sense diverse feminist flavors in the immigrant women leaders whom I interviewed for my upcoming book. It's my observation that immigration, like war or other extreme situations, brings up the essence of human nature -- and in women, it catalyzes their feminine sensibilities and feminist senses/self-expressions. I interviewed a "soft feminist," "forever feminist," "can-do feminist" and "creative feminist," among others. Let's look at two modern feminist faces and see how they came to be.
A Closer Look

•Edwina Sandys, from England -- Provocative and Profound Feminist
A former Londoner turned New Yorker by choice and marriage, Edwina Sandys, an outstanding artist and sculptress by any measure, distinguished herself by her profound ideas addressing political and women's issues -- and expressed her perception of the world in an unusual, provocative, way that makes people think.
Her works about women demonstrate strong, specifically feminist interpretations. To name just a few, Edwina created:
•Three monumental marble sculptures for the UN Year of the Child, installed at UN centers in New York, Geneva and Vienna.
•Woman Free, at the UN Center for Advancement of Women, in Vienna, Austria.
•Breakthrough, dedicated by President Ronald Reagan; comprising dismantled sections of the Berlin Wall, it's sited at Westminster College in Fulton, Missouri, where Churchill gave his historic "Iron Curtain" speech.
•The Marriage Bed -- in the permanent collection of the Brooklyn Museum of Art. A symbolic bed divided with nails and big red roses.
•Christa -- a female Christ-on-the-cross figure, probably the best of her bronzes -- portraying the women's perspective on suffering; it's installed in New York's Cathedral of St. John the Divine.
Does her cutting-edge creativity and love of America come from good genes? Maybe: her maternal grandfather Winston Churchill was a fine artist, and her paternal ancestor Edwin Sandys was a founder/treasurer of the Virginia Company of London and defended the rights of American Jamestown settlers before the King. Anyhow, Edwina matured as an artist on American soil, and we're proud of her distinctly feminist artistic input.
Verónica Montes, Ph.D., daughter of a divorced immigrant mother, had to cover a lot of ground before landing a postdoctoral grant and a teaching position at a private college.
A great personal achievement of Verónica is her grass-roots feminism, begun on the intuitive level, working on self. Thus, she went a long way toward overcoming the stereotype of Mexican girls as passive, submissive, dependent, and uneducated -- and became an active, independent thinker, a professional and an equal partner to her husband. Recognizing her mother's inspirational strengths, she also discovered other Mexican women's unrecognized strengths through her research and, based on her own experiences, became a believer in women's solidarity.
Interestingly, what turned her mind to feminism was her own research:
1.One project about women defining the livelihood strategies of two transnational Mexican communities; it showed the vital role of women in the Mexican family and community -- and this significance counteracts current stereotyping.
2.Another was about negative traits of hegemonic masculinity, examining ways in which men may step away from culturally expected masculine identity -- ways that can potentially contribute to leveling the field and recognizing the roles women practically play there.
Today, Veronica embodies a grass-roots feminism of Latinas born into traditionally macho cultures. Coming all the way up in her professional and feminist thinking made her a special woman role model.
Women leaders are gaining ground -- and with their help, modern feminism is alive and kicking. Immigrant women leaders, as the new blood of America, clearly contribute to America's well-being and culture -- and their self-expression adds new flavors to feminist styles. Promoting/coaching women to become their best in our equal-rights but traditionally male-dominated society is the right thing to do. Consequently, feminism shouldn't be a bad word. All progressive-thinking people, women and men, should be proud to call themselves feminists, because the many modern feminist flavors all enrich the beautiful bouquet we call womanhood.
Related
Popular in the Community