The following is the speech I gave at the Fall 2014 IHI Therapy Center gala, a Broadway cabaret celebrating Modern Love. In it I suggest a paradigm shift with regard to weddings and marriage and explain how the struggles that same sex couples have faced over the years, on the road to marriage equality, can benefit all of us. The speech was delivered in the form of a wedding toast to a same-sex couple who were married at the event. It has been adapted from my book Modern Brides and Modern Grooms: A Guide to Planning Straight, Gay, and Other Nontraditional Twenty-First Century Weddings.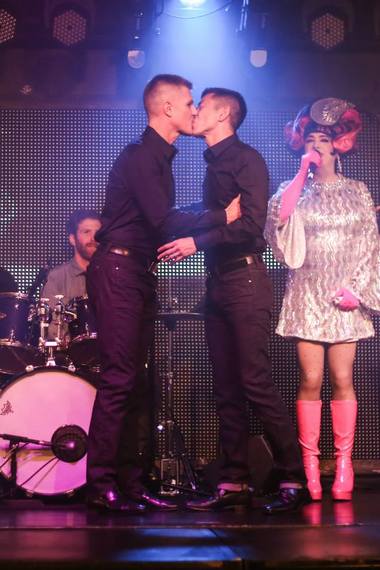 Miss Perfidia. Photo by Grace Chu.
Weddings are not the end, but a stop on your train. A significant, theatrical, moment during which you receive recognition for who and what you are. As you are, not as you should be.
So called traditional weddings on the other hand, are kind of like air-brushed photos that straight couples could, traditionally, hide behind, or with which they could closet themselves, if you will, in order to appear normal. To convince everyone that they got away with something, that they reached the finish line. And now, we, the same sex people, can do the same thing, in most states. We can post air brushed "normal"-looking pics of our nups with the hashtag #wedding instead of #CivilUnion or #ComittmentCeremony or #party.
We can even get a Vegas style quickie, if we want, like any straight Tom, Dick, or Britney Spears. But we can also recall the salvational creativity that carried us through all those years of hearing "No!" We can use the imagination and the will to adapt that allowed us to claim meaningful partnerships in the face of adversity -- and against all odds -- to remain awake, alive, and engaged with our spouses, well beyond our wedding days.
So here is some queer wedding wisdom that we can hold onto, and also share with our straight friends. Because they too are eager to bust out of stale ideas of marriage. They too can no longer be contained by tradition.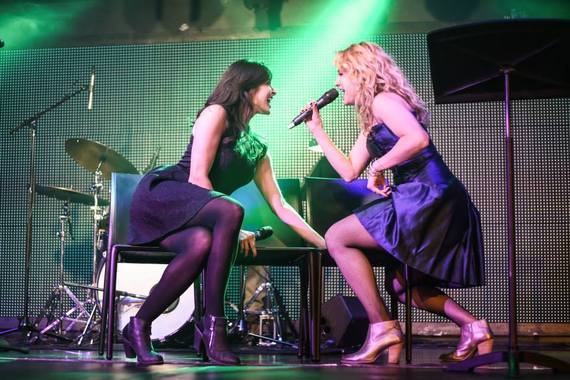 Christina Decicco and Jennifer Mudge. Photo by Grace Chu.
First, modern marriage is a choice: The story of getting hitched based on peer (or cult) pressure never did end well--am I right, Katie Holmes? Queer relationships, on the other hand, of all stripes, have always involved making a choice. We've risked stigma, physical attack, and in many cases, excommunication from our families to make these choices. Now all of us, yes straight couples too, can continue to be mindful and passionate in our choices as we move through all of life's transitions together. Keeping our eyes wide open instead of sleep-walking through the steps of conformity. Staying awake as we consider career paths and where to live and artistic ambitions and pets and kids.
And let's talk about kids, and family. Family means a lot of things, not just raising kids. All of us have identities and loves we want to protect, to be recognized, and to survive. Those of us who don't have children of our own are connected to nieces, nephews, students, patients, and various other lives we help to grow. And those little ones in turn hold us in mind, carrying on our truth and our dignity.
Marriage requires such recognition...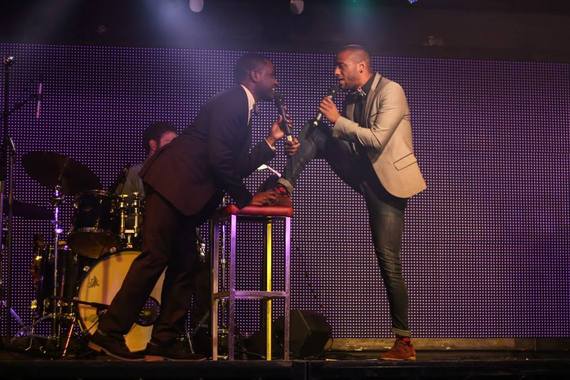 Arbender Robinson and Jon-Michael Reese. Photo by Grace Chu.
But it also requires conflict. Maintaining our separateness even in our efforts to connect. To discover where one of us ends and the other begins. Surviving conflict in our relationships is what makes them meaningful, and makes them durable.
And though marriage must be durable we must also fail in it. "Fail Again, Fail Better" wrote Samuel Beckett. Failing forces us to take our own side, to love ourselves better, to expand our perspective and increase our capacity to love other people. Failure reminds us that it's ok to take risks, to separate from the pack, at times, in order to seek life and love and sex.
And sex. Marriage is not the end of sex. Through processes of communication, negotiation, and creativity, we can find our ways back to ourselves and to our spouses. And knowing this is possible gives us faith that it can happen again and again and again. If we are honest and transparent.
Perhaps most of all, modern marriage requires transparency: To reveal rather than conceal. And that, my friends, is what this piece of theater we call a wedding is all about: an uncloseting of ourselves; an assembling of various fragments of our lives -- from our most shameful bits to our most proud -- in order to create a mosaic of self and of couplehood. A moment that we can hold in mind to carry us through all of life's transitions. A moment that reminds us to demand that our communities recognize who and what you are.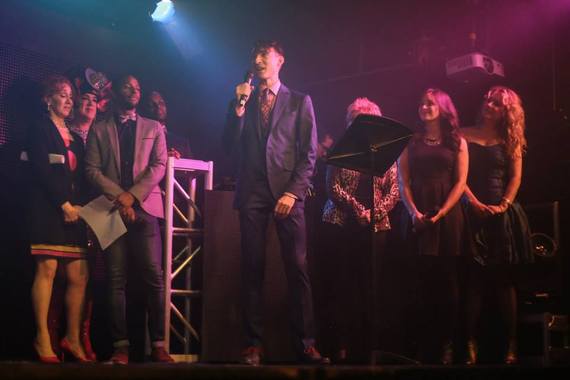 Mark O'Connell, LCSW. Photo by Grace Chu.
So, recognize each other, be in conflict, survive conflict, give each other space, don't give up on sex, be transparent, fail, fail better and make each other laugh.
And remember that marriage equality is for everybody.
Related