The following article is from the July/August issue of Modern Painters. To see an illustrated gallery of the figures listed here, with their descriptions, click on the slide show.
Robbie Antonio
Manila/New York
Antonio may be the biggest art collector in the Philippines. He is certainly the youngest: The 35-year-old scion and managing director of Century Properties has already amassed a cache of modern and contemporary blue-chip art that rivals that of some small museums, with works by Picasso, Francis Bacon, Willem de Kooning, Andy Warhol, Mark Rothko, Takashi Murakami, and Richard Prince. If Antonio is young, his collection is even younger -- he only began buying in 2005. It's a point of pride that he is on the short list of Asian collectors who are players in the international market. He sees himself as an emissary of sorts, with a mission to bring the world to the Philippines. "The artists who are household names in the West aren't there," he says. "I want to change the psyche of a population," to normalize, in a way, the notion of collecting and arts patronage in an increasingly prosperous country.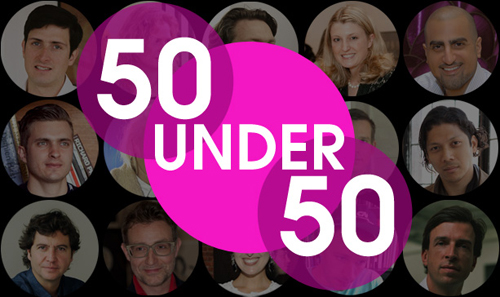 50 Under 50 : the most exciting young collectors worldwide / Illustration by ARTINFO
Antonio has a taste for artists associated with New York's 1980s scene. He tends to buy in spurts, he says, delving deeply into one genre or another. "I really like my Bacon," he admits, "but what represents me more is my commissions." Many are self-portraits of a sort, conceived in collaboration with the likes of David Salle, David LaChapelle, and the Bruce High Quality Foundation. "Marina Abramović asked me 50 questions over e-mail before she agreed to do a project with me," he notes. "I like to participate in the genesis of an idea -- that way I have a stake in it." For now much of Antonio's art is in storage, but he dreams of opening a space to exhibit it. "Collecting art is different from buying anything else," he says, "because it's so damn obsessive." -- Sarah P. Hanson
Jen Bekman
New York/San Francisco
A founder of 20x200, a Web site offering affordable, high-quality editions and prints, Bekman also runs a New York gallery, Jen Bekman Projects. She now divides her time between the East Coast and the West, where she lives with her boyfriend. "It's nice to have a clean slate, as the walls of my New York apartment filled up long ago, but it's a bit of a challenge since he needs to like it too," she says. "Of everything we've got teed up for framing, I'm most excited about the biggest piece -- an 80-by-60-inch artist's proof of one of Christian Chaize's 20x200 editions, which will add some much-needed color and sunshine to our currently bare living room walls. I'm equally excited about the smallest, a drawing that Jason Polan made of the gorgeous potted succulent plants we've got sitting on our terrace. Jason did the drawing during an artists' gathering we hosted, tore it out from his sketch pad, and handed it to me on the spot -- the best housewarming gift ever!"
Alfonso Gracia Castillo
Monterrey, Mexico
A former financial adviser, Gracia Castillo has been collecting since he was quite young. In his words, he has "been in contact with the art scene since an early age." While he pursues emerging artists with a focus on those from Latin America, he is guided in his purchases largely by instinct, he says. His recent acquisitions include etched light boxes by Marcela Armas, cutout photographs by Jose Dávila, sculptures by Cynthia Gutiérrez, and drawings by Françoise Vanneraud.
Cesar Cervantes
Mexico City
A restaurateur who doesn't use consultants for buying art, Cervantes lives in suburban El Pedregal with his collection and his family. Indeed, he considers his art pieces -- including works by Abraham Cruzvillegas, On Kawara, Jimmie Durham, and Gabriel Orozco -- family members. Only his ownership unites the collection, but he does feel that his profession "is now more influenced by my involvement in culture through collecting art than the other way around." Most recently he acquired "Dieu," a 1974 work by Robert Filliou he's wanted for seven years. Yet the thrill never wanes. "I honestly still feel excited about acquisitions made 5 or 10 years ago," he says.
Bill Clarke
Toronto
Executive editor of Toronto-based Magenta magazine, a journal of international art, his collection has been expanding for 12 years and focuses on works on paper, artist's books, and multiples from the likes of Christian Marclay and Jonathan Monk, though it also includes an impressive array of pieces by emerging artists.
Moisés Cosio
Mexico City
A producer at Detalle Films, Cosio is already an active supporter of public culture at the young age of 28. Last February he began Alumnos 47, a foundation that seeks to create learning communities for contemporary art, and launched his first major project, a mobile library that travels throughout Mexico City. The project grew out of earlier collaborations with various art institutions (including soma in South Korea and moma in New York) to design community-specific libraries. Even though he has been collecting for only four years, Cosio has made enough of a name for himself to have been included in the "New Collecting: From the Personal to the Political" panel at this May's edition of arteBA. His collection includes work by the self-taught Mexican artist Dr Lakra, and in 2010 he helped finance a Marxist puppet show by the Mexican artist Pedro Reyes.
Lakshmi Gopalkrishnan
Seattle
Gopalkrishnan has always been passionate about art. She once collected ukiyo-e, Japanese wood-block prints, particularly first editions by Tsukioka Yoshitoshi, "best known," she says, "for his violent interpretations of traditional horror stories." However she lost the collection four years ago and "was left looking at bare walls and a tight budget. Right around that time," she says, "I began transitioning from a successful corporate career to a more experimental, asymmetric philosophy that I call 'simply transformative': the process of aligning outside with inside, image with inspiration, who you happen to have become with who you were meant to be." This approach guides her nascent lifestyle consultancy venture. "At its core, this philosophy explores contrast and exploration. It rests not in erasure or absolute reconciliation but in that space between sound and silence, journey and destination," she continues. "This is my commitment, in life and work as in art. I am drawn to pieces that are composed, clean to the touch of the eye, but then invite deconstruction and realignment that is authentic to my experience and aspiration." Recent acquisitions include work by Canadian artist Tom Burrows, Bratsa Bonifacho, and Izima Kaoru's "Nagasaku Hiromi wears Louis Vuitton," 2001. -- Orit Gat
Alon and Betsy Kasha
Paris
The Kashas established an interior design firm specializing in renovating and reselling Parisian apartments in 2004; they started collecting art 10 years earlier. "We bought a painting on our honeymoon and decided to buy a work of art each year on our anniversary," they say. "We buy what we like, not with an eye to investment." They recently added a 1951 painting by François Willi Wendt to a collection that includes multiple works by John Zinsser, as well as pieces by Richmond Burton, Cindy Sherman, and Louise Bourgeois. Overall though, "it is the younger, lesser-known artists" -- such as the sculptor Nils Darsonval and the painter Julien des Monstiers -- "that truly inspire us. This includes furniture designers whose works we have incorporated into our own designs." The couple's collecting activities work in tandem with their profession: They often put newly collected works and pieces of furniture into their designs and sometimes sell them to clients. -- OG
Celso Fioravante
São Paulo
Founder and editor of Mapa das Artes, a Brazilian art guide with both digital and bimonthly printed editions, Fioravante started his collection in 1996 while working as an art journalist. Today it includes some 500 drawings, paintings, sculptures, and photographs. Among his holdings are pieces by Eliseu Visconti, Antonio Maluf, Sergio de Camargo, Franz Weissmann, Amílcar de Castro, Vania Mignone, and Egidio Rocci. "About 90 percent of my collection was purchased at auctions and galleries. I rarely buy directly from an artist's studio, unless he or she is not represented by any gallery," says Fioravante, who in 2010 created the annual Exhibition for Artists Without Galleries, with artists submitting their work for consideration via an open call.
Arthur de Ganay
Berlin
As a young architecture student in Paris, de Ganay was inspired to begin collecting art after encountering Hiroshi Sugimoto's large-scale photographs in 1995. He has since expanded his collection to include works by a number of architectural and landscape photographers like Elger Esser, Thomas Ruff, and Arwed Messmer. A building that used to be a jam factory along the river Spree now houses his collection and is open to the public by appointment.
Maxwell Graham
New York
The owner of Essex Street, a Lower East Side gallery that he recently relocated from its eponymous block to Eldridge Street, Graham, formerly director of Renwick Gallery in SoHo, is an art dealer and curator. His move to the LES reflects his interests, which tend toward artists -- including Mandla Reuter, Joëlle Tuerlinckx, and Helena Almeida -- whom he feels get more attention in Europe than they do in New York. As a gallerist Graham seeks to correct this wrong: Just last winter, for example, he mounted the critically acclaimed New York return of text-based artist Peter Fend. To inaugurate his new space in April, Graham turned to Owen Land, a well-regarded American filmmaker who nonetheless had yet to have a solo gallery exhibition in his home country.
Taymour Grahne
New York
Originally from Beirut, Grahne now lives in New York, where he is pursuing an M.A. in art business. His collection focuses on contemporary Middle Eastern works. "There is a significant level of artistic talent and creativity coming out of the region," he says. "New Yorkers are enamored when they visit my apartment and see all the Middle Eastern art on the walls." (Grahne also keeps a blog tracking his own interests and discoveries at artofthemideast.com.) Recent acquisitions include work by Reza Derakshani (Iran), Mohannad Orabi (Syria), and Mouna Bassili Sehnaoui (Lebanon). The latter artist created one of Grahne's prized pieces, a suite of paintings called "3 Divas." The series "came from the artist's desire to pay tribute to some of the greatest singers and musicians in the Middle East and France: Oum Kalthoum, Edith Piaf, and Asmahan."
Emma Hall
New York
"I am definitely drawn to painting -- I like to feel the artist's presence in the work. I like to feel color and emotion in art," says Hall, who, as head of external affairs at Haunch of Venison, ought to know what she likes aesthetically. For her Greenwich Village home, where she lives with two dogs, she recently bought a small nude by Ridley Howard called "Bedroom #3, night." "It's a very intimate and sensual piece," she says. "I also recently acquired a small work on paper by Walter Robinson, 'Untitled (Painter and Model on the Beach).' He paints such fearsome, sexy women."
Daniela Hinrichs
Hamburg, Germany
"Perfection," is the ambitious theme that Hinrichs says unites her collection, which "allows space for different directions, with a clear call for excellence." She currently runs the company Yellowdine Ventures while acquiring new work; she's particularly enthused about photography. "Recent excitements are Edgar Leciejewski's 'Seven Eggs' and Armin Morbach's 'Golden Cut.'"
John Andrew MacMahon
New York/Houston
A founding partner of Bell Point Capital Management, MacMahon finds collecting "a cathartic experience that allows me to recharge from the pressures of work." His collection consists mainly of photography and has, he says, "a bias toward architecture and geometry. Specifically, I am fascinated by built structures and how they relate to their surroundings. A subcomponent of the collection is the human condition in response to the environment. The first photograph I purchased was Swedish Bachelor by Julius Shulman, which I wake up to every morning."
MacMahon serves on the photography subcommittee at the Museum of Fine Arts, Houston (MFAH), as well as on the Contemporary Arts Council at MOMA in New York, and he is involved with his alma mater, Davidson College in North Carolina, which displays part of his collection. Of the work that most excites him, he cites "a photo collage piece by Carter Mull titled 'Unrest,' which was recently on display in 'Utopia/Dystopia' at MFAH, as well as Mull's 'Leader (Obama).' Another artist that I am excited about is Doug Rickard; I purchased a number of photographs, Google street views from his series 'A New American Picture.' The work is extremely powerful in raising questions of racial and social inequalities explored through the Web 2.0 world today." -- Tracy Stuber
Fawaz Kanoo
Bahrain
"I tend to buy art based on my mood," says Kanoo, who collects contemporary Middle Eastern art by the likes of Sabhan Adam, Fadi Yazigi, and Lalla Essaydi. But the general manager of Kanoo Vehicle Leasing displays his artworks according to subject matter, "such as diverse faces from different artists in a specific area." He hopes one day to open his own gallery. His taste, he explains, is inpired by everything around him: "It creates a whole language that resonates through my daily experiences, which creates my current taste." Of his recent forays into the market he says, "I'm super excited about my new Mustafa Horasan," one of a number of pieces by young Turkish artists he's been acquiring.
Adam Kimmel
New York
A fashion designer, Kimmel takes inspiration from the lifestyles of both long-established artists -- such as Willem de Kooning and George Condo -- and the contemporary artists he spends his time with, like Dan Attoe, Ryan McGinley, and Oscar Tuazon. For his fashion collections Kimmel has often collaborated with these and other well-known artists; most recently, he enlisted Dutch photographer Ari Marcopoulos to shoot and star in the look book for his collection with Carhartt.
Sally Lyndley
New York
A fashion stylist who worked for such brands as Marc Jacobs, Louis Vuitton, Chloé, Versace, and Anna Sui, as well as numerous fashion magazines, including Vogue, Lyndley started her career as a model. Her love of art dates back to her early days in New York, when she used to go to galleries as a fun, free pastime. She now owns works by the likes of Jeff Koons and Elizabeth Peyton, and blogs about art, music, and their intersection with fashion on her Web site.
Amy and John Phelan
New York/Aspen
Along with her husband John, a cofounder and co-managing partner of MSD Capital, Amy has established herself as a prominent art enthusiast, collector, and philanthropist. She serves on the boards at MOMA, the Guggenheim, and the Aspen Art Museum, among others. While the couple began with classic works of modernism by Picasso, de Kooning, Dubuffet, and Chagall, they soon ventured into contemporary art with the purchase of a Thomas Ruff nude photograph. The sensuous content of that photograph runs throughout much of their collection, which includes work by Marilyn Minter, Mickalene Thomas, Roni Horn, Jeff Burton, and Richard Phillips. Amy also counts many of these artists among her personal friends -- particularly Minter, who claims the blonde former Dallas Cowboys cheerleader as one of her muses. Nonetheless the couple doesn't work with an art adviser. Recently, they've focused on outfitting their contemporary mountain lodge in Aspen, which houses large-scale works by Andreas Gursky, Cindy Sherman, and Richard Prince.
Rik Reinking
Hamburg
With an interest in various artistic periods and schools -- from Minimalism to Fluxus to contemporary street art -- Reinking is an avid collector who began acquiring at the age of 16. Having studied law and art history, he has tried his hand at curating (including an exhibition of street art at the Von der Heydt Kunsthalle in Wuppertal-Barmen, last year) and is eager to lend his works out to museums (he contributed a Jimmie Durham piece to the retrospective currently on view at MuHKA in Antwerp, Belgium). "I like to combine different art movements," he says, of a collection that includes Cady Noland, Barbara Kruger, Swoon, and KAWS.
Alain Servais
Brussels
An independent financial consultant, Servais is also a diligent collector and part owner of European Art Tour, an interactive tool for art lovers and tourists. Since buying his first piece about 10 years ago, he has amassed a diverse yet selective group of approximately 300 works of contemporary art. Servais feels art is a language. This idea comes through literally in both his interest in text-based works by artists such as Barbara Kruger and Claude Closky, and in his general insistence that the work he buys say something, both in itself and about him as a collector. For this reason, Servais focuses on established artists rather than emerging ones, relying especially on curated retrospectives that offer a considered look at an artist's oeuvre. His collection, housed in the three-story Brussels loft where he lives and works, includes Lynn Aldrich and Ghost of a Dream and has most recently tended toward digital art.
Marianna Stark
Oakland, California
Founder of the Stark Guide, a gallery-listing blog for the Bay Area contemporary art scene that seeks to connect emerging artists and collectors, Stark is also an active member and former chair of SFMoMA's Society for the Encouragement of Contemporary Art. After earning a degree in art history at Berkeley, she made a career in communications at Gap Inc., where in the company's San Francisco headquarters, she encountered the collection of company founders Don and Doris Fisher. Her own collection tends toward younger and particularly local artists, such as Nicholas Coley, Monica Canilao, and Dustin Fosnot. In addition to collecting, Stark writes about art for the San Francisco Arts Quarterly and SFArts.org and recently cochaired the 2012 Private Collections spring art tour.
Nilani Trent
New York
After having worked at both Christie's and Sotheby's, Trent founded her eponymous art advisory firm in 2006. "When I first started, I looked at my collection like a stock portfolio," she says. "I wanted to prove to my family I really knew what I was doing. Back then there were a lot of musts: must have exhibition history, must be represented by a major New York gallery, must be a good investment, etc. Now I buy with my heart. There are no rules except that I must love it and want to live with it every single day." As an adviser, she admits to having access to "works that aren't available to most collectors. However, I never buy a work for myself without offering it to a client first. I joke that I get all of my clients' sloppy seconds, which are still museum quality." She means that literally. "Twigs," her Nick Cave sound suit, is currently on loan to the Brooklyn Museum. At last year's Art Basel Miami Beach, Diddy tried to buy her Mickalene Thomas painting, but, she assures us, "nothing in my collection is for sale."
Kai van Hasselt
Amsterdam
Now in his 30s, Van Hasselt has been collecting since he was 18. "I had a part-time job during university as a trend watcher and that got me to a lot of cities where I could see art in museums and galleries," he says. "I also like going to art fairs -- not all collectors do, I realize."
When he's not collecting art, Van Hasselt fancies himself a theorist of cities, a passion that resulted in the founding of Shinsekai Analysis, a company that specializes in "cultural intelligence and urban strategies." From 2005 to 2010 he ran a lecture series at Amsterdam's W139 exhibition space. "I do not necessarily buy with a strategy. At first I was thinking a lot about topics and themes within (the relatively small) collection; now I do that less," he says. "A core group of works is about transformation: from one image, material, situation, medium to another -- and that theme is still there."
Esther Kim Varet and Joseph Varet
Venice, California
Copresident of Plum TV and a former strategic planner for MTV, Joseph Varet has always had an interest in art. He funded the launch of Whitney Focus, the museum's Web video platform, in 2008, is on the Capital Campaign Committee for the Whitney's new building, and chairs the Future Leadership Council. In 2009 he met Esther Kim, a Ph.D. candidate at Columbia University and part-time art dealer. Married in 2011, the couple recently moved to Venice, California, where Kim Varet opened a contemporary art space -- named Various Small Fires, after the Ed Ruscha book -- this past January. While she finishes her dissertation on the impact of technology on the Conceptual art movement, the couple stays involved in the contemporary art world by helping to fund Performa 11 as well as projects by artists like Liz Magic Laser. Joseph Varet is also on the board of the LAXART and Artis.
More of Today's News from BLOUIN ARTINFO:
Popular in the Community