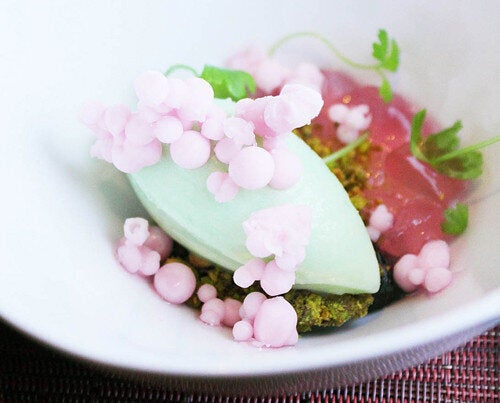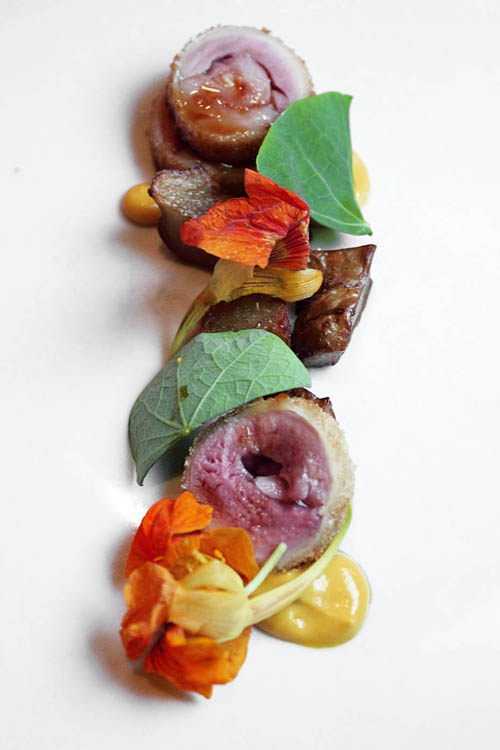 Quail Roulades with Nasturtium Yogurt and Sunchoke Confit
Photo by Sherif Tamim
I recently had the pleasure of experiencing a wondrous 12 course tasting dinner and wine pairing at Wylie Dufresne's Modernist Cuisine Restaurant, WD-50, for the fourth time since it was named the best NYC tasting restaurant by Time Out NY magazine in 2003, when it first opened. Wylie is amongst few of the most cutting edge international chefs on our planet, which include Ferran Andrea of El Bulli in Spain, recognized as the Top Chef in the world for 5 years running until 2011.
A dear friend of mine, Sherif Tamim, a food photographer from Cairo, Egypt was visiting NYC for a week. Our aim was to peruse as many of the great New York City food venues as possible in our short time together. I considered WD-50 as a must see for him, a lover and experimenter with international cuisine, and new owner of a Cairo based Food Magazine called "Wasfa Sahla."
The reception we received at WD-50 and it's alimentary extravaganza did not disappoint our high expectations. Wylie's imaginative and thoughtful concoctions bring food and technology elements together into masterpieces of full sensory artistic escapades, augmented by his attentive, knowledgeable, enthusiastic and erudite staff. We could not have felt more welcome or cared for at twice the price.
There were too many courses to do justice to each one individually, in a short review, so I am outlining the highlights I found most memorable both visually, playfully delightful, and just down right delectable. Each course was accompanied by a commensurate well paired libation, chosen and orated by a master Sommelier.
The first photo shown above is comprised of seared rare Quail Roulades with Nasturtium Yogurt and Sunchoke Confit, garnished with peppery Nasturtium Flowers and Leaves, and accompanied with a New Zealand Pinot Noir. The result was perfection.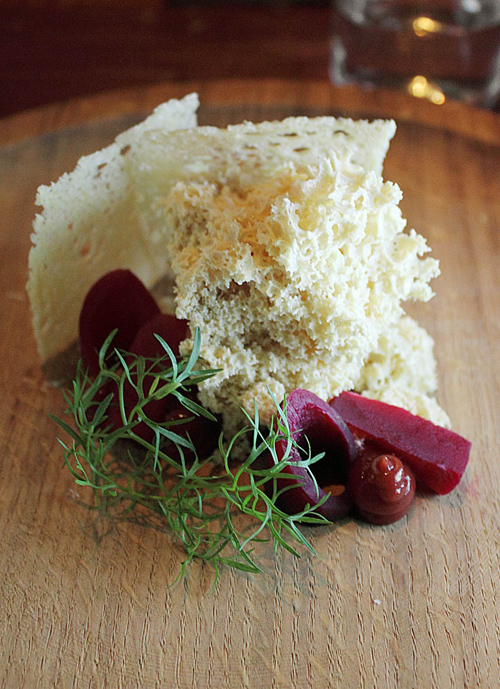 Moon Rise Exploded Foie Gras with Thinly Sliced Brioche Toast, Plum Paste and Fennel Greens
Photo by Sherif Tamim
The next dish featured here in the second photo above was an amazing mouth sensation. I love Foie Gras prepared well, but Wylie's is truly remarkably delicious and surprisingly light. The process to create this air-filled savory confection was described to me, and now I have little memory of how it was rendered so mouth melting. It has to be experienced to be believed. It was expertly accompanied with paper thin, crispy toasted brioche slices, plum paste and fennel greens, not to mention being paired with the just so oh perfect German Riesling Kabinett Feinherb.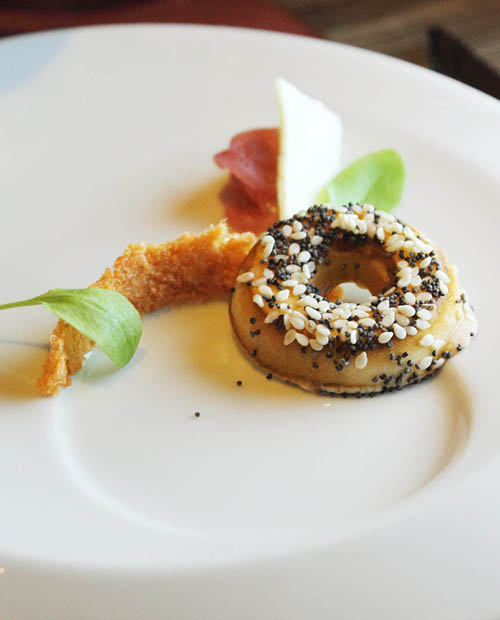 Everything Bagel with Salmon & Cream Cheese
Photo by Sherif Tamim
Above, one of the most imaginative and playful dishes presented, is so surprising, and oh so NYC, that it tickles the heart cockles of even the most jaded lost boys ... girls, or whatever child's heart category you may have forgotten you belong to. The "Everything Bagel" is made of savory ice cream. The "Salmon" is a freeze dried, bread textured salmon derived tidbit, served with a solid sliver of cream cheese and juicy pickled onions. Together the textures and flavors combine in the mouth to meld into the quintessential "Everything Bagel with Smoked Salmon & Cream Cheese with Pickled Onions" delight.
Below, I share photos of some of Wylie's remarkable desserts, behind the scene shots of the Master Magician and his apprentices, as well as the wonderland where they all take place. Have fun while you explore the world of this fanciful culinary adventure.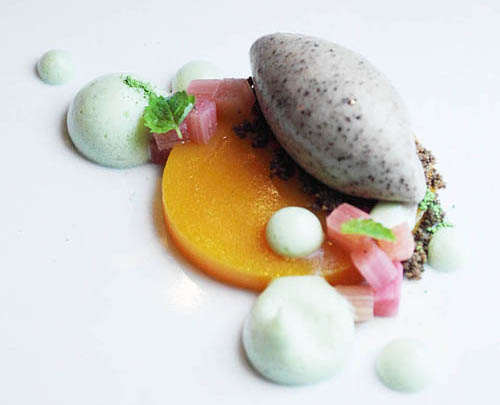 Apricot Puree, Buckwheat Ice Cream, Pickled Rhubarb & Green Tea Foam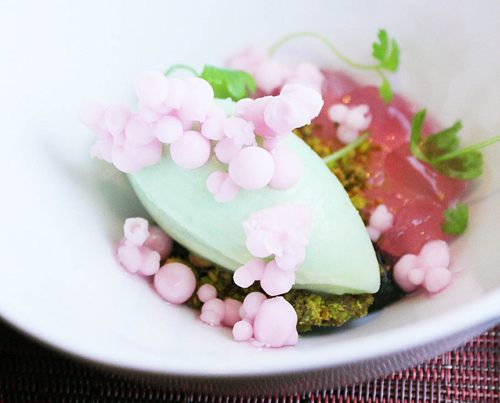 Celery Ice Cream, Frozen Pearls en Gelee con Palm Suds & African Spiced Pistacchio Paradise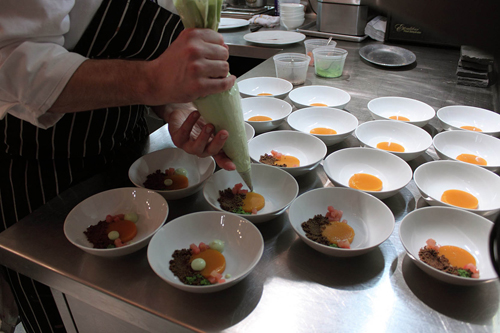 Wylie's Wonka Wactory ... OOmpa Cooka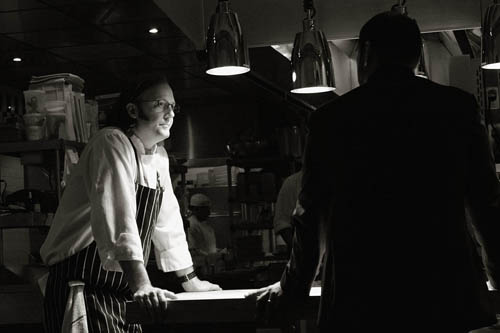 Wylie the Wizard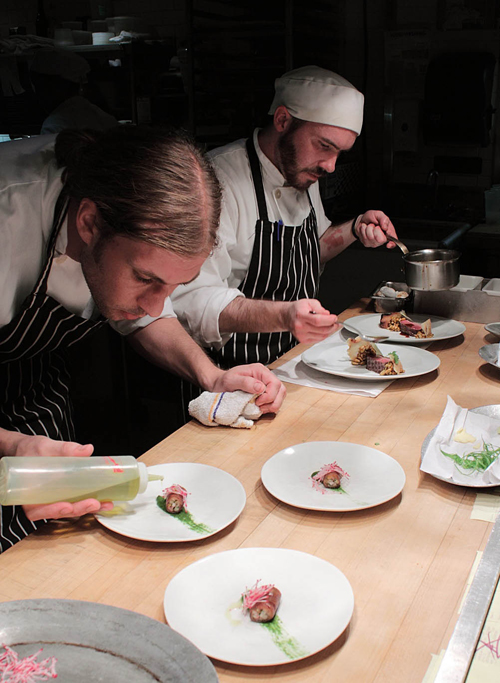 Apprentices at Work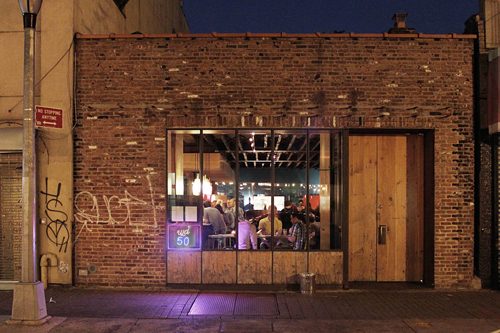 Exterior of WD-50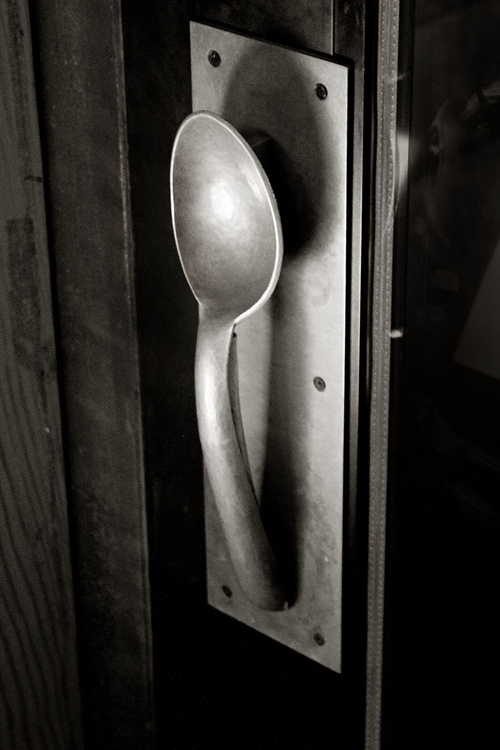 Door Handle
All Photos by Sherif Tamin
WD-50 is located at 50 Clinton Street, NY NY 10002. Phone 212-477-2900. His partners are renowned Chef Jean George Vongericheten, restaurateur Phil Suarez, and Wylie's father & beverage manager, Dewey Dufresne.
Popular in the Community