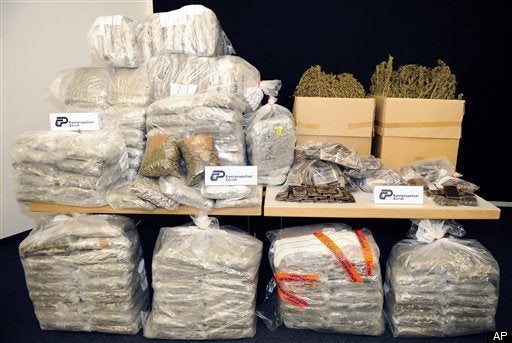 On April 15, the Colorado House of Representatives overwhelmingly passed House Bill 1352, which nibbles at the edges of some of the more egregious aspects of the disastrous War on Drugs by reforming some of Colorado's controlled substance statutes.
This is a hugely important step for Colorado lawmakers in taking back their prerogative to both write, and when necessary, re-write the state's criminal code from the irrational drug law regime foisted on Coloradans by the federal government
In 1992, Colorado lawmakers enacted the Uniform Controlled Substances Act (UCSA, Article 18 of Colorado's criminal code), the act was written to "complement" the federal Controlled Substances Act, and designed to bring state drug laws in to conformity with federal drug laws. The act, among many other things, created numerous new drug offenses in Colorado, and sentencing enhancements for those offenses.
In our Constitutional Republic, the authority and responsibility to write the state's criminal law lies with the legislature. In other words, the 1992 General Assembly willingly subjugated its prerogative to write Colorado's criminal law to the dictates of federal drug war bureaucrats.
In a 1992 issue paper, published before the UCSA was enacted, Independence Institute Research Director Dave Kopel laid out the dangers in allowing unelected and unaccountable federal employees to decide Colorado law, asking:

Is an increment of presumed advantage in the drug war worth the price of warrantless searches, extreme and irrational punishments, pointless additional prison crowding, expansion of prosecutors' power to take property from people never found guilty of a crime, and further abdication of state powers to federal bureaucrats?
The drug policy reform recommendations incorporated into House Bill 1352 are actually quite modest, having been exhaustively vetted by both the Drug Policy Task force of the Colorado Commission on Criminal and Juvenile Justice and by the voting members of the Commission itself, which includes representatives of the Attorney General's Office, the Public Defenders Office, the Department of Public Safety, prosecutors, chief's of police, county sheriffs, drug treatment providers, legislators, and numerous other interested parties.
The Independence Institute has long advocated drug law reform. In this 2005 issue paper, "Getting Smart on Crime: Time to Reform Colorado's Drug Offense Sentencing Policies," I recommend lowering both use and possession of illegal drugs from felony crimes to misdemeanors and the creation of sentencing grid for controlled substance offenses separate and distinct (and much less draconian) from the sentencing structure for violent and property crimes.
Here is what HB 1352 does with regard to drug possession offenses:
· Creates a separate statute for the crime of possession of drugs.
· Reduces the crime of drug use from a class 6 felony to a class 2 misdemeanor.
· Redefines the quantity of drugs that is considered "simple possession" from 1 gram or less to 4 grams or less of a schedule I or II drug and 2 grams or less of methamphetamine. "Simple possession" would be a class 6 felony.
· Standardizes that possession for personal use of amounts greater than "simple possession" quantities is a class 4 felony.
· Reduces possession of schedule III-V drugs (i.e. prescription drugs) to a misdemeanor.
· Reduces the penalty for fraud and deceit in connection with controlled substances from a class 5 to a class 6 felony.
· Requires cost savings from this bill to be evaluated annually by the division of criminal justice and reported to the legislature and that some of the cost savings will be allocated to expand and enhance substance abuse treatment.
Here is what HB 1352 does with regard to marijuana offenses:
· Redefines the quantity of marijuana possession that determines crime classifications at various levels including possession of 2 ounces or less (petty offense), possession of more than 2 ounces but no more than 6 ounces (class 2 misdemeanor), possession of more than 6 ounces but less than 12 ounces (class 1 misdemeanor), and possession of more than 12 ounces (class 6 felony).
· Redefines the quantity of marijuana concentrate possession that determines crime classification at various levels including possession of 3 ounces or less (class 1 misdemeanor) and possession of over 3 ounces (class 6 felony).
· Creates a graduated penalty for marijuana cultivation including cultivation of 6 or fewer plants (class 1 misdemeanor), cultivation of between 7-29 plants (class 5 felony) and cultivation of 30 or more plants (class 4 felony).

The bill is sponsored by Colorado Springs Republican Representative Mark Waller and by Senators Pat Steadman (D-Denver) and Shawn Mitchell (R-Broomfield) and enjoys broad bi-partisan co-sponsorship.

Colorado's drug laws have mostly been off limits to any meaningful reform for most of the last couple decades. Hopefully HB 1352 is the start of a broader re-thinking of Colorado's long-running devotion to Washington DC's prohibitionist interdiction and incarceration-based drug control strategy.

Calling all HuffPost superfans!
Sign up for membership to become a founding member and help shape HuffPost's next chapter