In March, Abercrombie & Fitch stole headlines with its "Ashley" padded push-up bikini marketed to girls as young as 7 years old. There was so much fuss about the teeny triangle top that even a 75-year-old grandma planted her wheelchair outside an A & F at a California mall with a huge protest sign and refused to leave until police took her away.
But let's get real: none of the hoopla surrounding the "Ashley" is going to change the way retailers market to young women and girls... or is it?
On May 1 in Atlanta, hundreds of moms and daughters filed in to the beautiful Buckhead Theatre for Peace, Love & Pure -- an afternoon of fashion and fun, including a runway show and live concert from buzzed-about kid-fronted acts Von Grey and Laughing Pizza, and six year-old rapper Shaniah Jones. Although the event was a fundraiser for Bert's Big Adventure (an Atlanta-based charity founded by Bert and Stacey Weiss that supports year-round programs and an annual trip to Disney World for families of chronically or terminally ill children), another of Peace, Love & Pure's objectives was to convince girls (and their moms) that they don't have to dress scantily in order to be attractive and socially acceptable to their peers.
Cofounded by model Brenda Sharman in 2005, Pure Fashion was designed as a training program to instruct girls how to respect their bodies as they develop their own taste in a world full of sometimes unsavory choices -- and how to shop for clothes that make them feel confident but not too sexy. Annual fashion shows showcase the participating models' (ages 14-18) strengthened self-esteem.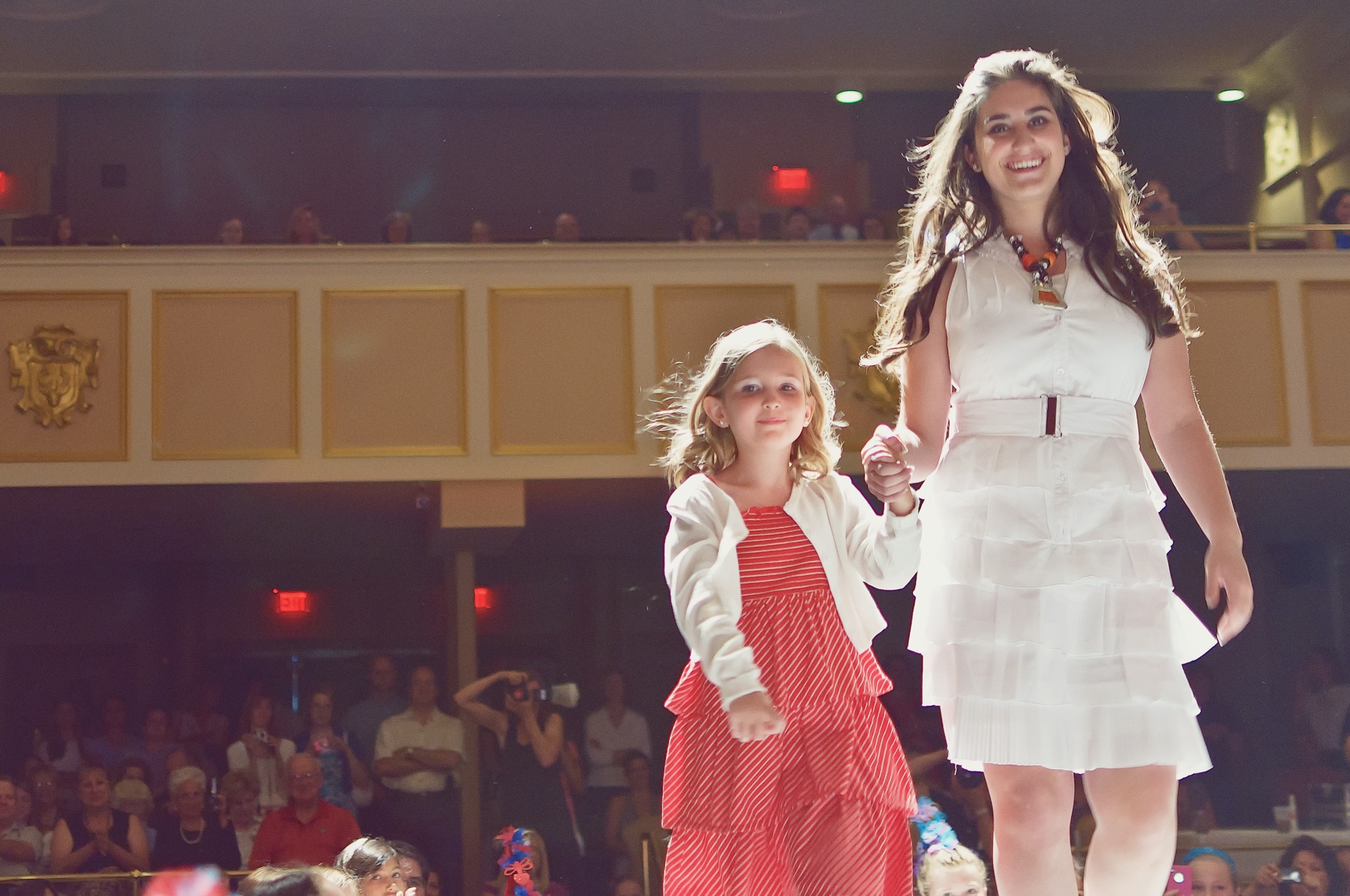 A Pure Fashion teen model walks the runway in Atlanta with a young Bert's Big Adventure recipient. Photo courtesy of 360 Media. Photo credit: Rustic White Photography
It's more than hair, clothing, and makeup -- it's how you present yourself overall, says Mary Ashenfelter, Atlanta Coordinator for Pure Fashion. "We help [the girls] learn how to become critical consumers. We call it the 'Mall Mission': We teach [girls] how to look at [what's on the store racks] and how they're being marketed to. Some girls already have a framework to process that, and some don't."
Pure Fashion, which began as church group meetings and classes about modest dress, has been profiled on ABC News and has since grown to an international enterprise with chapters in 24 U.S. cities and nine other countries. Although the program is faith-based, its standards aren't counter-cultural (such as the extreme modesty practiced by Amish women, for example).
"We encourage very feminine, trendy, or cute clothing, but with a sense of personal purpose," says Ashenfelter. (See what Pure Fashion teens told USA Today about the program here.)
While some media coverage of the new modesty movement has poked fun at the religious influence on fashion (see Newsweek's "Girls Gone Mild-er"), others offer more balanced coverage (listen to NPR), or go so far as to proclaim it as the new post-feminism feminism. Many books, including the brand new Fashioned by Faith, from model Rachel Lee Carter, are now available on the subject.
As for the dozens of teens who strode down the runway in Atlanta at the Peace, Love & Pure fashion show, there was nothing old-fashioned about the dresses, leggings, shorts, pants and tops provided by upscale department store, Belk. All looked dressed for success -- or at least ready for casting on a popular TV show. If being purely fashionable was the goal, these girls achieved it.
For more information about Pure Fashion's programs (ages 14-18) and summer camps (rising 4th-7th graders) across the country, visit PureFashion.com.
For more information about Bert's Big Adventure, click here.