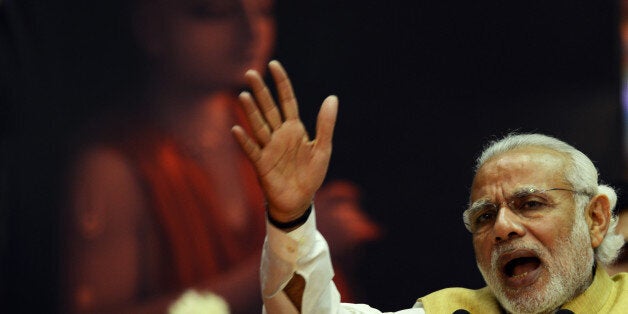 NEW DELHI -- India's university campuses are places of lively student politics. Sometimes it gets nasty.
And indeed it did on the Hyderabad Central University campus recently, where two student organizations found themselves at loggerheads. One, the Ambedkar Students Association, is composed largely of Dalit students. Their bête noire on campus is the Akhil Bharatiya Vidyarthi Parishad, the student wing of India's Hindu nationalists.
Disagreement between the two groups turned violent recently. The university expelled a student named Rohith Vemula and several others from the hostel, and cut off their fellowships, which made it difficult for them to pursue their studies. The university was reportedly under pressure to do so from the education ministry in New Delhi.
Depressed and dejected, Rohith Vemula died by suicide on Jan. 17, leading to nationwide protests. The ABVP and the Modi government have come under continuing attack for persecuting a Dalit student.
Many shades of red
The BJP's ascent to power in the national government has emboldened the ABVP, which is flexing its muscles on university campuses across the country. But one campus where it finds it difficult to do so is Jawaharlal Nehru University in Delhi. A leftist bastion, the students' union elections in JNU are usually contested between different factions of communist student organizations.
One far-left strain of thought among students at JNU is focused on questioning Indian nationalism and nationhood and the violence that is perpetrated on people in the name of the Indian flag in remote, heavily militarized border areas like Kashmir, the northeast and in tribal areas of central India.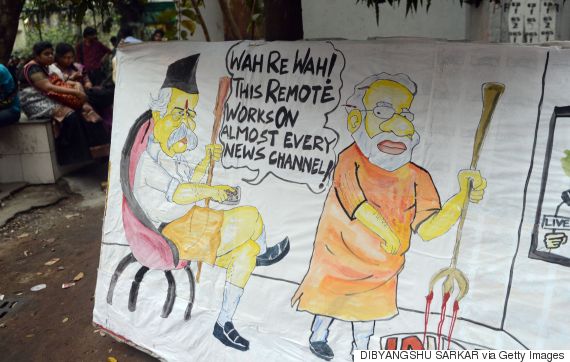 Student activists sit near a banner before a protest against the BJP government near Jadavpur University on Feb. 23. (DIBYANGSHU SARKAR/AFP/Getty Images)
It was some such students who had held an event on Feb. 9 to mark the third anniversary of the execution of Afzal Guru, a Kashmiri convicted for a terrorist attack on the Indian Parliament in 2001. Many people feel he was innocent and wrongly framed.
Some of those at the event reportedly raised slogans calling for India's destruction and disintegration. Activists of the ABVP immediately ran to the police and the home minister of India, Rajnath Singh.
Then, on Feb. 12, the police arrested Kanhaiya Kumar, the president of the JNU students union, on the basis of a doctored video aired by a news channel that morphed his speech to make it appear that he was calling for Kashmir's secession from India. Kumar said he was framed.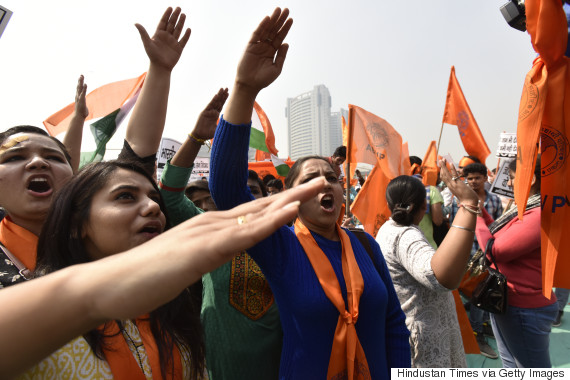 Activists from the ABVP during a protest march in New Delhi on Feb. 24. (Virendra Singh Gosain/Hindustan Times via Getty Images)
We are all seditious now
The Modi government's handling of the controversy at JNU has been embarrassing. A fake tweet in the name of a wanted Pakistani terrorist, Hafiz Saeed, who is accused of masterminding the Mumbai terrorist attacks in 2008, was used by the home minister to link JNU students with Pakistani terrorists. The Delhi police looked away as journalists, activists, JNU teachers and students have been assaulted on several occasions, including twice inside a court compound.
Kumar was beaten up by right-wing lawyers while he was being taken by the police to court. The Delhi police has been accused of letting the self-appointed guardians of nationalism beat up the alleged "anti-national elements."
The government and its supporters are branding as "anti-national" anyone who is defending JNU and its students' right to free speech. The ABVP is happy that it has managed to deflect attention from Rohith Vemula's suicide in Hyderabad, where it appeared to be persecuting Dalit students.
Hindu nationalists, the core voter base of the BJP, want dividends for helping the BJP win. They want their ideology to get more mainstream acceptance, for Hindu nationalism to earn greater currency among voters who care more for caste divisions and the economy.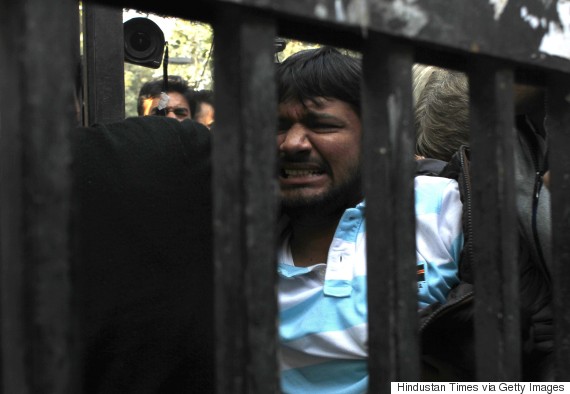 Kumar being taken to court on Feb. 17. (Sanchit Khanna/Hindustan Times via Getty Images)
The Hindu nationalists, who want India to be a Hindu state rather than a secular state, are happy to have made a point. They have shown who the boss is, who will decide the boundaries of acceptable political behavior. They have long complained about leftist domination over India's academia and intelligentsia.
It is curious that the Modi government seems to have sought out a confrontation with students at this time. Modi's grand "Make in India week," a global call to investors to participate in the country's manufacturing push, was under way when the police entered the campus of one of India's best universities. Modi, who is very particular about grabbing the headlines, lost a big public relations exercise to the JNU controversy.
The JNU controversy has also clouded the ongoing budget session of the Parliament, for which the government needs the cooperation of the opposition. Modi himself has said very little on this controversy -- like other controversies his fellow Hindu nationalists cause seemingly every other day. For the champions of Hindu nationalism, when would they do this if not now? Time is running out, with the government having nearly completed two of its five years in power already.
There is a palpable sense that Modi is unable to deliver.
There is little doubt that these student protests come in the way of Modi achieving his governance goals, in addition to denting his image around the world, which he has been careful in cultivating.
The only obvious conclusion one could come to is that Modi is using the nationalism card to deflect political discourse away from his failures. Modi became India's prime minister in May 2014 with Obama-like promises of change. The good times are about to begin, his campaign had claimed. But now he has lost key state elections, the economy is faltering and there is a palpable sense that he is unable to deliver.
If this speculation is correct, then the situation may soon get worse. The next general elections are in 2019. Who knows how many of us are going to be arrested for sedition, called terrorist if we are Muslim or beaten up by lynch mobs before then.
Calling all HuffPost superfans!
Sign up for membership to become a founding member and help shape HuffPost's next chapter