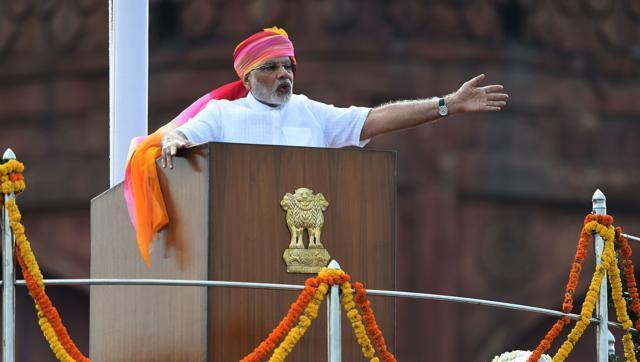 Baloch political leaders and activists have warmly welcomed [Indian] Prime Minister Narendra Modi's recent statements on Balochistan. Islamabad has repeatedly accused New Delhi, albeit with no evidence, of involvement in Balochistan where the Baloch people have been fighting for decades to regain their independent status from Pakistan.
Pakistan has brutally crushed the Baloch rebellion by resorting to arbitrary arrests, torture and murder of thousands of Baloch activists, students, journalists and young professionals. The Baloch, on their part, have been campaigning for years to draw the attention and support of foreign governments, including that of India, to intervene and offer a hand of support to the Baloch facing what an American journalist once described as a "slow-motion genocide" at the hands of Pakistani forces.
Modi's intervention is a significant development for supporters of the Baloch freedom movement. While some say this might be intended to divert attention from the ongoing situation in Kashmir, it still has political and strategic significance. The Baloch leaders have said time and again that they are open to receiving support from any foreign government willing to come to their rescue.
Ironically, Pakistan passionately calls for the right to self-determination for the people of Kashmir but it vehemently refuses to recognise the same right for the Baloch people, who too have a legitimate historical claim to nationhood. The Baloch need international support to turn the tide of injustice because, as Amnesty International has reported, weapons provided to Pakistan to fight Islamic extremists have been diverted to fight the secular and democratic Baloch.
Likewise, Pakistan has accelerated military operations in Balochistan in recent times to guard China's exploitative plans to usurp the Baloch natural and coastal resources. The Baloch fervidly oppose the Chinese investment in Balochistan under the China-Pakistan Economic Corridor (CPEC) as they believe it will benefit the Punjabi-dominated Pakistani military establishment and convert them into a minority in their homeland.
The Baloch movement is entirely home-grown. It will significantly move forward if it receives official support from the government of India. However, the survival of this movement does not solely depend on foreign assistance, which is what makes it a dynamic resistance movement.
The Baloch will most likely continue their struggle regardless of foreign assistance. Thus, India must not use the Balochistan conflict solely to settle scores with Pakistan. As the world's largest democracy, India has a moral obligation to speak for the secular, democratic and progressive Baloch people.
What distinguishes Kashmir from Balochistan is the absence of United Nations resolutions. The Baloch want India to present their case at international platforms such as the UN and use its soft skills to develop the capacity of Baloch political parties, activists, media, think tanks and non-profits so that they are able to advance their mission and inform the world about the Baloch conflict.
Prime Minister Modi is right that the people of Balochistan have thanked him for his stance but he must also remain cognisant of the implications and consequences of his statements. His remarks will now provide Islamabad a strong reason to increase military deployment, arrests and murder of the Baloch.
Balochistan is already a militarized province where even the Pakistani media cannot report independently and foreign correspondents, human rights groups and international relief organisations are consistently discouraged and barred from entering the conflict-stricken region.
In today's information age, most Pakistanis don't know what is going on in Balochistan because of a complete blackout of the news from the region and collusion between the army and so-called national media.
Alarmingly, Islamabad has already prepared for this day by giving a free hand to the Jamaat-ud-Dawah, the "relief" wing of the Lashkar-e-Taiba, should India increase its support to Baloch insurgents. The JuD has significantly increased its presence in Balochistan under the disguise of providing relief and assistance to the people of Balochistan while its head, Hafiz Saeed, frequently travels to Balochistan, preaches and promotes his anti-India, jihadi message.
This approach has twofold benefits for Islamabad. One, it inculcates radical Islamic ideas in the minds of hitherto secular Baloch youth and secondly, it promotes anti-India, anti-West sentiments. Unfortunately, Islamic extremists are still as effective a tool for the Pakistani establishment as they were back in 1970s during the East Pakistan crisis.
We need to wait and see if the Modi government will include support for Balochistan as a part of its foreign policy or if it will just use Balochistan as a card to embarrass and intimidate Pakistan. Adopting support for the Baloch as a policy of the Indian government will undoubtedly change the landscape of regional politics and security.
Related
Popular in the Community