That's all you need to say to establish the cinematic street cred of Otto Preminger's notorious psychedelic 1968 hippies-gangsters epic, Skidoo. Out of a large body of myriad, memorable and controversial work that includes Laura (1944); Porgy And Bess (1959); The Man With The Golden Arm (1955); Anatomy Of A Murder (1959); Exodus (1960) and others, Skidoo remains Preminger's most unique film, reluctantly produced by Paramount Pictures at the height of the peace and love revolution. Featuring an all-star cast reminiscent of a drug-addled It's A Mad, Mad, Mad, Mad World, Skidoo gained instant notoriety upon its limited release in December of 1968 (on a double bill with Jules Dassin's obscure blaxploitation film, Up-Tight) with even Time Magazine noting, "It must be seen to be believed."
Actually, seeing is disbelieving when it comes to Skidoo and that accounts for the film's proto-cultural iconic status, thanks chiefly to Jackie Gleason's incredible seven-minute acid trip along with the film's scarcity outside of popular bootlegs (Film Threat magazine placed it as one of the top ten most wanted films on video). Not surprisingly, Skidoo found a dubious home on a few 'Worst Movie' lists such as the Medved brothers' Golden Turkey Awards. Which ironically inspired people like me to seek out this surreal studio amalgamation of 1930s gangster and 1960s counter-culture tropes. Although Preminger later admitted that the film did not work, Skidoo does indeed work wonders for those ready to take a trip into the pop psychedelic zeitgeist of the fabled 1960s.
Based on a more satirical, whimsical script by rebel scribe Doran William Cannon (Brewster McCloud; Hex), Skidoo was to be Preminger's first real comedy since 1954's The Moon Is Blue, which caused a scandal by using the verboten word, "virgin" and led to the destruction of the prohibitive Production Code. Preminger invited controversy all through his career, often battling the forces of political censorship to tackle now issues in his films. Par for the course, he had originally planned to direct John Hersey's LSD cautionary novel, Too Far To Walk, but after meeting with counter-culture impressario Tom Law -- whose brother John Phillip Law had appeared in Preminger's Hurry Sundown (1966) -- the director had a change of heart. Tom Law explained, "When I met Otto, he told me he was making an anti-LSD film. I asked him why and tried to explain he wasn't being truthful to the subject, that I knew many people who had positive experiences and he was contributing to stereotypes. He listened and agreed. He was cool."
Although Bill Cannon had been brought in to adapt Too Far To Walk, Preminger impulsively decided to buy his sample script Skidoo. Francis Ford Coppola urged the wary Cannon to sell his screenplay, advising him that this would be a perfect entry into Hollywood. He sold it for 75,000 dollars and Otto Preminger immersed himself in the world of the hippies with a paisley vengeance. As a genuinely progressive soul, he hung out with Tom and John Phillip Law, who owned the legendary 60s rock mansion, The Castle, high in the Hollywood Hills. Bob Dylan composed on a typewriter while Nico lounged and Harrison Ford did carpentry.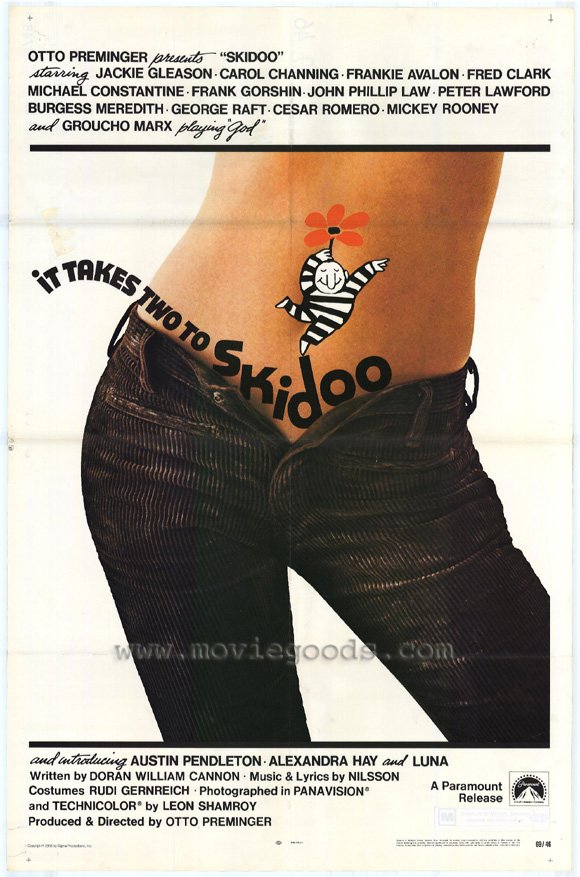 Preminger journeyed to San Francisco in 1967, the cultural epicenter of the youth scene - despite the Bay Area avatars staging a 'Death of Hippie' funeral that October in an attempt to kill the media frenzy. To understand the LSD experience in the script, the 60-year-old German director took acid under the brief tutelage of Timothy Leary, who later appeared in the Skidoo trailer. During his trip, Preminger had a vision that would be used for Gleason's. He recalled, My wife appeared very, very small. I told her, 'You are so little, so charming.' Preminger tried marijuana but his lungs couldn't take the smoke. He never again experimented with drugs but decried the severe laws of the day: "I think to make narcotics a crime only helps the real criminal. Practically every doctor tells us that pot is not dangerous and not as bad as alcohol, yet there are states where you can have 30 years in prison for the possession of it. This is crazy." Even the ever-hip Groucho Marx tried LSD with the assist of Paul Krassner to get into his last film role as God.
With this eclectic, electric pedigree, Skidoo was destined for cult movie history. I became obsessed after seeing the film in a heightened state on my birthday in 1990 at a rare 35mm screening in Sacramento and I was not disappointed. 10 years later, I found a dim copy on tape and started showing it to disparate groups of friends, living vicariously through their awe, delight and incomprehension. When I asked John Waters if he'd seen the movie he said, Of course. I watched it like this as he dropped his jaw in stunned exclamation. Everybody who watches it drops jaw at some point. Skidoo is a celluloid Rorschach test, with audiences projecting their own take on Carol Channing doing a striptease or a garbage can ballet.
Skidoo stands as a fascinating cinematic artifact, the missing link between the end of the Old Hollywood and the start of the New Cinema. Unlike other studio misfires of the decade such as Modesty Blaise (1966), Candy (1968), and Myra Breckenridge (1970) of uneven camp value or quality, Skidoo is always entertaining, never boring, with some terrific performances, an infectious Harry Nilsson soundtrack The tonal shifts are positively kinetic as each scene manages the impossible feat of being more bizarre than the previous one. Just when you think Skidoo can't get any stranger, it does, all the way until the transcendent final shot, one of the greatest in Hollywood history. And you will certainly stay for the credits - entirely sung (even down to the last comma and year of copyright) with witty nonchalance by Nilsson.
One great thing about my Skidoo archeology is that I was able to befriend screenwriter Bill Cannon for a few years before his untimely death in March 2005. I tracked him down by email and he was astounded that anybody had interest in, or fond memories of, Skidoo. His was the archetypal Hollywood scribe experience; he was severely re-written after refusing to make the changes Preminger wanted. I listened to their tape recorded story conferences, getting a keyhole glimpse into their unique collaboration. Cannon held his own with Preminger, but it was clear who was in charge. After I showed the movie to Bill (who had not seen it for over 30 years), he looked at me impishly and said, "I get it."
I'd also like to believe that Preminger would get that his unique, albeit flawed, attempt to capture psychedelia in a camera has developed a new life beyond the bad movie dustbin. There are six degrees to Skidoo and the film connects to all the major and minor players of the fabled 60s, arguably the most important cultural moment of the 20th century. As I began writing about Skidoo, contacting the people involved, screening it at venues with my own presentation, the door to the past opened and I glimpsed into the sharing spirit that dominated the era along with the paranoia as the FBI's investigative memo on Skidoo proved (Jackie Gleason himself would go on to support Richard Nixon and become a special contact for the Bureau; so much for his post-trip conversion!)
On a purely filmic level, I also discovered the cinema of Otto Preminger, developing new respect for his bravery and objectivity. Despite his reputation as a directorial tyrant, he was considered a gracious, charming man off-stage. More important, his political evolution shattered screen taboos and blacklisting; he even unsuccessfully sued ABC in 1966 to stop them from cutting his films on TV. He was truly fearless.
And out of all the scathing reviews Skidoo received when it opened in 1968, only auteur maven Andrew Sarris acknowledged that it was a spectacular stylistic failure but perceptively noted that Preminger had directed the hippie happenings with his widescreen tolerance -- thus Skidoo has the gentle distinction of being one of the few films of the turbulent decade to posit peace, love and understanding for both sides of the generation gap.
After all, as the original movie poster says: "It Takes Two To Skidoo"
Support HuffPost
The Stakes Have Never Been Higher
Popular in the Community