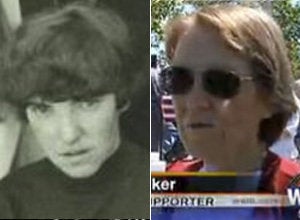 It's safe to assume that most Velvet Underground fans never imagined that "All Tomorrow's Parties" would end up referring to Tea Party rallies in Georgia.
The legendary band's followers and admirers are buzzing about reports that drummer Maureen "Moe" Tucker showed up at a Tea Party rally earlier this year and expressed her anger that the government is leading the country to socialism.
A woman identified as Maureen Tucker was interviewed by news station WALB-TV at a rally in Tifton, Georgia last April, expressing her fury:
"I'm furious about the way we're being led towards socialism. I'm furious about the incredible waste of money when things that we really need and are important get dropped because there's no money left."
The Tea Party Patriots, one of the largest umbrella groups of Tea Party activists, has a page for Tucker on its website, in which she urges activists to write to "King Obama":

"DONT WAIT FOR A TEA PARTY - SEND HIM A LETTER/POSTCARD! YOU'LL FEEL BETTER!! KING OBAMA THE WHITE HOUSE WASH; DC 20500".
According to the Guardian, Tucker says she has also been protesting against cap and trade, the administration's proposal to stem global warming.
Tucker continues: "This 'administration' HAS TO GO! I have come to believe (not just wonder) that Obama's plan is to destroy America from within. It is the only reasonable explanation for his actions/inactions!"
Tucker, who has also performed with Half Japanese and released her own albums on small labels during the 1980s and 1990s, has lived in a small town in Georgia for several decades.
Reached at her home by The Huffington Post, Tucker confirmed her identity but she refused to discuss her appearance at the rally or her political views.
Obama Is Carter noted: "What a total shame that a musician is not walking lockstep with the liberal left. I guess the part about punk musicians being anti-establishment only applies when that establishment is not being run wholly by left-wing Democrats."
hells littlest angel writes: "Just goes to show no matter how cool you are when you're young, you can still end up a bitter old crackpot."
WATCH (Tucker appears at the 2:40 mark):
Here is video of Tucker appearing with Lou Reed at a Velvet Underground reunion last year in New York:
Popular in the Community