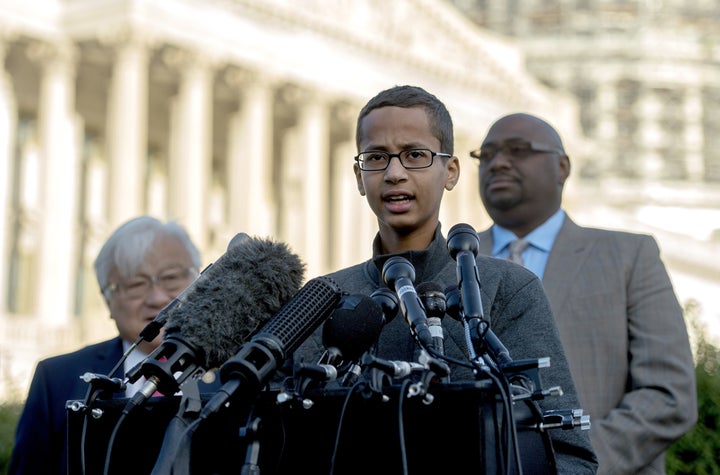 Attorney General Loretta Lynch announced Friday that an investigation is underway into the arrest of a 14-year-old Muslim student who brought a homemade clock to his Texas school.
School officials in Irving became suspicious of the device Ahmed Mohamed brought to school in September. They feared that it was a bomb, despite assurance from the science-loving teen that he wanted to impress his teachers with the timekeeper.
The Department of Justice will examine whether Ahmed's civil rights were violated, Lynch said during remarks to the Muslim Advocates, a legal advocacy group, in a Virginia suburb of Washington.
The sight of the shackled ninth-grader in a NASA T-shirt outraged many, who accused school officials of overreacting and racial profiling.
Police quickly determined that Ahmed's project was not an explosive, but arrested him on the grounds that it was a "hoax bomb." No charges were filed against the teen.
Lynch said that Ahmed's ordeal was an "extreme case" of rising anti-Muslim feelings in the country, AL.com reported. Her remarks came a day after a couple killed 14 people in San Bernardino, California. The FBI is investigating the attack as a terrorist act.
The federal investigation in Ahmed's case centers on whether the Irving School District harassed and disciplined students based on their race, religion and national origin, the Dallas Morning News reported.
Ahmed's family last week demanded $15 million in damages from the school district and city of Irving, as well as an apology.
Related
Popular in the Community