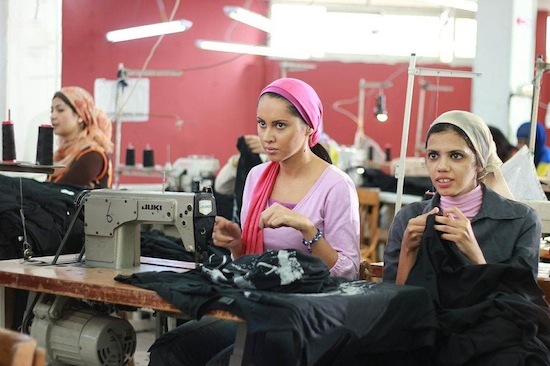 Egyptian filmmaker Mohamed Khan is an undisputed legend of Arab cinema. Three of his films have been counted as part of the "100 Best Arab Films" of all times by the Dubai International Film Festival, in their newly published comprehensive book list titled Cinema of Passion.
I don't know about you, but when someone says 'legendary' it's not often a word I associate with contemporary, entertaining and wonderfully human. Yet Khan's latest film Factory Girl (Fatat el Masnaa), which enjoyed its world premiere at this year's DIFF is all that, and much, much more.
The story of Hiyam, a young woman who doesn't accept her imposed social standing as her permanent predicament, but instead allows herself to dream big and her heart to feel even bigger, Factory Girl is a woman's cinematic dream come true. I'll admit there is a point in the narrative when I could imagine most men in the audience shifting in their seat, as both Yasmeen Raess' performance in the title role, and Hani Adel as Salah, the object of her fancy offer a glimpse into a situation all too common. As the great Bob Marley once said "the biggest coward is a man who awakens a woman's love with no intention of loving her," and Factory Girl addresses the issue, as well as the results, head on. It's a thinking woman's sex symbol filmmaker's film. I think I'd better explain myself on that one.
Lets start from the beginning, with the script for Factory Girl. Impeccable, well-defined and full of multi-dimensional characters, it was written by Khan's wife, Wessam Soliman. Soliman spent months working in a clothing factory, as Hiyam does in the film, and because she wanted to understand her work but also the implications of her lower-middle class upbringing in modern-day Egypt, she took public transport and worked long hours, all in disguise.
Then comes the producer, Mohamed Samir, a young, enthusiastic film editor with twelve years of experience, who raised funds for Factory Girl through diverse entities such as DIFF's Enjaaz fund, the Abu Dhabi Film Festival's SANAD fund, the Global Film Initiative, Women in Film Foundation, German's GIZ institution and the Egyptian Ministry of Culture's Filmmaking Fund. In the end, Samir co-produced the film with WIKA for Film Production and Distribution, and Middlewest Films.
His journey to the sold-out gala premiere of Factory Girl in Dubai this past week was a long, arduous one, and he explained the burden put on a young producer best at a panel I moderated as part of the Dubai FIlm Market titled "How to Finance Your Film". There, Samir candidly admitted "production interrupts your relationship with cinema" and with those words disclosed the frustration every filmmaker experiences at some point in his career. But working with a legendary director more than twice his age, whose films he'd grown up watching was worth all that and more for Samir. And, it turns out, for the audience as well, because the film was a resounding success at DIFF, with Yasmeen Raess walking away with a Best Actress Award in the Muhr Arab Feature competition and the film collecting the FIPRESCI award for Best Feature.
Personally, I connected to Factory Girl on many levels. A strong, unapologetic heroine, a man who simply cannot break away from his obligations, a family dynamic full of love and fighting, a rumor getting out of control because of pride. If you substitute the Cairo neighborhood of Abageya with the streets of the Rione Sanità in Naples, this could be an Italian film. And I'm sure many more cultures can relate to all its deeply human themes. As the press kit for the film states "no matter what the audience's psychological condition is, they go to the cinema to change that condition into better." And Factory Girl did exactly that for me, it made me feel, experience and dream.
But perhaps the most magical thing that Khan does with his film, surrounded by his amazing cast, his talented screenwriter wife Soliman and his dedicated producer Samir, is prove that Egyptian cinema is far from dead. That at the end of the recently formed tunnel of disorder, chaos and disillusion, there is a love for the seventh art in Egypt that transcends all odds, only to offer a beautiful, rich, cultural light at the end. The light of cinema, the kind able to cut across borders, bridge cultures and unite people, all across the world.
With only one action required: A belief in the magic of the movies.
Image courtesy of MAD Solutions, used with permission
Popular in the Community