Former Minneapolis police officer Mohamed Noor was sentenced to 12 and a half years in prison on Friday for the 2017 shooting death of Justine Damond.
The case sparked outrage in the U.S. and Australia, where Damond had spent most of her life, and raised renewed questions about the role race plays in cases of police brutality.
Shortly before midnight on July 15, 2017, Damond dialed 911 to report hearing a possible sexual assault in an alley near her home in the city's upscale Fulton neighborhood.
Noor and his partner, Matthew Harrity, responded to the call in their squad car. Noor later testified that he heard a loud bang on the vehicle before seeing a woman raise her arm near one of the car's rolled-down windows. Other testimony during Noor's trial suggested Damond, who was unarmed, approached the squad car from the darkened alley to speak with the officers.
Noor fired his gun, hitting Damond in the abdomen, saying he did so to protect his partner.
"I fired one shot," Noor said at his trial, according to The Guardian. "My intent was to stop the threat and save my partner's life."
Prosecutors, however, argued Noor acted "recklessly" by firing at an unknown person without issuing a warning.
"Justine was approaching the car unarmed," Mike Freeman, the county prosecutor on the case, said when charges were filed. "They couldn't even tell whether it was a male or a female, an adult or a child."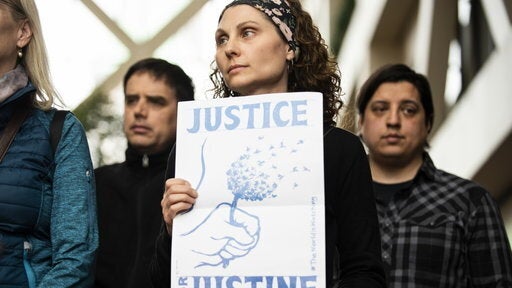 In the wake of the shooting, Minneapolis Police Chief Janee Harteau was forced out, and the mayor lost her reelection bid.
The city's police department also revamped its body camera policy, according to The New York Times. Noor and Harrity were both wearing the devices during the incident but hadn't turned them on.
The case also raised concerns that Noor, who is Somali-American, is being treated differently than a white officer would have been.
"Wrong Complexion For Blue Protection," read the sign of one man who joined several protesters outside the courthouse on Friday.
In another police violence sentencing earlier this year, white Chicago ex-cop Jason Van Dyke was sentenced to just seven years for the 2014 murder of teenager Laquan McDonald.
At a demonstration against police violence shortly after Damond's death, members of her family, along with some of her neighbors and friends, were joined by family and friends of Philando Castile, the black man who was shot and killed by a police officer in the St. Paul suburb of Falcon Heights during a 2016 traffic stop.
"I never thought I'd be speaking on behalf of a white woman getting murdered by the police," John Thompson, Castille's best friend, said at the demonstration. "It's not about race. It's not about white. It's not about black. It's about the police chief killing us. We will not accept this anymore."
Popular in the Community