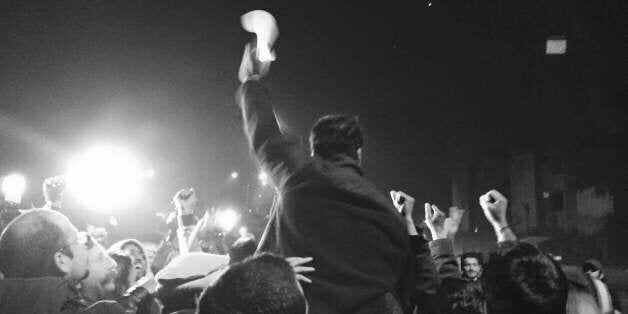 The Karachi-based activist is currently on a six-week tour of the U.S., where he's speaking at more than two dozen top colleges and universities from Boston to California. The goal of his tour is to convince young, educated Pakistanis and Pakistani-Americans to combat the religious extremism he believes is ravaging Pakistan. "My job is to make my country safe so that people will return home rather than leave it," Nasir, 28, told the WorldPost in an April 24 interview in New York. "You have to treat your country the way you would treat your family. If a child does something wrong, you have to mentor it, you have to nurture it."
After a stint working for a corporate law firm and another as a TV news anchor, Nasir turned to activism full-time, co-founding two grassroots organizations that he says are aimed at reclaiming Pakistan from religious radicals.
There are somewhere between 300,000 and 1 million Pakistani immigrants living in the U.S. and Nasir wants them to support his initiatives any way they can. "If someone is a journalist, they can write articles for us. If someone is a filmmaker or videographer, they can make videos. A tech person can help make an app. If you can donate monetarily, of course we welcome that too," he said.
After his U.S. tour, Nasir plans to do similar tours in Canada, the United Kingdom and the United Arab Emirates, all of which have large Pakistani communities.
Mahmud, 40, was a friend and a mentor to Nasir and a co-founder of Pakistan For All. "She was a catalyst for change," he said, choking back tears.
Although Mahmud's murder was more likely politically, not religiously motivated, it still shows the dangers inherent in talking about delicate human rights issues in Pakistan.
"Anyone who espouses liberal, secular views and becomes a public figure is a potential target," wrote Pakistan-based journalist and public policy specialist Raza Rumi in a New York Times column shortly after Mahmud's death.
Religious extremism in Pakistan takes other forms besides outright violence, Nasir said. It sometimes manifests itself as discrimination, where certain religious sects are not allowed to enter shops or other businesses. "For example, some businesses in Punjab don't allow Ahmadis. They will put up a sign forbidding them to enter," he said. (Ahmadis, who number about 600,000 in Pakistan, are members of a minority Muslim sect founded in British India in the 19th century, but are not considered Muslims under Pakistani law.)
Not all terrorism in Pakistan is religiously motivated, Nasir admitted. "There are some political movements that turn violent," he said. "But my focus is on religious violence."
"A Taliban spokesman called me and asked me to back off from Red Mosque or else me and my family and my friends would be in danger," Nasir said. "He said, 'Wherever you are, we'll make sure there's bloodshed there.'"
In spite of the danger present in his line of work, Nasir said he's not afraid. "A terrorist thrives on terror. Take the terror out of yourself, take the fear out of yourself, and a terrorist doesn't know what to do," he said.
Related
Popular in the Community