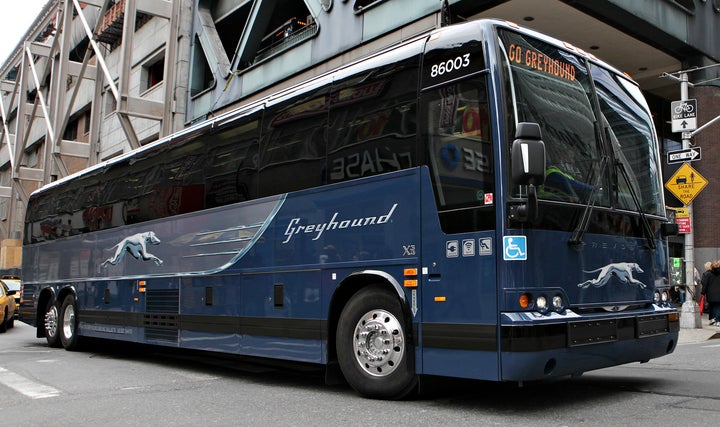 UPDATE: Nov. 22 ― On Wednesday, a Greyhound spokeswoman told HuffPost they investigated an incident where a passenger was kicked off a bus en route to Kansas City earlier this month.
The company provided the following statement:
The driver asked everyone onboard to show their ticket, and the customer, who was asked twice to present his ticket, refused to do so and became unruly, both with the driver and a security guard who was called for assistance.

Due to his behavior, the customer was asked to leave the bus, to which he refused, and the police were called to remove him. The customer finally provided his ticket after the police arrived. However, per our policy, any unruly behavior will result in the customer being removed from a schedule.
Reza told HuffPost that the spokeswoman's explanation is incorrect.
"I immediately showed my e-ticket. Driver even looked at it and very rudely told me, 'I can not accept it,'" he said over email.
The spokeswoman told HuffPost that while Reza did show an email confirmation to the driver, e-ticketing is not yet available in Kansas and all customers are required to provide their paper tickets in order to travel.
A Ph.D. candidate living in Arlington, Texas, is trying to figure out why a Greyhound bus driver kicked him off one of the company's vehicles in the middle of the night last week.
In a Facebook post published last Thursday, Iran-born Mohammad Reza recalled a Nov. 13 incident on en route to Kansas City, Missouri, where he planned to present at a conference.
Reza said he was asleep when the bus stopped in Wichita. At that point, the driver woke him up and asked to see his ticket.
"Seeing my name on the ticket, which is 'Mohammad,' she told me 'Your ticket is not acceptable and since you don't have a printed version of it, you have to leave the bus,'" he wrote in his post.
Reza said he found the printed ticket and showed it to her, but she still asked him to leave the bus.
"I asked for the reason and she responded 'I don't want to talk to you!'" he recalled.
Reza, a Ph.D. candidate in urban planning and public policy at the University of Texas at Arlington, said the driver eventually called a police officer.
While waiting for the officer to arrive, Reza said other passengers became agitated with him asking to remain on the bus.
A officer arrived and forced Reza to get off the vehicle at a closed bus station at around 3:40 a.m. Tuesday.
An employee arrived at 4 a.m. and informed him that the next bus to Kansas City wasn't until 2:30 p.m., six hours after the conference began.
In order to make it on time, Reza spent $250 on a Lyft to go the last 100 miles from Wichita to Kansas City.
In order to avoid a similar experience, Reza paid for a plane ticket home to Texas rather than take the bus.
Greyhound has responded to the incident, saying the bus driver's actions were unacceptable. The name of the driver hasn't been released.
"Greyhound does not tolerate discrimination of any kind and is taking these allegations very seriously," a company spokesperson told NBC Dallas-Fort Worth. "We've identified the driver and are currently conducting a thorough investigation into the matter."
Reza told the station he isn't interested in being reimbursed so much as he would like an explanation why he was asked to leave the bus in the first place despite having multiple copies of his ticket.
Popular in the Community