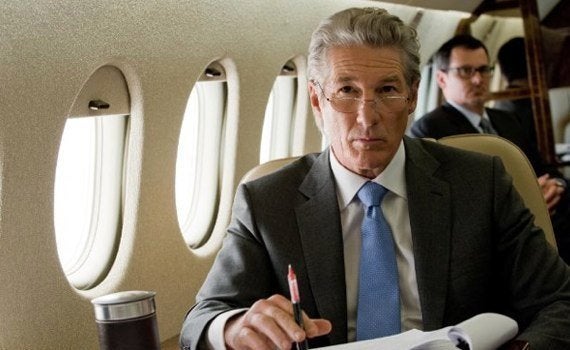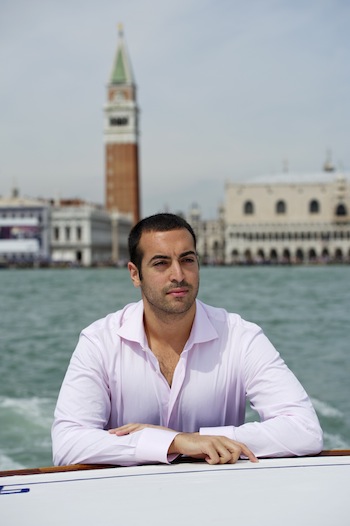 There are very few men who are equally at home at a gala in NYC, on the set of a blockbuster in Hollywood, in the front rows of Milan Fashion Week and around a souk in Riyadh. All the while looking equally elegant in an Armani suit, jeans and a T-shirt or a traditional Saudi thawb. Maverick producer Mohammed Al Turki is definitely one of the choice few who fit that bill. Handsome, young, powerful and with great cinematic instincts, Al Turki should be very high up on everyone's cool celebrity meter.
The first time Al Turki crossed my radar was a little over a year ago, when I wrote about The Imperialists Are Still Alive!, a film that finally showed the kind of strong, independent and cosmopolitan Arab woman I know, having traveled -- and met a few -- throughout the Middle East and Europe. While this independent film may be a long way from his latest ventures, big Hollywood movies like Arbitrage and At Any Price, his talent for picking just the right project has been apparent from the beginning.
I meet with the truly down-to-earth Al Turki at the coffee shop of the Emirates Palace hotel in Abu Dhabi, while he's in town with Richard Gere and Nate Parker, who both star in Arbitrage, and the film's director Nicholas Jarecki. They just kicked off the 6th Abu Dhabi Film Festival with their film the night before and what a night that turned out to be! When I misplaced my invite, I sent a tweet to Al Turki, who within the hour had me sitting in a "gold star" seat. If you wonder just what those are, it's best explained in the words of the charming woman who escorted me in and said "With that, you can sit anywhere you want, darling, even on stage." Yes, Al Turki and everyone he surrounds himself with are just that cool.
But back to this 26-year old wonder, who often speaks like a man way beyond his years, yet at the same time betrays the enthusiasm of his youth. When I mention that he makes for a wonderful bridge between cultures, Al Turki humbly replies "Maybe because I've met a lot of people from all over the world, different cultures, different religions. You know, living in cities like London and New York, they are such cosmopolitan cities, where --- and we always used to make this joke at dinner -- we look like the United Colors of Benetton." When I prod him a bit further, about culture clashes and such, he continues, "I've never felt any racial difference or any animosity coming from an Arab background. All my friends are accepting and loving and anyway, I see the world through film."
Ever looking for a way film can unite the world, I ask Al Turki his views on cinema, and he quickly obliges "Film is universal. You can be in India, you can be in Saudi and you're watching a movie and you know Hollywood legends, you know the story. Everyone in the world watches film, it's a language that everyone speaks."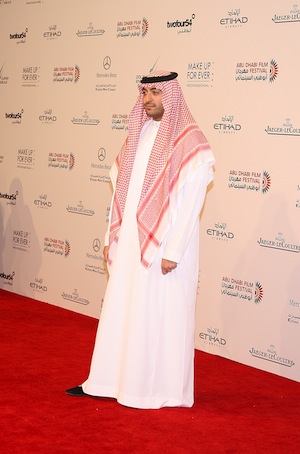 As anyone of Arab descend who has gone through U.S. immigration in the aftermath of 9/11, Al Turki is very candid about his own experience, "I understand what the world was going through and I respect that. A lot has changed since Obama coming to power," he continues, "all of the GCC countries -- Saudi, Kuwait, Qatar -- when we used to go to America, the age group between 16 to 35, we always had to fill out more documentation. You arrive off a long plane trip, there's no fast track in the U.S., you queue for an hour anyway, and then you'd have to queue for another hour or two to clear."
Al Turki points to a feeling every Arab has probably experienced after 9/11, by referring to two recent films which raised the issue, "The Reluctant Fundamentalist, I watched it in Venice, the scene where Riz Ahmed arrives in New York after 9/11 at the airport and he gets strip searched... That scene, I was sitting there and was thinking those were the fears that I felt as a Middle Eastern coming into the country!" The other film he mentions is The Citizen which was a hit at ADFF. While he's personally enthusiastic about the topic each film tackles, he also asked himself in Venice while watching Mira Nair's film, "Would this work for an American audience?"
Al Turki then offers a refreshingly non-defensive view about why Arabs are being portrayed in such a negative light in Hollywood these days:
It's Hollywood, it's entertainment, it's politics. When the Vietnam War happened, the Vietnamese were the terrorists, when the Russians were at war, the Russians were the terrorists. Now 9/11 happened, it happens to be people who are terrorists but from this region. It's not our fault and the whole world has been terrorized. So in a way it is politics but it is entertainment. When an American guy wants to watch a film on a plane these days, most likely the bad guy won't be a Russian, he'll be an Arab.
Asked if he would like to personally change that stereotype, by making films in the region with positive stories about Arabs, he answers with a great anecdote "I always use Steven Spielberg as an example, it's the easiest one even for someone who doesn't understand about film. He made ET, Jurassic Park, Jaws, Indiana Jones and then bam! Schindler's List. OK? As I said, cinema is a universal language, he made everyone in the whole world cry, sympathize and love the story. It was one of the most touching films." Al Turki quickly keeps true to his easy, down to earth demeanor by adding " I'm not saying I will be there (laughs), Spielberg, it's a far-fetched thing, but once I've got a little bit of stability and our company Treehouse Pictures -- which we just formed -- starts getting more projects, then I would love to have a film or two within the region."
While I have Al Turki sitting across from me, I can't help but ask about cultural differences, and what I've thought to be a bit of a stumbling block for cinema from and about the region. H.E. Sheikha Al Mayassa bint Hamad bin Khalifa Al-Thani is the founder and chair of the Doha Film Institute yet during the yearly Doha Tribeca Film Festival she won't appear on the red carpets or grant interviews about the films financed and presented by the organization. Al Turki enlightens me once again, "The thing is within the culture of the GCC countries, there is no cinema culture, people love watching things at home," he continues, "for example in Saudi, when Arbitrage got released and knowing I'm from the region, everyone in Saudi, I'm not exaggerating, saw it the same day it got released in America." How, I wonder? He explains "Because of iTunes, the U.S. iTunes, Saudis love having Apple TV. They get all the gift cards and they're sold in stores with the American codes. And they download all the American films. It's the most common thing in Saudi!"
Al Turki, whom friends refer to as "Mo," grew up watching "all the Disney classics and non-Disney classics like Gone with the Wind, Lawrence of Arabia and with my father, a big Westerns fan, all the John Wayne movies." He's fascinated with Pedro Almodóvar, because he finds his cinematography familiar, like an amplified soap opera style similar to the Mexican and Spanish telenovelas broadcast in Saudi Arabia.
His perfect project would include working once again with the Arbitrage team because, he explains, "It's so comfortable working on set with people you are used to, like going to summer camp and finding you have the same dorm room, the same roommate." Al Turki has learned to support charities both within the Gulf region and abroad from his father, Abdul Aziz Al Turki, who is known in Saudi for his own charity work.
Before I leave Al Turki's captivating company, I turn to ask him my favorite question: "What three words would you choose to describe yourself?" He breathes in, heavily, then responds "Indecisive," way too quickly for that to be true. Of course, it's the great humility of the Arab world, which is just so intoxicatingly refreshing to someone who grew up in NYC. He continues, "I'm also spontaneous and actually, there's two more words. I've very fortunate and very close to home. My family is my main support in all this and they are with me on this journey."
Images courtesy of the Abu Dhabi Film Festival, used with permission
Calling all HuffPost superfans!
Sign up for membership to become a founding member and help shape HuffPost's next chapter