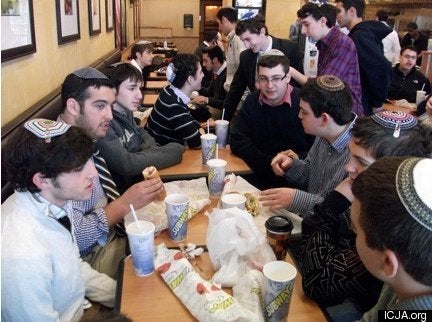 A Jordanian-American living in Chicago was convicted Tuesday of mailing a bomb threat to a Jewish school near his home.
Mohammed Alkaramla, 26, faces up to 10 years in prison for sending a letter to the Ida Crown Jewish Academy in which he threatens to attack Jewish educational centers in the Chicago area, according to the Chicago Tribune.
Authorities tracked down Alkaramla after finding his fingerprints on the letter. They were on file with the Chicago Police Department after his 2003 arrest for marijuana. When they searched his apartment, authorities found a laptop which had been used to search for the phrases "Bomb attack + Israel + letters" and "Jewish elementary schools in Chicago" on Google.
He had apparently used the laptop to look for samples of threat letters on the Internet. The one he finally composed was reprinted by Fox Chicago, with all its typos intact:
Will Give You until 01.15.2009 to back OFF from Gaza in Palestine or will set our explosive in your areas, it very important to make a quick action before we make our decisions to set bombs in the fowling addresses.

The letter then listed 22 addresses of Jewish schools across the city. No explosives were found in Alkaramla's possession.
The Ida Crown school received the letter on New Year's Eve 2008. Rabbi Leonard Matanky of the school was reportedly shaken by the news, especially when he learned that the letter came from a man living only one and a half miles from the school.
"It's still disconcerting to know that a member of our geographic community would do such a thing against another good neighbor," Matanky told the Tribune at the time of Alkaramla's arrest.
An article in Wednesday's Tribune reports that Alkaramla, after being convicted in a two-day bench trial by Judge Rebecca Pallmeyer, will be detained until his sentencing on September 29.
Calling all HuffPost superfans!
Sign up for membership to become a founding member and help shape HuffPost's next chapter